Hard to remember another year that changed the healthcare industry as much as 2021. The global pandemic has pushed the sector to adapt and innovate. It also defined the way healthcare will change in the next 10 years.
It doesn't mean that the segment has moved essentially from the path it was on. Digital technologies have already had an impact on healthcare, but investment in change has not been generous. Now investment is an accelerated change.
2022 will see similar technology trends in healthcare as well as the introduction of new technologies, although much of this will be a ripple effect of the changes that have taken place in 2021.
Read on to find our detailed analysis of the most significant health technology trends for this year to stay ahead of the market.
Healthcare Technology: Market Overview
Due to the COVID-19 outbreak, medical practices of all sizes are under enormous pressure, and medical facilities around the world have been overwhelmed by the large number of patients visiting them daily. The growing prevalence of coronavirus disease has created a demand for precision devices for diagnosis and treatment in several countries around the world. In this regard, connected healthcare technologies have proven to be very useful, as they allow healthcare providers to monitor patients with digitally connected non-invasive devices such as home blood pressure monitors and pulse oximeters.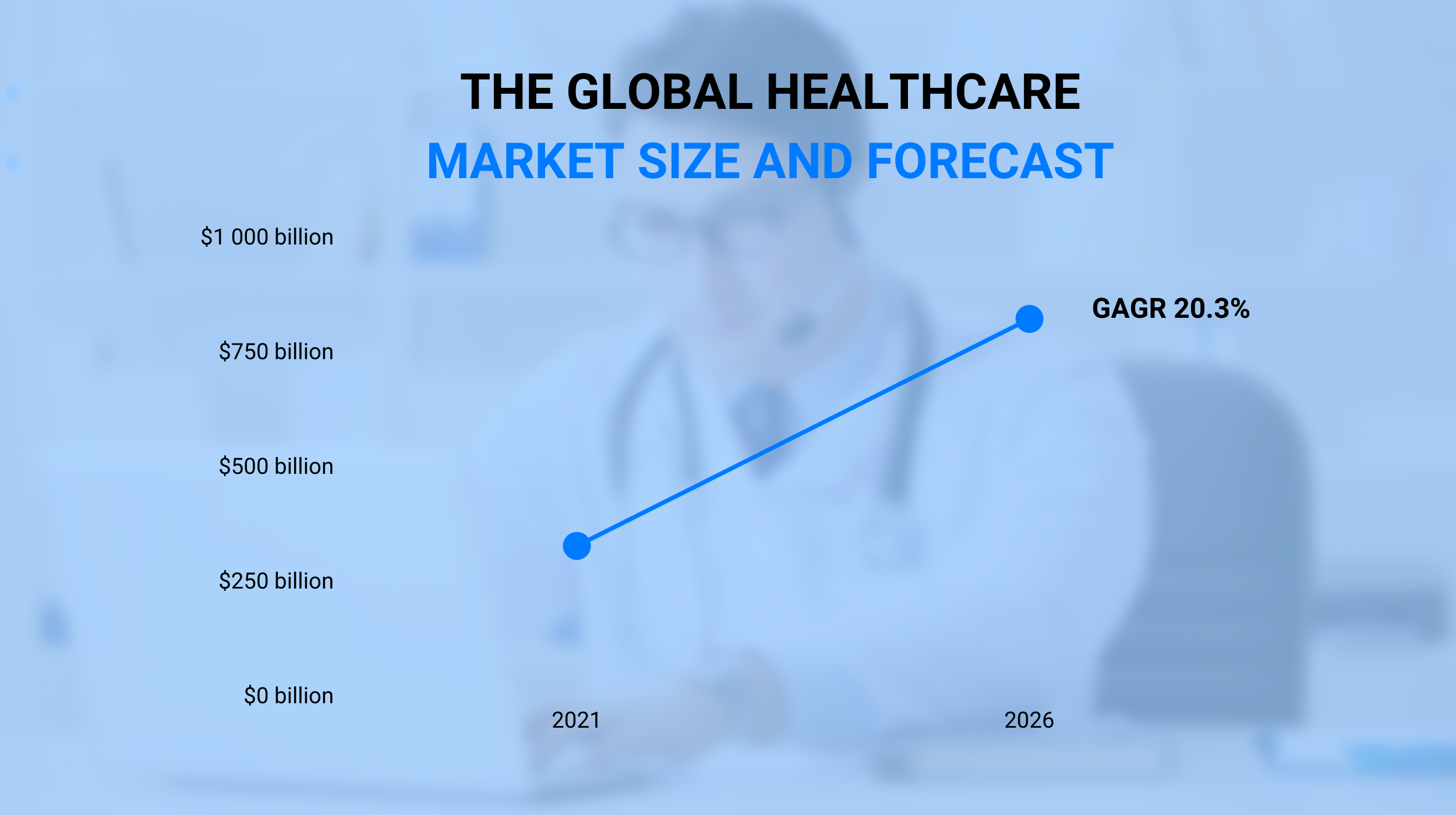 The COVID-19 pandemic has also heightened the need for social distancing for physicians and patients, resulting in increased demand for healthcare IT solutions such as remote patient monitoring and telemedicine solutions, as well as the need for accurate and timely sharing of patient medical records. In this regard, health IT systems are an effective tool to provide a framework for the exchange, sharing, and retrieval of electronic health information with increased security.
On-Demand Economy: How Does It Relate to New Healthcare Technology Trends?
📈 Technology companies have created an "economy on demand" to meet consumer demand for goods and services. Obviously, this business model is driven by the development of communications and personal devices. It is also called the "access economy" or "common economy".
📈 It has also changed the perception of jobs in two ways. First, he created an independent workforce that filled the talent gap in many on-demand services. Uber drivers are a good example. Secondly, recruitment itself has come to be seen as an on-demand service. More and more people felt comfortable taking on "concerts" and then moving on. This offered highly skilled workers an alternative to full-time employment.
📈 The on-demand economy has grown over the past decade. Uber was founded in early 2009 and since then there has been an explosion of on-demand services. Harvard Business Review reports that in 2018 there were approximately 150 million "independent contractors" in North America and Western Europe. A SunTrust poll showed that 81% of Americans would like to turn their "side job" into a career. More than 50% of those surveyed took freelance jobs to earn extra money.
Future Trends in Healthcare Information Technology
Major health technology trends have a clear link to the digitization and use of data. This is not surprising, since healthcare is not unique in this. Almost all businesses are changing to keep up with the demands of digital transformation. So here are future healthcare trends technologies and innovations that you are likely to see in 2022.
Trend #1. Telehealth
Telemedicine is the use of digital communication technologies such as computers, mobile phones, and tablets to facilitate the delivery of healthcare services. In the article, we explained the concept in detail.
As social distancing has reduced in-person visits, healthcare providers have had to change quickly. By April 2020, more than 43% of Medicare primary care visits were through telehealth services.
Even though COVID-19 vaccines are being rolled out around the world, telemedicine appears to be here to stay. According to Fortune Business Insights, the telemedicine market will exceed $185 billion by 2026.
Trend #2. IoT and Wearables
Among the trends in health technology in 2022, the widespread adoption of IoT devices is the easiest to predict.
Devices that are part of the Internet of Medical Things will solve at least some of the problems that healthcare has had to face in 2020. The IoT can save money for the healthcare industry as well. According to a Goldman Sachs report, IoT healthcare could save $300 billion through more efficient medical practices.
For example, telemedicine saves money because all insignificant consultations take place outside of hospitals, reducing time and infrastructure costs. Moreover, IoT healthcare can improve performance. As with all digital industries, workflows can be streamlined and automated. For instance, real-time data on all medicines or equipment makes healthcare management more efficient. Tracking digital labels on medicines can help fight counterfeit medicines.
But IoT devices have the most value in healthcare management. They can provide medical care in remote areas that cannot afford fixed hospitals. They regularly conduct consultations at home, which is especially important for patients with limited mobility. Portable healthcare devices can now perform virtually any routine test and share the results remotely with a doctor.
Trend #3. Telepsychiatry
There is a wide range of factors affecting mental health and creating new challenges for healthcare professionals in 2022. The COVID restrictions are fueling a relatively new niche in psychiatry and mental health: telepsychiatry.
This branch has a broad horizon of development: due to the outbreak of COVID-19, many people are now experiencing a period of psychological devastation, which is reflected in clinical statistics – according to the latest data (October 2021), more than 30% of American adults report symptoms of anxiety or depression. disorders, while earlier surveys suggested that the same rate was less than 10% in 2019.
Here are some of the most frequent mental health events that will affect the mental health of the US population in 2022:
Psychological problems associated with returning to full-time work (or a hybrid work style).
Postcovid syndrome with symptoms of a mental disorder.
Post-traumatic stress syndrome in healthcare workers.
Anxiety and depression are caused by social restrictions and isolation policies caused by COVID.
Digital overload, multitasking stress, and professional burnout.
These new challenges require a modern solution, including tele-behavioral health software that allows psychiatrists and psychotherapists to help more patients at the same time.
Trend #4. Smart Implants
By 2027, 3D printing opportunities in the medical field are estimated to exceed $6 billion. 3D printing of biocompatible implants is not a new technique in 2022, but the technology will become more reliable and accessible to a wider spectrum. patients, with new materials and improved methods of prosthetics.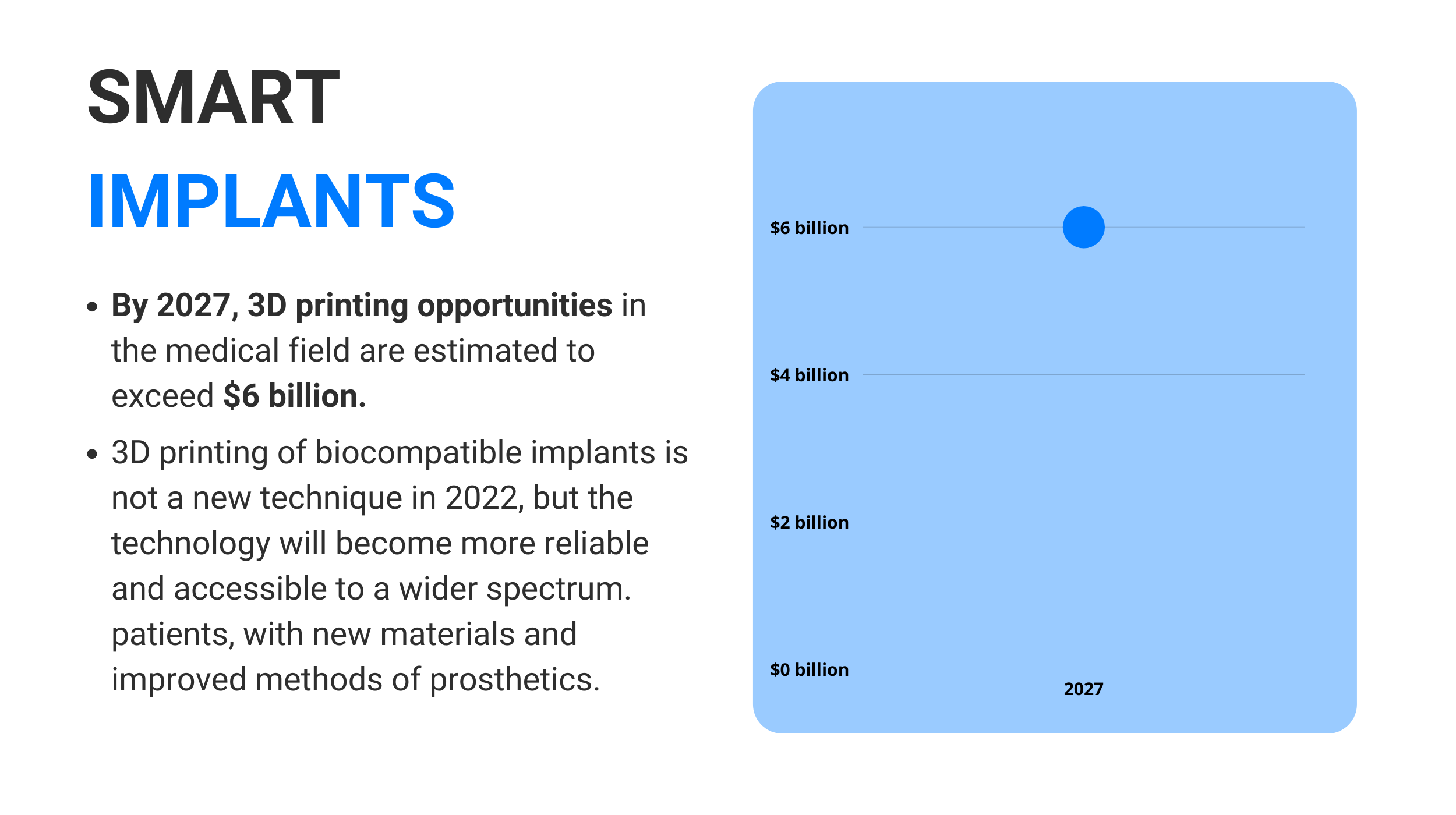 In particular, advances in 3D bioprinting technology are expected to offer improvements in the following areas:
Reduction of time and costs for the production of implants and bionic prostheses.
More affordable custom bionic prostheses for knees, spine, skull, hips, etc.
Custom or customized design of surgical instruments and medical devices.
New generations and types of implants, implant development, and implant materials are expected to perform better, fit better and last longer.
Fully functional mechanical limbs, advanced lightweight prosthetic designs, and an improved level of integration between orthopedic implants and human bones.
More options for 3D printed lifesaving implants for cardiovascular and neurological patients.
Effective offers of brain-computer implants are expected to hit the market in 2022. At the very least, Neuralink hopes to start implanting its chips into human brains in 2022. There are more companies, organizations, projects, and startups that are going to offer their services.
For example, by the end of 2021, it was reported that a team of scientists had implanted an array of microelectrodes (a penny-sized implant) into the visual cortex of a blind person, allowing it to recognize multiple letters and shapes. There is still a long way to go, but the future of brain implants and their ability to compensate for various shortcomings seems truly amazing and bright.
Trend #5. VR, Augmented, and Mixed Reality in Healthcare
Not so long ago, virtual reality seemed to be the novelty best suited for video games. Now VR and AR offer a wide range of practical applications beyond gaming and entertainment.
In healthcare, VR is helping with surgical training and planning, allowing both surgeons and patients to feel more comfortable performing procedures. There are also many reports of the effectiveness of VR for helping with chronic pain and mental health.
Trend #6. Artificial Intelligence (AI) in Healthcare
A healthcare technology segment that has been using artificial intelligence (AI) and machine learning (ML) for several years. Complex surgeries requiring delicate operations with small details and in congested spaces are what AI and ML help with robotic surgery. Pathologists can make a faster and more accurate diagnosis, which can also identify patients who would benefit from new treatments.
Pfizer is currently using IBM Watson AI and machine learning for immuno-oncology research to see how the body's immune system can fight cancer. The promise that one day we will be prescribed drugs that match our diet, stress levels, medical history, genetic background, etc. is also what everyone expects from artificial intelligence.
Trend #7. Cybersecurity using Blockchain
Blockchain technology has the potential to reform the healthcare sector by solving the problems the industry is suffering from. With features like smart contracts, it allows for the fast and secure transfer of data and finances, which is causing problems for hospitals.
Let's say that one node was compromised in the blockchain, there will be no negative consequences for the operation or security of the entire blockchain. Since there are multiple copies of the same book, even a DDoS attack will not affect the system.
Trend #8. Nanotechnology
From vaccine delivery via aerosols and patches to faster disease diagnosis, nanotechnology or the science of very small sizes is here to stay. The medical nanotechnology market was valued at $219 million in 2020. It is expected to more than double to $461 million by 2026, growing at a CAGR of 11.9% over the 2021-2026 forecast period.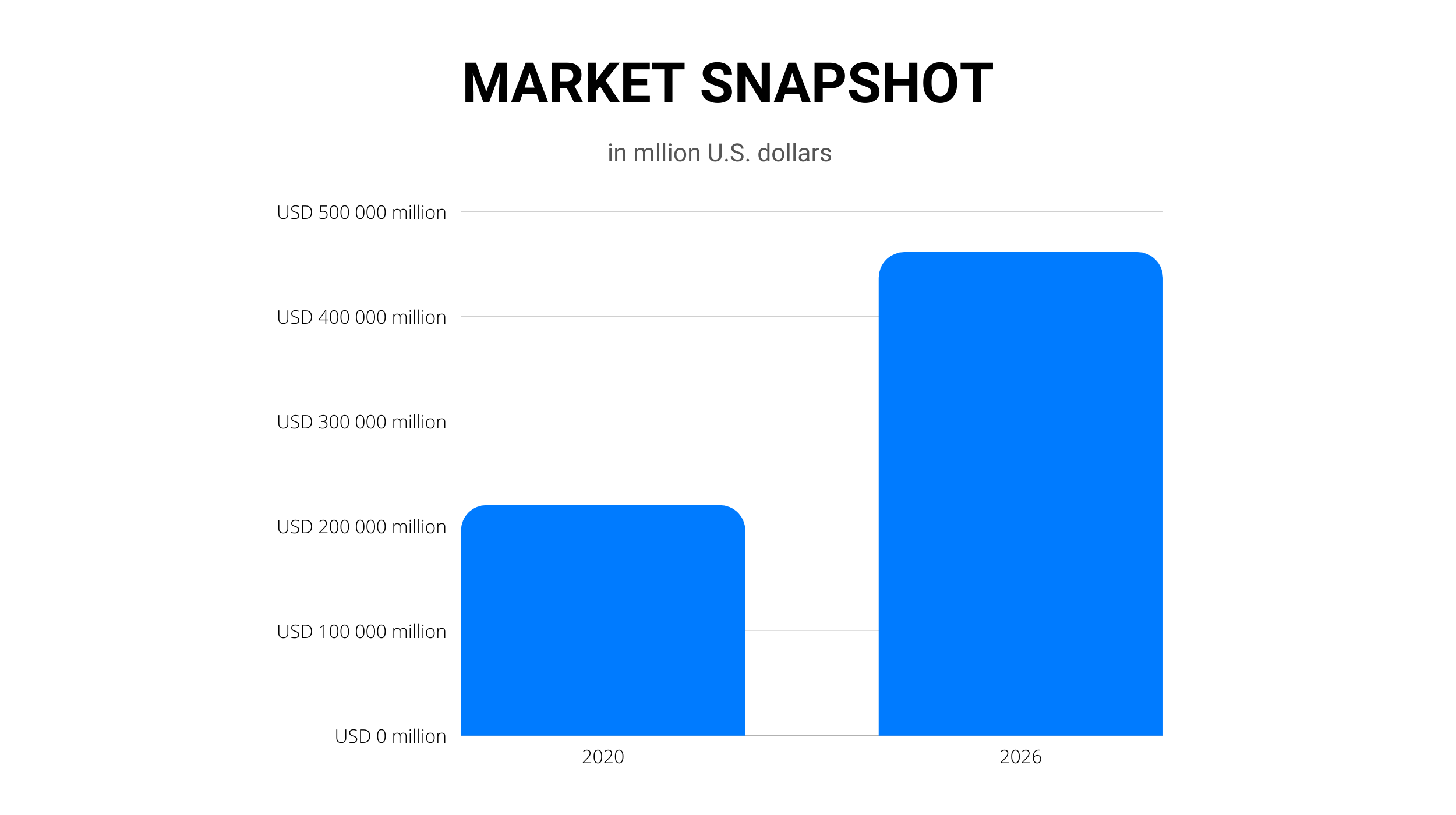 Medical products with nanotechnology have been on the market for several years. It has had a major impact on diseases of the central nervous system (CNS), cardiovascular disease, infection control, and cancer. With the improved imaging and diagnostic tools enabled by nanotechnology, we are able to diagnose diseases earlier, better, and more accurately, thereby providing personalized treatment options and increasing therapeutic success rates.
Trend #9. Big Data Management
Medical analytics can improve the lives of people on Earth due to its multifaceted benefits. From medical imaging, predictive analytics, anti-fraud, the development of new therapies, treatment and disease risk management, supply chain improvement, and more, the applications are endless. Data collection and management are becoming more important than ever, and it is imperative that you enlist the help of professionals to build your analytics engine.
Clinical Decision Support (CDS) software analyzes medical data in real-time to provide guidance to healthcare professionals in making prescriptive decisions. Smart wearable devices that track various parameters are also a big benefit of using big data along with other technologies.
As the Market Research Future (MRFR) report states, the healthcare big data analytics market is expected to reach $9.5 billion by 2023. United Healthcare Group, McKesson Corporation, Allscripts Healthcare Solutions Inc, etc. this market.
Trend #10. Cloud Computing
As the healthcare industry sees a surge in the adoption of big data analytics, wearables, and the Internet of Things, cloud computing is enabling all of these by offering data scalability, flexibility, and better storage options. As telemedicine gains momentum, cloud computing offers the necessary infrastructure to provide patient care in remote locations.
With the help of the cloud, remote access and information sharing become easier. This will be critical when you want to provide assistance remotely. Data is processed much faster, and you can cut your costs by reducing the number of in-house IT staff as there are no servers on-site.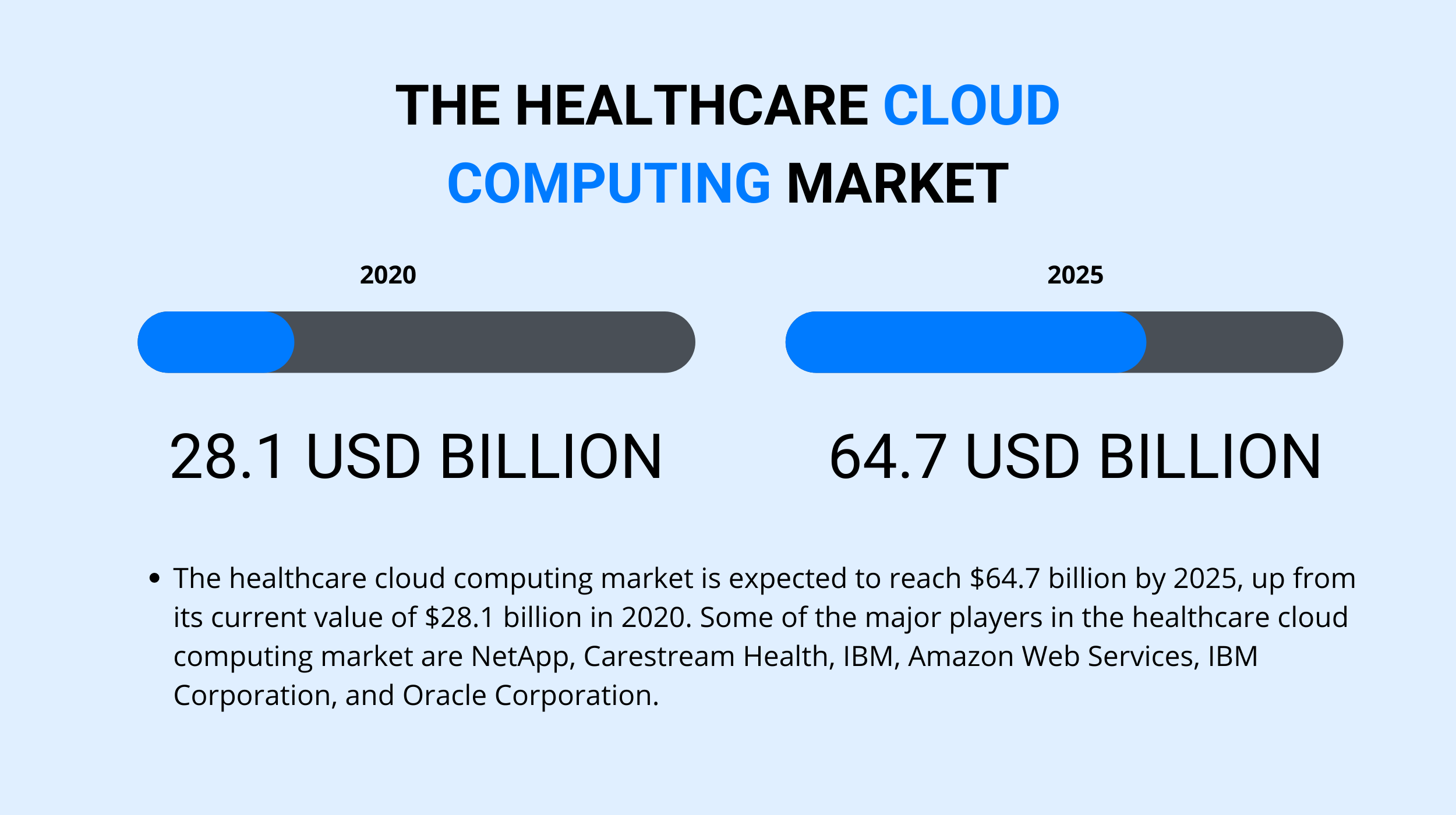 Code & Care's Healthcare Clients
The Code&Care team has vast experience in telemedicine application development. Although most of our clients are under NDA, there are some cases we can show you.
✔ eCare Nordic AB
eCare Nordic AB is a medical video call application that gives customers easy access to bookings and video or voice calls with doctors. The app is user-friendly, easy-to-use, and has an intuitive design with maximum protection of user data.
✔ Ibis
Ibis is a web application related to the healthcare industry that connects doctors with patients. In the application, each user has a dashboard where they can make an appointment, check the calendar schedule, make a video call, check invoices and pay through a payment gateway.
✔ ArroHealth
ArroHealth is a medical CRM that brings together the nation's number one and number two retrieval companies. It is a premier national provider of technology-enabled, end-to-end services that help health plans and provider organizations assess and impact their risk adjustment and HEDIS programs.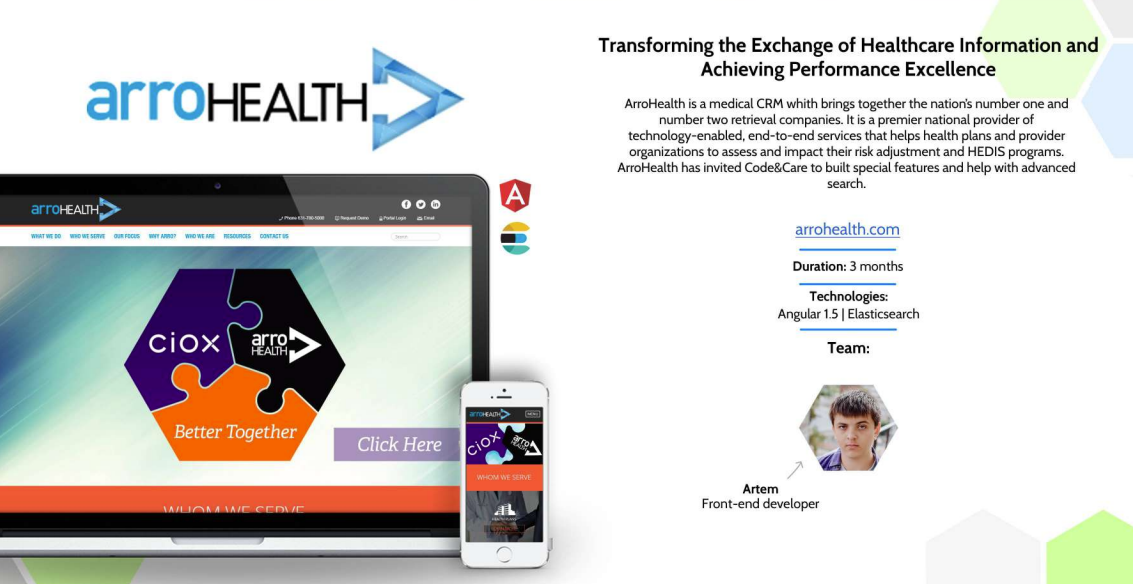 ✔ TMAC
The Medical Affairs Company (TMAC) partners with pharmaceutical, biotech, diagnostic, and medical device companies to establish or augment their medical affairs capabilities.
Feel free to ask our team any questions via email: andrew.gromenko@code-care.pro or a contact form. We are always ready to help.
Final Thoughts
Medical technology trends are helping to change and improve the industry, and more than that, they offer a range of benefits for both healthcare professionals and patients. Although this process is rather slow, more and more hospitals and healthcare organizations are acquiring advanced technologies and solutions to improve their services.
Together, healthcare and the IT industry are showing amazing results and helping thousands of people cope with illness faster, more comfortably, and more efficiently. We are experiencing significant changes that were once only possible in science fiction.
Also in healthcare:
5 Tips for Doctor Appointment Mobile App Development
7 Points Checklist for Mobile Health App Development