Pharmacy apps have taken the pharmaceutical industry by storm. Offline shops have struggled to meet the demand for drugs from the people. These online shops have saved people the time they spend visiting pharmacies. Moreover, they are tempted to buy on these mobile apps as they get great offers and can shop from the comfort of their home.
Online pharmacy market trends and statistics
The COVID-19 has influenced all areas of our lives. For sure, the most significant influence had health care. That's why areas such as telemedicine, mHealth, doctor appointment booking apps, internet pharmacy apps became more widespread than ever.
Look at some statistics:
Zion Market Research says that the e-pharmacy market was $42.32 billion in 2018 and is supposed to grow to $107.53 billion by 2025.
According to another Zion report, the number of mobile health apps is expected to reach $111.1 billion by 2025. Earlier in 2018, the market was estimated at $8 billion.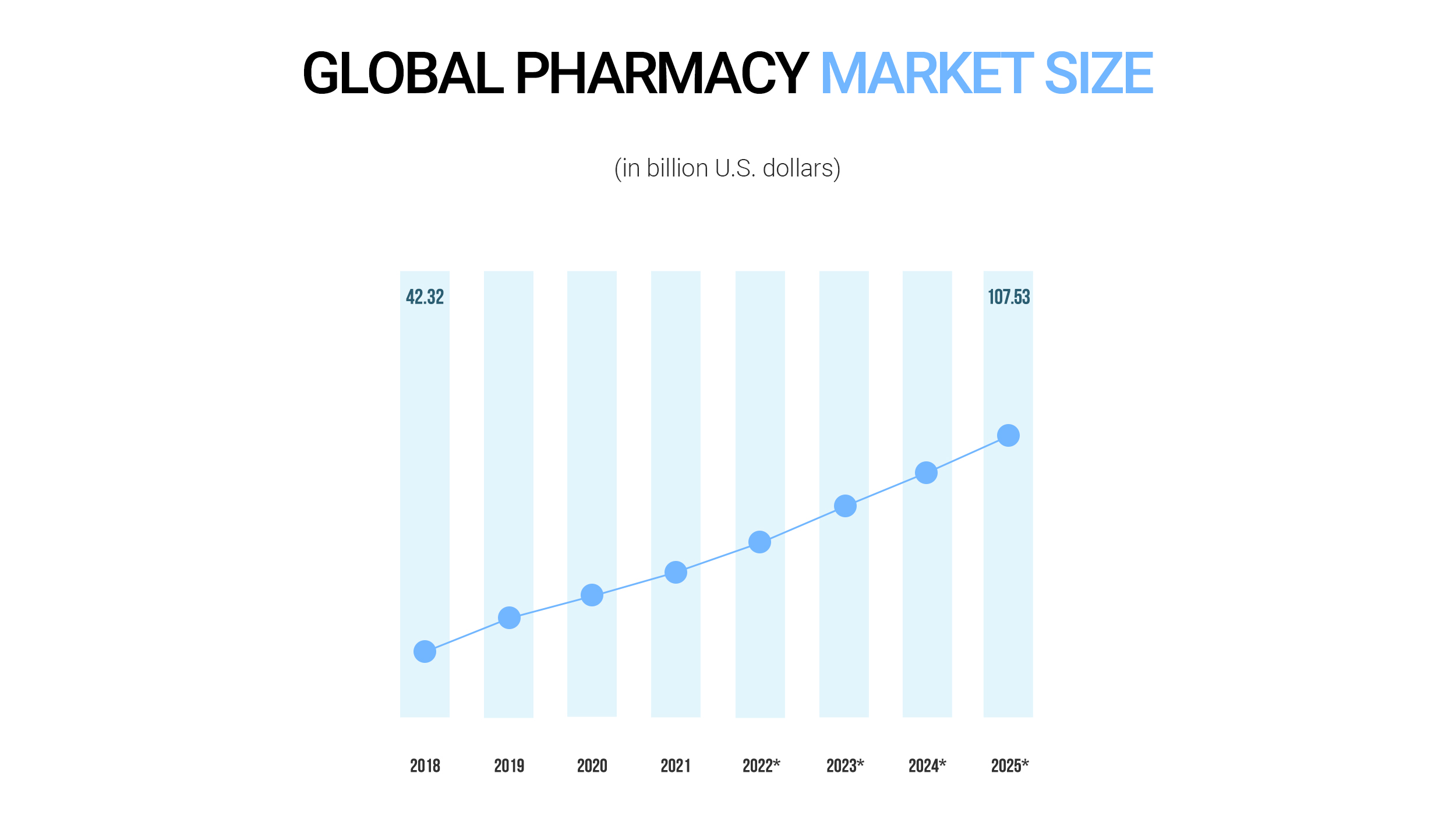 Since you are familiar with the key numbers and forecasts of the industry, it is time to move on to the leaders of the pharmacy applications market.
Top pharmacy apps you need to know
Although recently, there have been many pharmacy apps that are designed to meet the growing demand for medicine. But only some of them have reached the top of the competition by providing healthy and safe services. Here is the list of the best pharmacy apps worldwide:
Capsule is a New York-based app created in 2016. The application became well-known even before COVID-19 times. Nowadays it is the undisputed tool for the people that do not want to get infected. After creating a Capsule account, the person can transfer the prescription from the regular pharmacy to the Capsule. To do this, they fill out an online form. They then receive a message to schedule a delivery.
CVS Pharmacy serves over 9,600 locations throughout the US, delivering orders in a couple of hours. Through the app, medicines for allergies, colds, and pain relievers are delivered to clients. They also order personal hygiene products, vitamins, and first aid kits.
NowRx is one of the main pharmacy apps in the US. The application offers many useful options for both doctors and therapists. Through the app, users can upload photos of their actual recipes onto paper and place orders for delivery. The app provides users with reminders when they need to take a pill or refill a prescription.
In addition to the standard ordering and shipping features that PillPack offers along with other similar applications, it also provides some additional opportunities. Users with active tablet package accounts can give their family members access to their profiles. Due to this feature, the family can stay informed and contact the pharmacist if there any questions. Moreover, all medications that users get are sorted by time and dosage. It helps patients avoid overdose or skip appointments.
Through the application, users can order both medical products and equipment. They use at least a 15% discount on every order and often receive additional offers. When placing an order, they can also find valuable information about the medications they are ordering: the direction of use, recommended dosage, interactions, contraindications, side effects, and warnings. Besides, the app provides users with the ability to record diagnostic tests such as blood tests, routine check-ups, and full-body exams.
NetMeds is an Indian drug delivery app that offers a wide range of medicines to its users: prescribed and homeopathic medicines, fitness products, diet supplements, etc. The app makes special offers daily. Besides, customers can earn bonuses by referring NetMeds to their family and friends. People are allowed to place orders and use convenient payment methods, research valuable health information, top-up their medications, consult a doctor, and track order status in real-time.
Why you may want to build a pharmacy app
Developing an app for online pharmacies is a good decision as it is convenient for both clients and companies. Look, what benefits can you get from your application:
Patient care at a high level
Clients are provided with medicine reference materials, tips, and medicine trackers.
Better management of chronic disease
People with chronic disease can track their medications and order supplies for up to 90 days online instead of the usual 30 days at brick-and-mortar stores.
Consumer commitment
As the app offers discounts, reminders, and promotions, it makes easier interactions and increases people's loyalty.
Convenience and security
People appreciate saving time and money. Moreover, some clients find it inconvenient to buy medicines in front of others. With pharmacy apps, users feel more confident.
The attraction of new clients
A pharmacy app gives an opportunity to work with the best marketing tools to attract more people to the company. An online presence also increases the customer base, which leads to a higher income.
Now, when you know the main benefits it's time to move on to the main types of pharmacy applications.
What types of on-demand pharmacy apps are exist
The creation of the app should be in line with the existing internet pharmacy business model. Here is a list of the most widespread types of pharmacy applications: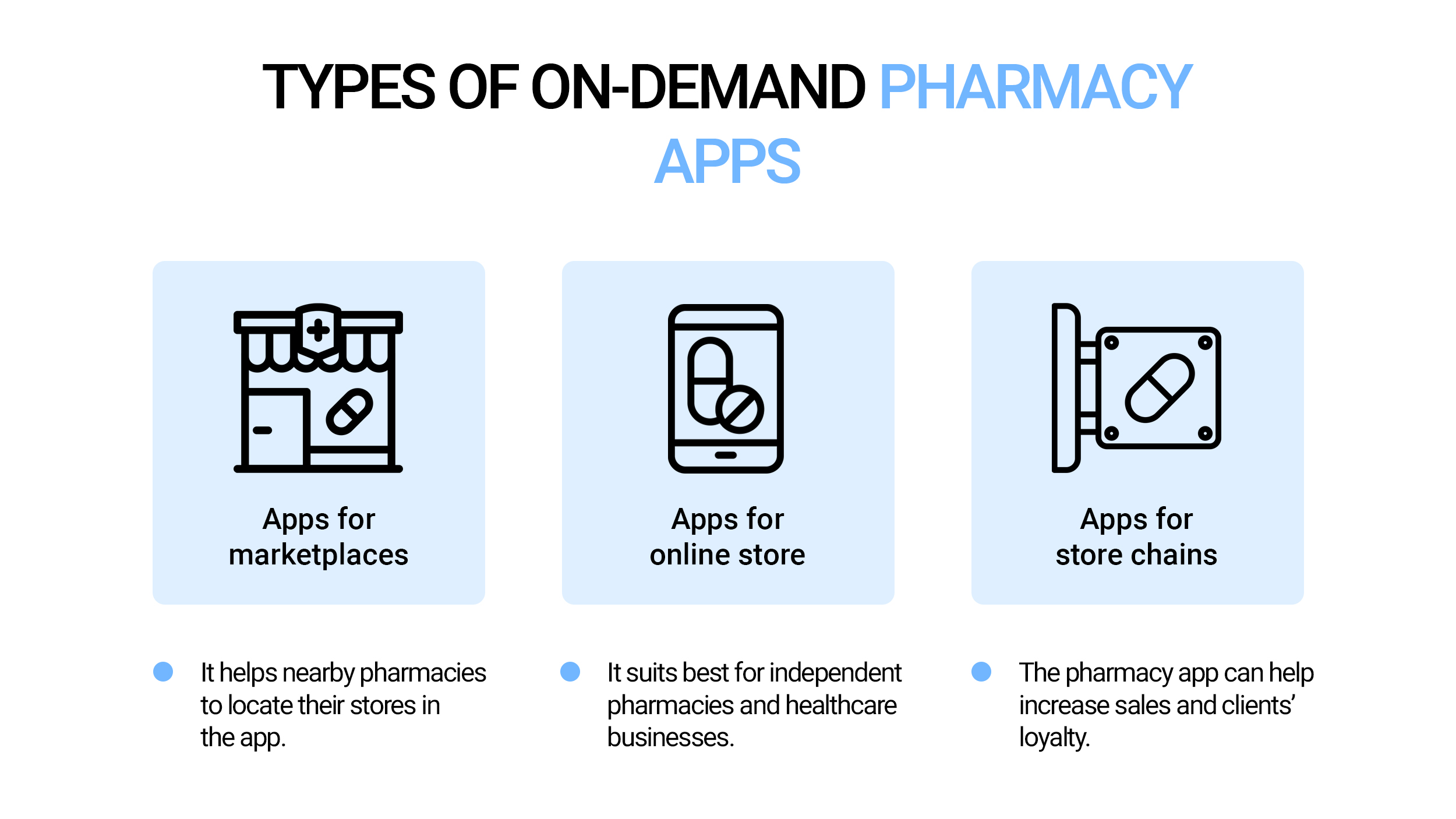 A market-based business model for ordering and delivering drugs helps nearby pharmacies to locate their stores in the app, avoiding monopoly and benefiting the entire business. It simplifies ordering medicines from local suppliers.
This kind of app suits best for independent pharmacies and healthcare businesses, where a company can directly contact and interact with its users. Products are sold only through the app.
The pharmacy app can help increase sales and clients' loyalty.
Essential feature list for an online pharmacy app
There are four main user roles: client, pharmacist, admin, courier. Each user role requires specific features. So, let's start with the customer interface.
Client interface features
Registration/Login
A very basic feature that must-have for every online pharmacy.
Search by title and content with filters
Customers need an opportunity to search using various parameters and filters. You need to identify them ahead of time by analyzing customer problems, FAQs, and other issues.
Drug information
Information about a specific drug has to be verified and complete. Basic precautions and potential hazards must be clear.
Basket
It is one more crucial feature of the ordering process. It should be possible to edit the shopping cart by adding or removing items.
Instant payment
Nowadays people appreciate the opportunity to pay for their orders online using credit and debit cards, mobile wallets, or even cryptocurrency.
Delivery and/or pickup options
You have to give your customers a choice to pick up their order or to receive it.
Repetition of the order
People with chronic diseases need constant support for their health. So, they will appreciate the opportunity to reorder prescriptions with one click.
Newsletter subscription
As part of your marketing strategy, you can offer the clients to subscribe to your newsletter to get news and personalized offers.
Pharmacist interface features
✓Dedicated interface
For better order and inventory management, your supplier's pharmacist can use the web console.
✓Order notification
Pharmacists need to receive instant notification of new orders by e-mail or online.
✓Digitize the recipe
Electronic prescriptions are readily available and reviewed by pharmacists.
✓Provide support
Customer support must be easily accessible for people. It is the key to clients' loyalty and retention.
Admin interface features
Inventory management
This makes it easier for administrators to define expiration dates for inventory, see inventory levels, and manage product prices.
Manage orders
Administrators should be able to manage the status of all orders placed and update it as the order process progresses.
Manage your clients
A secure database has to be available to administrators.
Payments and offers
Offers and various discounted promotions and payment processing options are available to administrators in this feature.
Content management
Provides answers to frequently asked questions and conditions.
Marketing tool
With this feature, administrators can manage ads, marketing email, and marketing campaigns.
Courier interface features
Courier registration
Drivers should be able to sign up easily using email, phone numbers, or social media accounts.
Courier profile
It allows couriers to keep a history of deliveries.
Shipping status
This feature allows the courier to make the necessary changes related to the delivery status.
Map tracking
Drivers need an opportunity to use maps to track the best route and directions for delivery.
Pop-up notification
Couriers should also be able to receive notifications and alerts when orders are fulfilled.
Tech stack and requirements
In the table, we have listed the main technology stacks required to build a pharmacy application:
| | |
| --- | --- |
| | Technology |
| Front-end | Java, Swift, Angular, JavaScript, CSS, HTML, React.js |
| Platforms | Android, iOS, Web Application |
| Back-end | Python, Laravel, Node.js |
| Push notifications, SMS, and in-app messaging | Batch |
| Payment processing | PayPal API, Stripe API, and Braintree SDK |
| Database | MongoDB, Hbase, Cassandra, Postgress |
| Cloud Environment | Google Cloud, AWS |
| Location tracking | MapKit framework for iOS, and Google Maps SDK for Android |
| Social login | Facebook, Google, Twitter APIs |
| Push notifications | Firebase Cloud Messaging (FCM), Apple Push Notification service (APNs) |
| SMS, Phone, Voice Verification | Twilio, Sinch, Nexmo |
| Data Management | Datastax |
| Services related to emails | Mail Chimp Integration, Mandrill |
| Universal Operating System  | Debian, Macintosh, Ubuntu, CentOS |
| Real-time Analytics | Hadoop, Spark, BigData, Apache Flink, Cisco, IBM  |
| Payments | Raintree, Stripe, PayPal |
Ensure Required Medical Compliance & Integration
Health Insurance Portability and Accountability Act (HIPAA)
Health Level 7 International (HL7)
Food and Drug Administration (FDA),
U.S. Department of Health and Human Services (HHS)
HITECH's Meaningful Use Stage 1 and 2 (MU-1 & MU-2)
Integrated with EPA (Electronic Prior Authorization)
Certified with EPCS (Electronic prescribing of a controlled substance)
Main steps for pharmacy delivery app development
The steps below are for our guide to developing a pharmacy application: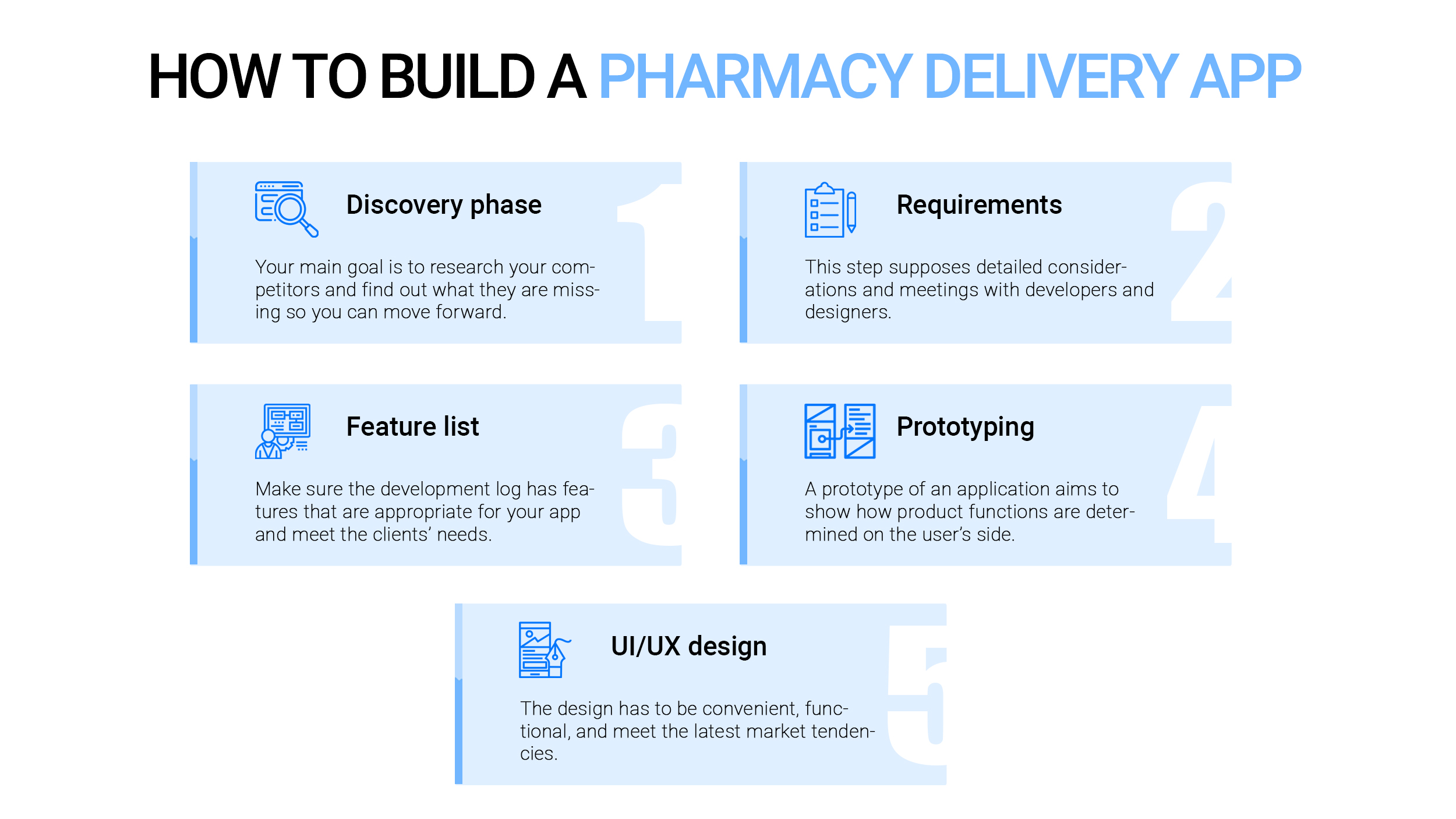 1. Discovery phase
Your main goal is to research your competitors and find out what they are missing so you can move forward. It also lists the needs of your target audience for a more efficient marketing strategy.
2. Requirements
This step supposes detailed considerations and meetings with developers and designers. It is needed to provide an accurate specification for your pharmacy.
3. Feature list
Make sure the development log has features that are appropriate for your app and meet the clients' needs.
4. Prototyping
A prototype of an application aims to show how product functions are determined on the user's side.
5. UI/UX design
The design has to be convenient, functional, and meet the latest market tendencies.
How to monetize your pharmacy app?
Monetization models of pharmacy apps are pretty similar to the monetization models of other types of apps. So, here is the list of the main ones: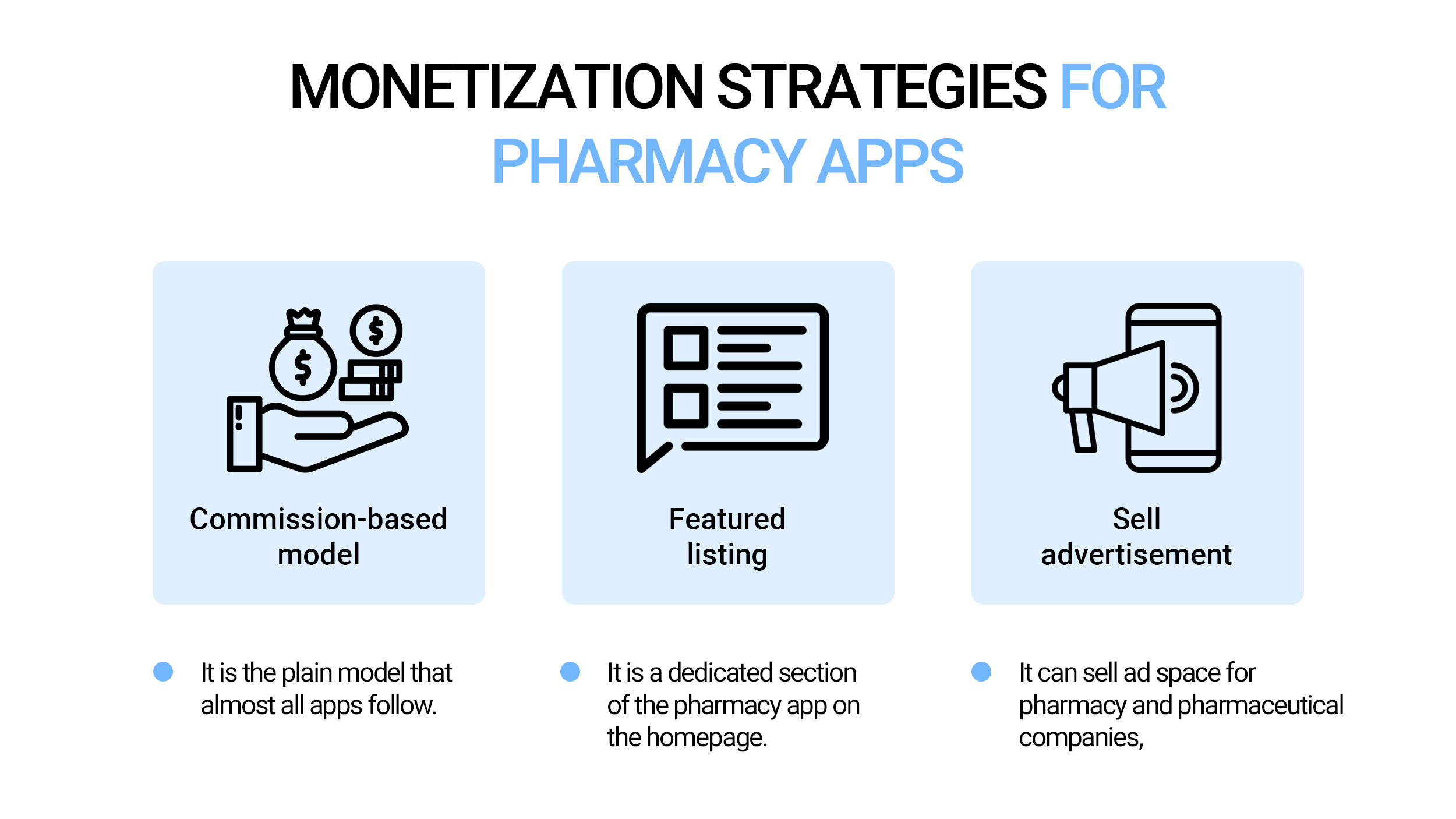 It is the plain model that almost all apps follow. Since the pharmacy app provides pharmaceutical companies with a platform on which they can sell their products/drugs to customers, they charge these companies a percentage of the commission on drugs sold or the number of sales made on a daily basis.
A featured listing is a dedicated section of the pharmacy app on the homepage or search bar, where e-pharmacy apps display sponsored results.
It is another awesome source of income through online pharmacy apps that can sell ad space for pharmacy and pharmaceutical companies, diagnostic centers, hospital chains & brands, insurance companies, eWallet companies.
Now, when you know how to make money with a pharmacy application, we can move onto the price of its development.
How much does it cost to develop an online pharmacy app?
The final price depends on the list of factors:
the platform for the app creation. It may be iOS, Android, Windows, or cross-platform presence;
the complexity of the project;
the required amount of time and the hourly rate of the developers;
the project tech stack.
Thus, the average price for MVP development is about $16,000 – $30,000. If you want to get a more complicated product, it will cost more.
Scope
Approx time, hours
1. Project Start
Initial backlog preparation
4
Project schedule preparation
4
Staging environment setup
8
2. Development Section (Mobile)
Implement in-app routing
16
Geolocation
17
Login
19
Sign up
19
User profile
23
Home screen
19
Menu
16
Medicine/treatment search implementation
25
Medicine categories
16
Product screen
16
Shipping & payment
22
Payment
14
Customer reviews
8
Notifications
8
3. Stabilization and Delivery
Prepare Android build upload it to Play market
10
Create Apple certificates, prepare iOS build & upload it to App store
24
4. Project management
Backlog elaboration and maintenance
17
Planning meetings, review meetings
16
Project Management and communication
32
Quality Assurance, hours:
68
Total Development, hours:
272
Project Management, hours:
81
Total:
421
To estimate your idea precisely, contact us at andrew.gromenko@code-care.pro.
Web Application Development Cost: The Full Guide On Your Project Price
What kind of challenges you may face?
Custom mobile app development can be accompanied by lots of pitfalls. Here is just some of them:
FDA regulations
Pharmacy apps have to satisfy the rules and regulations set by the FDA, which promotes healthy lifestyles and the transformation of electronic devices into medical services that allow them to access services such as tracking their diet, medication, and exercise.
Security
Online pharmacy applications need to ensure the safety of patient data by HIPAA (Health Insurance Portability and Accountability Act). Under no circumstances should there be a disclosure of the health status of any client. Thus, if any client data is shared with hospitals and doctors through these apps, it has to comply with HIPAA security regulations.
Facing conflict from legacy corporate systems
Hospitals that follow the old drug distribution procedure have not yet mastered this new method of delivering drugs to customers. Thus, pharmacy applications face challenges in adapting to outdated medical practices.
Summary
Currently, delivery options for basic needs such as food, groceries, clothing are available to any business, and the pharmaceutical industry is no exception. It means customers expect their medicines will be delivered in time without any interruptions.
The process of pharmacy application development is not much different from any other. Nevertheless, it is crucial to find a company that can take into account all the needs of your business and implements them in a customized solution. Using a ready-made template, you simply dissolve among competitors, and a completely individual solution will allow you to implement all your plans. Remember to have good contractors implementing this solution.
Read next:
How to develop a drop-in audio chat like Clubhouse
How to Make a Video Calling App Like Zoom and Google Hangouts?
Progressive web application development: Cost, Tech Stack, Advantages
How to Build Your Own Auction Website Like eBay (The Full Comprehensive Guide)