Efficiency is the key to success. And digital time management tools help us achieve what we want and become as productive as possible. That is why such programs are now in great demand. Thus, it makes sense to create your productivity apps and start making money from them.
Interested? Then read on. In this article, we will cover everything you need to know to build and monetize a productivity app.
What Is a Productivity App?
🔹 A productivity mobile app is a program that allows smartphone, tablet, and wearable device users to perform important daily tasks.
🔹 The purpose of these productivity apps is to make mobile device users more efficient wherever they are by giving them access to features such as note-taking, email, calendaring, to-do list and reminder apps, and processing software. texts, spreadsheets, and presentations.
🔹 At its core, time management is real science, focused on the competent distribution of hours, which is necessary to achieve a particular goal. Moreover, such a goal can be both the fulfillment of professional duties, and obtaining a certain personal result (say, the desire to lose weight also cannot be realized without proper planning).
🔹 And if earlier, for the proper organization of all processes, we had no choice but to resort to paper planners, now, in the digital age, you can use special software. Of course, we mean time management tools that allow us to work more efficiently on our tasks and set priorities correctly.
Market Overview
📈 The productivity tools market was valued at $41.90 billion in 2020 and is projected to reach $122.70 billion by 2028, growing at a CAGR of 14.49% between 2021 and 2028.
📈 Total revenue in the productivity segment is projected to reach $9.99 billion in 2022.
📈 There are over 28,000 productivity apps in the Apple App Store and 27,000 in the Google Play Store. Apps like Trello, ToDoist, Microsoft Planner, and Evernote make up the top 1% in this category. However, only 7% of productivity apps exceed the ideal 50,000 downloads in the Play Store, and even lower in the Apple App Store.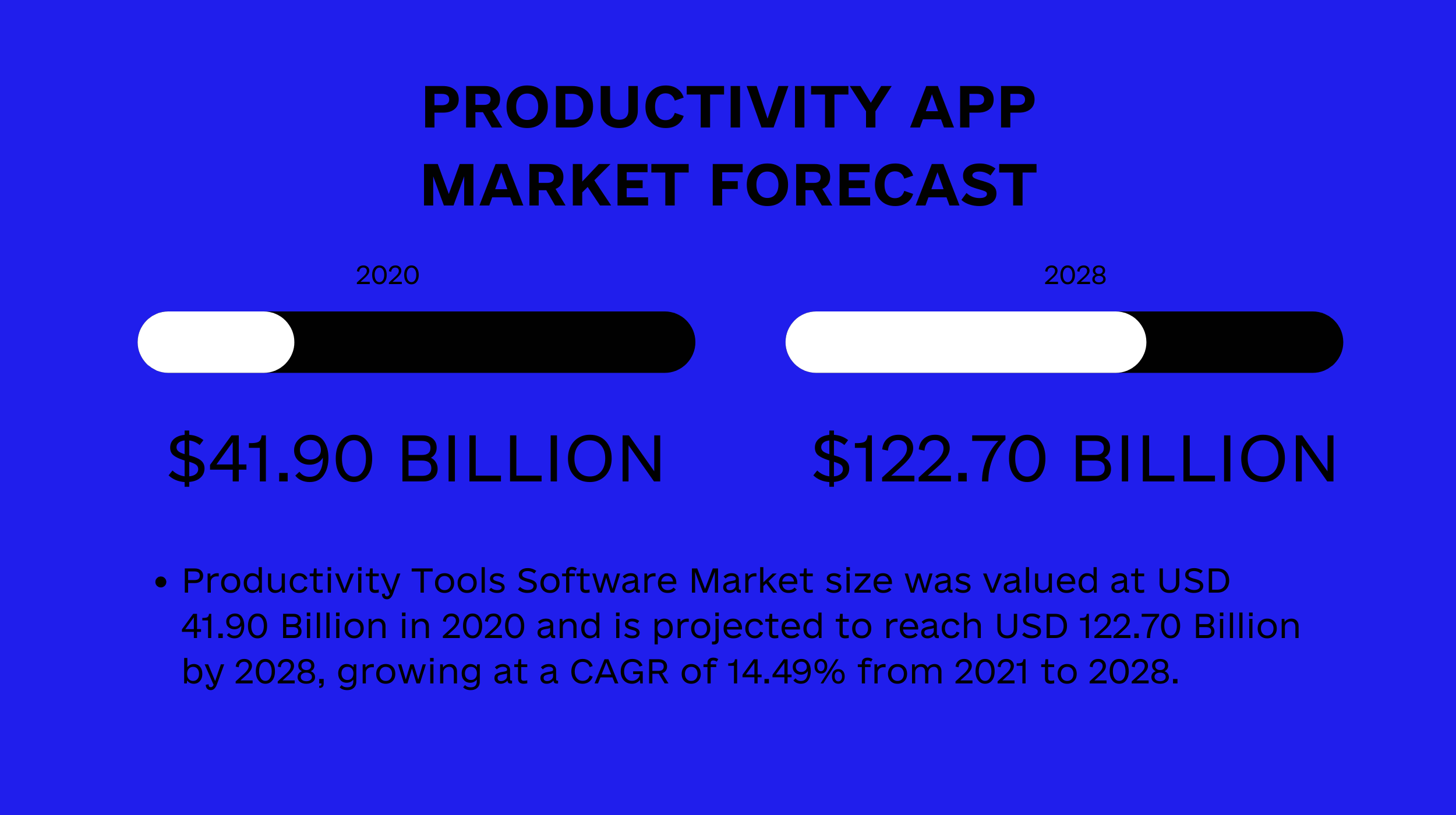 📈 Productivity apps are in the top 10 types of apps found on people's devices, but they also lead the way when it comes to app categories with the highest uninstall rate after 30 days of use. There is a lot to be desired in this category of applications.
So how do you build a successful productivity app? To answer this question, you need to look at what drives productivity and what popular methods/systems people around the world are adapting to improve efficiency and get work done.
Understanding these systems and how the top 1% work will not only increase your chances of building something useful and having a USP, but will ensure a successful launch.
Types of Productivity Software
When it comes to productivity apps, there are lots of options. Now, we'll overview the main of them.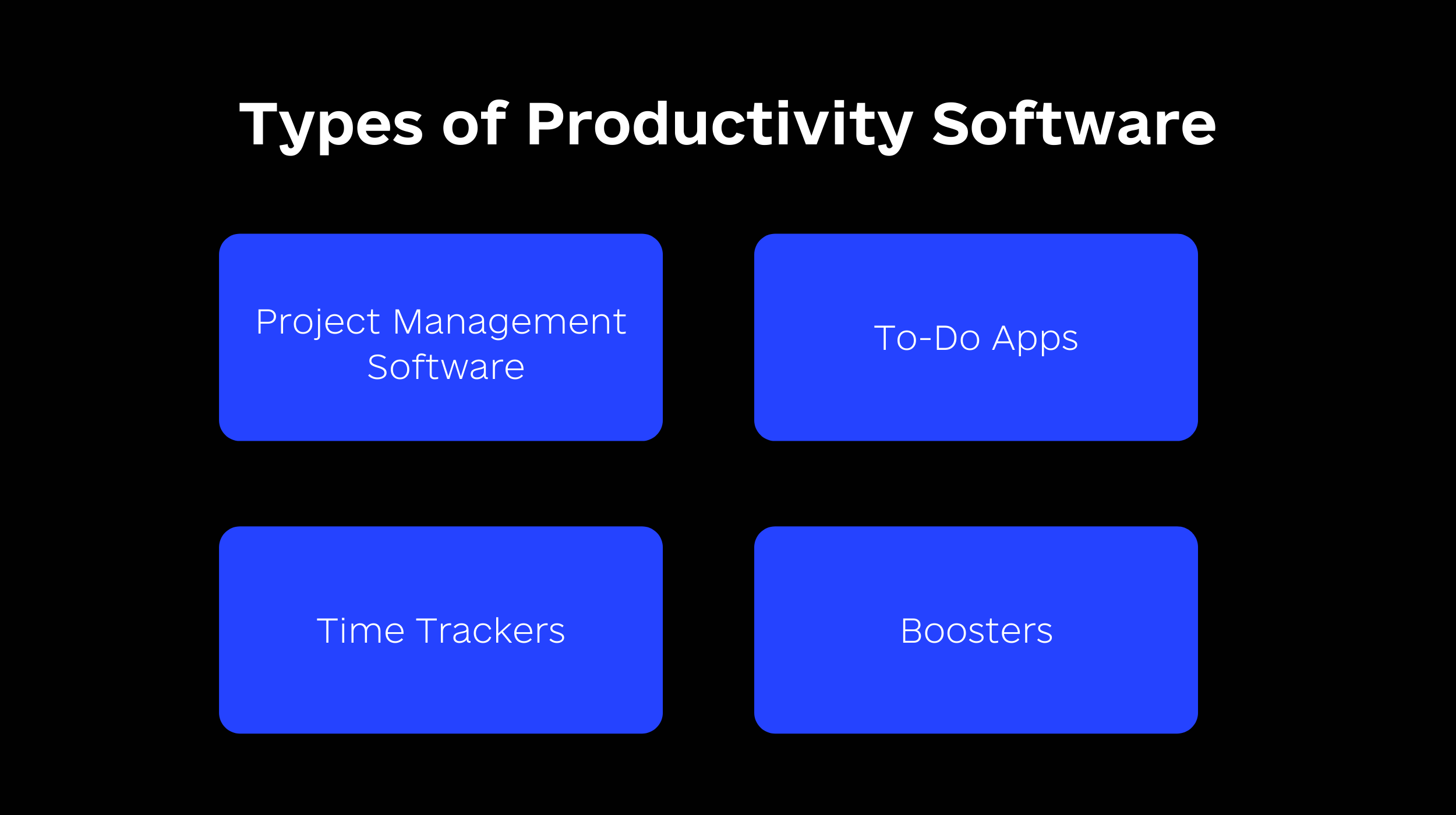 ✅ Project Management Software
Project management software is perfect for teams looking to improve their workflows and communicate better. As you explore the different types of productivity apps, you'll see that project management platforms stand out for features that help organizations optimize collaboration. It does this by providing several features that serve this purpose.
Examples: Trello, Microsoft Planner, and Wrike.
✅ To-Do Apps
Sometimes different types of productivity apps are very similar or even overlap in certain areas. You shouldn't be surprised that to-do features are a must-have function for practically any project management software. But simpler to-do apps are here for you if you don't need an extensive project management tool.
Examples: Todoist, Microsoft To Do, and OmniFocus.
✅ Time Trackers
If you still think that time tracking is only done to prove how much time you spent on work, it's time to drop that belief.
The truth is that measuring the time spent on your tasks is an effective and highly recommended strategy (especially when you're tracking time while working remotely). Nothing gives you a better idea of ​​your productivity than knowing how long it will take you to complete X, Y, or Z. And this, in turn, is invaluable knowledge when you need to optimize your planning processes.
Examples: DeskTime, Hours, and Timecamp.
✅ Boosters
Website blocking plugins, music and white noise apps, or even various apps that organize your day into blocks of work and breaks. A lot of things fall into this category – and regardless of the specific problem an app solves, its overall goal is to increase your focus and keep you focused on the task at hand.
Examples: Focus Booster, Focus Mode, and Toggl.
Who is Interested in Productivity Tools?
✅ As you probably already understood, such applications will be useful to all businesses and businessmen (as well as ordinary people) who want to manage their time more efficiently and thereby increase the productivity of their actions.
✅ First of all, these time trackers and productivity apps will come in handy for corporations, enterprises, startups, project teams, and self-employed specialists.
✅ Although, the target audience can be divided into two main groups — business productivity apps and personal productivity apps. Let's overview each of them!
Business Productivity Apps
First of all, such platforms are extremely useful for businesses of various sizes: both small teams and large corporations. And this is understandable because the inability of employees to properly manage time leads to a decrease in the productivity of the entire company, which negatively affects sales schedules.
Business productivity apps provide a list of benefits to their users. The key ones are:
The ability to organize the workflow management process in one space.
Full data synchronization on all gadgets.
The ability to assign tasks to other employees and monitor the performance of work.
Access to productivity app features on any device the team uses.
Providing an opportunity for several people to work on a joint project.
Improved notification system.
Increased security.
That is, the main goal of such services is to allow business owners to manage their team without stress, safely, efficiently, with the ability to visualize the productivity of each employee. Sounds great, right?
Want to know more about remote team management? We've covered everything that you may be interested in in the article.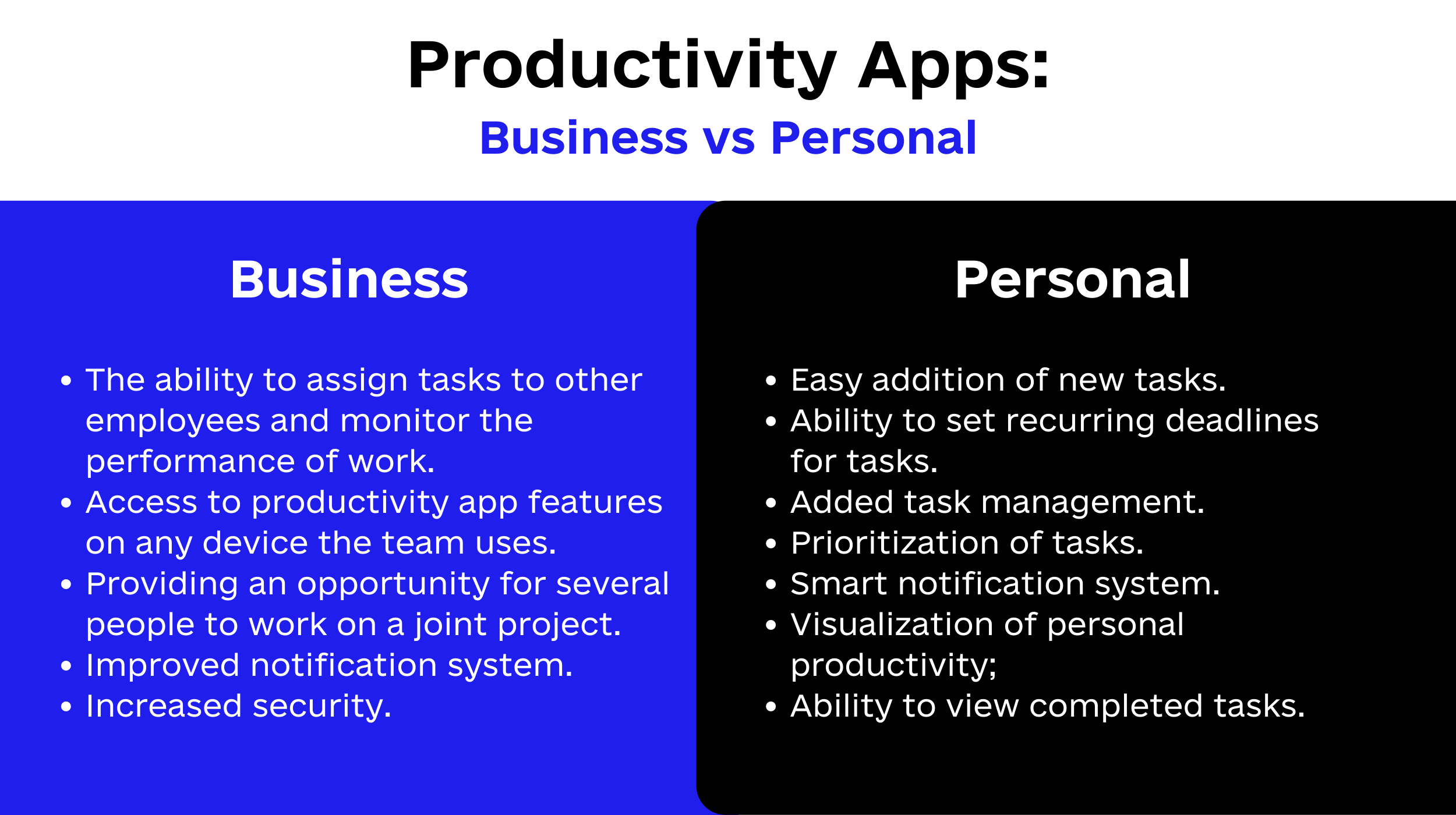 Personal Productivity Apps
Now let's turn our attention to the mobile personal productivity market. After all, such applications will also be useful to individual users: freelancers, self-employed professionals, and just people who want to increase the efficiency of their routine duties and ensure that their daily activities bring maximum results.
What do users of personal productivity tools expect to get? Here is the list of the main points:
Easy addition of new tasks.
Ability to set recurring deadlines for tasks.
Added task management.
Prioritization of tasks.
Smart notification system.
Visualization of personal productivity;
Ability to view completed tasks.
Top Productivity App Features
We have come to the most interesting, namely the description of the functionality of tools for business and personal productivity. The first thing it's worth mentioning is that productivity apps require two roles — user and administrator.
User Panel
To begin with, let's analyze what functions a particular user needs, whether he is an employee of a particular company or a person who uses the program for private goals.
🔹 Profile
Any application always starts with a user profile, which is quite natural. We are talking about a personal account containing all the basic information about a person: gender, age, profession, work experience, hobbies, social status, and so on. You can suggest additional fields to be able to get as much information about the user as possible.
🔹 Boards
Such a board is nothing more than a workspace dedicated to a specific project, group,
or department of the company, depending on the needs of a particular organization. The user (or company management) is free to create several boards dedicated to different topics.
Each board must include:
The user should be able to name the board (for example, Project 1 or Marketing Group). This will allow employees to understand exactly what they are working with.
Think over the structure of your board, which is also the main working field. Trello, for example, offers a handy list and card system. As for the Jira program, it structures the workspace by issue type (all, open, completed, etc.).
It would be useful to provide the ability to customize the style of the board: change the background, choose the type and color of the font, etc. By the way, not all time management tools offer such a feature, so you have a chance to get a good competitive edge.
In other words, allow specifying the team working on the project.
🔹 Tasks
The next item on the list of productivity app features is full-fledged task management. Each task must have the following characteristics: labels, status, deadline, answerable people, description, attached files, comments, task management.
🔹 Calendar
Calendar mode allows users to see the tasks distributed over the calendar grid and thus analyze their own and/or the productivity of other employees.
🔹 Time Tracker
Each user should be able to record the number of hours they spent on a particular task on a given day. This will make it possible to track how quickly and efficiently it works.
🔹 Support
The user may encounter a specific problem while interacting with the time management and productivity platform, in which case he will need help. And a support team would be the perfect solution.
🔹 Notifications
Notifications are also a must-have feature for both business and personal apps. These reminders and alerts are needed to notify users of upcoming deadlines, new tasks assigned to them, get feedback, and so on.
Admin Panel
We discussed the features that ordinary employees need. Now it's time to talk about users with a higher level of access, namely admins.
🔹 User Management
Firstly, the admin must be able to manage other users of the productivity platform (not all, of course, but only those who belong to a certain group — let's say they work in the same company). User management includes adding new users, removal of unnecessary tasks, giving tasks a certain level of responsibility.
🔹 Subscription and Payment Management
In addition to users, the administrator must be able to manage payments and subscriptions. This is a very sensitive issue (like everything related to money transfers), so it is important to consider the security factor.
🔹 Archive Access
When describing the task-oriented features of productivity applications, we mentioned the archiving capability. And admins should have access to these archives and be able to manage them.
🔹 Support
Just like normal users, administrators may encounter a problem while using the application that will require contacting support. So make it possible!
Extra Features
🔹 Multilingual Support
If you expect to reach a wide audience of users living in different parts of the world, then your application or site will undoubtedly need a multilingual interface. However, if you're on a budget, start with one language support and gradually add more options.
🔹 Offline Mode
The offline mode also increases your chances of ranking your web or mobile service as one of the best productivity apps. After all, Internet access isn't always available, but your users still need to work.
🔹 Integrations
To create a really strong, competitive, successful product, it is necessary to ensure the possibility of its integration with popular third-party services. This will make it easier for the user to interact with your time management platform.
How Much does it Cost to Make a Productivity App?
If you're building a productivity app, you should naturally be concerned with the cost associated with the app. Depending on the type of productivity app you want to develop, the price will vary greatly.
Features
Approx development time, hours
Authorization
Front (signin signup login logout)
24-30
Back (signin signup login logout)
32-40
User Panel
Profile ( front back)
40-80
Boards ( front back)(differ boards projects)
80-120
Tasks (item & functionality)
24-40
Calendar
16-30
Time Tracker
16-30
Support
16-30
Notifications
40-80
Admin Panel
User Management
80-120
Subscription and Payment Management
40-80
Archive Access
40-80
Support
16-30
Extra Features
Multilingual Support
16-30
Offline Mode
40-80
Integrations
40-80
To get a top-notch productivity app, you will require at least 6 months. The exact information about the required time and team we can provide you after the discovery phase.
Code&Care offers web application development services starting at $34.50 per hour and growing the team and staff by $4800 per month.
What Technologies You Should Choose
Entrepreneurs, especially those without a technical background, find it difficult to choose a programming language.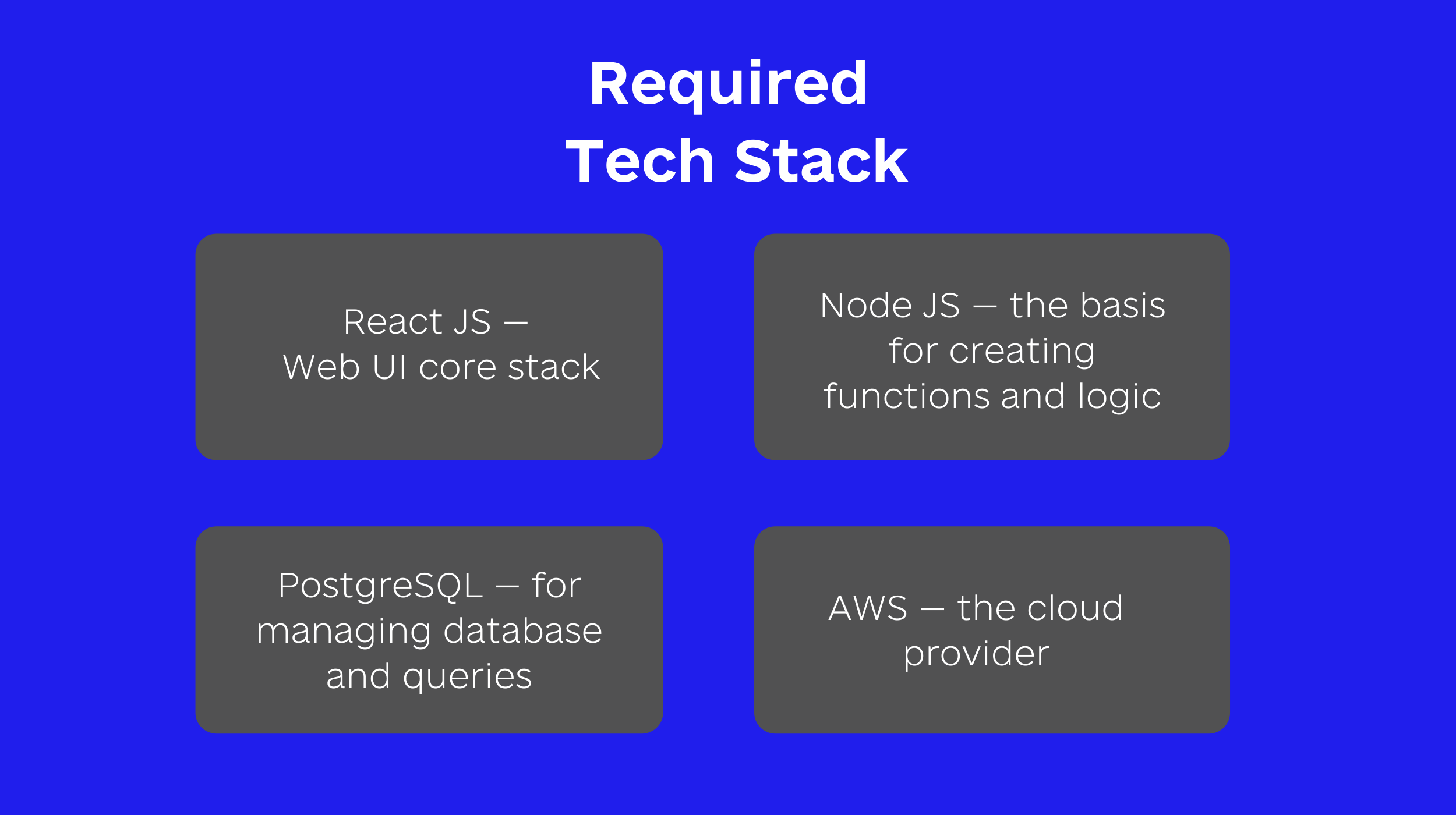 We provide you with a list of technologies that are best suited for productivity app development:
React JS — Web UI core stack.
Node JS — the basis for creating functions and logic.
PostgreSQL — for managing database and queries.
AWS — the cloud provider.
Monetization Models
Why build productivity apps if not monetize them? If you have the same opinion, the next section of our article will be useful to you.
✅ Light & Pro
We are talking about a freemium model, as well as a subscription. Both approaches are essentially identical: there is a free (Light) version of the time management platform with limited functionality and a paid (Pro) version with access to all features (moreover, there may be several paid options at different price rates).
✅ Trial Period
The principle is pretty simple. The user is offered to use the full-featured program for free, but after a certain trial period, he must buy a subscription. Otherwise, he will have to refuse further use of the service.
✅ Advertising
The advertising method is less popular in the case of productivity apps, but it has a right to exist anyway. By the way, it would be nice to combine monetization through ads with the freemium model: specifically, the user has to pay to get access to a full-fledged application without ads.
✅ In-App Purchases
If you have the imagination, you can offer users some great ideas. For instance, Trello provides people with a gallery of backgrounds to improve the design of boards, but some of these images are paid for.
Tips & Tricks on Productivity Apps Development
Your app will have to compete with many prosperous productivity tools. How to become a leader in the competition? We've prepared for you some tips:
✔ Versatility
Note, that productivity apps need to work with various operating systems so that people can choose any comfortable device.
✔ Uniqueness
For sure, it's impossible to build a 100% unique product, but a standardized program that looks like a twin to competitive counterparts has no chance of success. So, find your approach to personal productivity app development.
✔ Simplicity
The app has to be intuitive and user-friendly. This applies to both its functionality and interface.
✔ Solving Real Problems
To make a great productive product with unique features, you must understand the needs of the user and be able to solve their real problems. Consequently, start working on your app by researching the market and the requirements of the potential customers.
✔ Proper Marketing
It is not enough to create a productive application, you need to be able to properly promote it and make it popular in the market.
✔ Design
Make certain the app has an up-to-date and attractive interface. Moreover, it must be adaptive, that is, it should be displayed equally on screens of any resolution.
Our Expertise
The Code&Care team has wide experience in productivity app development. While most of our clients are under an NDA, we can show you one case.
✔ Brown Bagg App
This app allows employees who work in the same office to have lunch together. The purpose is to facilitate people to have a more productive and relaxing break than to eat alone at their desks.
Summing Up
In general, creating a custom employee time tracking solution is a good idea if you know it will simplify your growing business, you are ready to invest and you have enough time to implement it. If you are looking for a reliable software development team, Code&Care can help you! Contact us, via email: andrew.gromenko@code-care.pro or contact form. Let's talk about how to do it.
Read more:
A Definitive Overview On Technology Stack for Mobile App Development
How to Make a Video Calling App Like Zoom and Google Meet?
How to Build a Price Comparison Website: The Ultimate Guide
How to Create a Directory Website: The Ultimate Step-By-Step Guide