The Internet has revolutionized the way business is done around the world. There are many options, and directory listing by building a stable website is one established business model that has worked really well over the years.
Due to the need for time, people are realizing the importance and power of online marketing. As a result, the directory business has become so popular and people are actively browsing the internet for business directories to get listed or find their expected products or services.
Several reputable online directory websites do their job effectively, but choosing a quality online directory that helps you get the job done effortlessly can be challenging.
What Is a Directory Website?
✔ An internet directory is a website or web page that includes a list of links to other sites that match a related topic. These directories were especially prevalent in the early days of the Internet before people could simply find what they were looking for through a search engine.
✔ An online directory can apply to any industry or business; All of these links may be retail or may include services such as dentists and doctors. In other words, there is no clear and definitive format or themes. Rather, web directories can be extensive, making them essential for any type of business.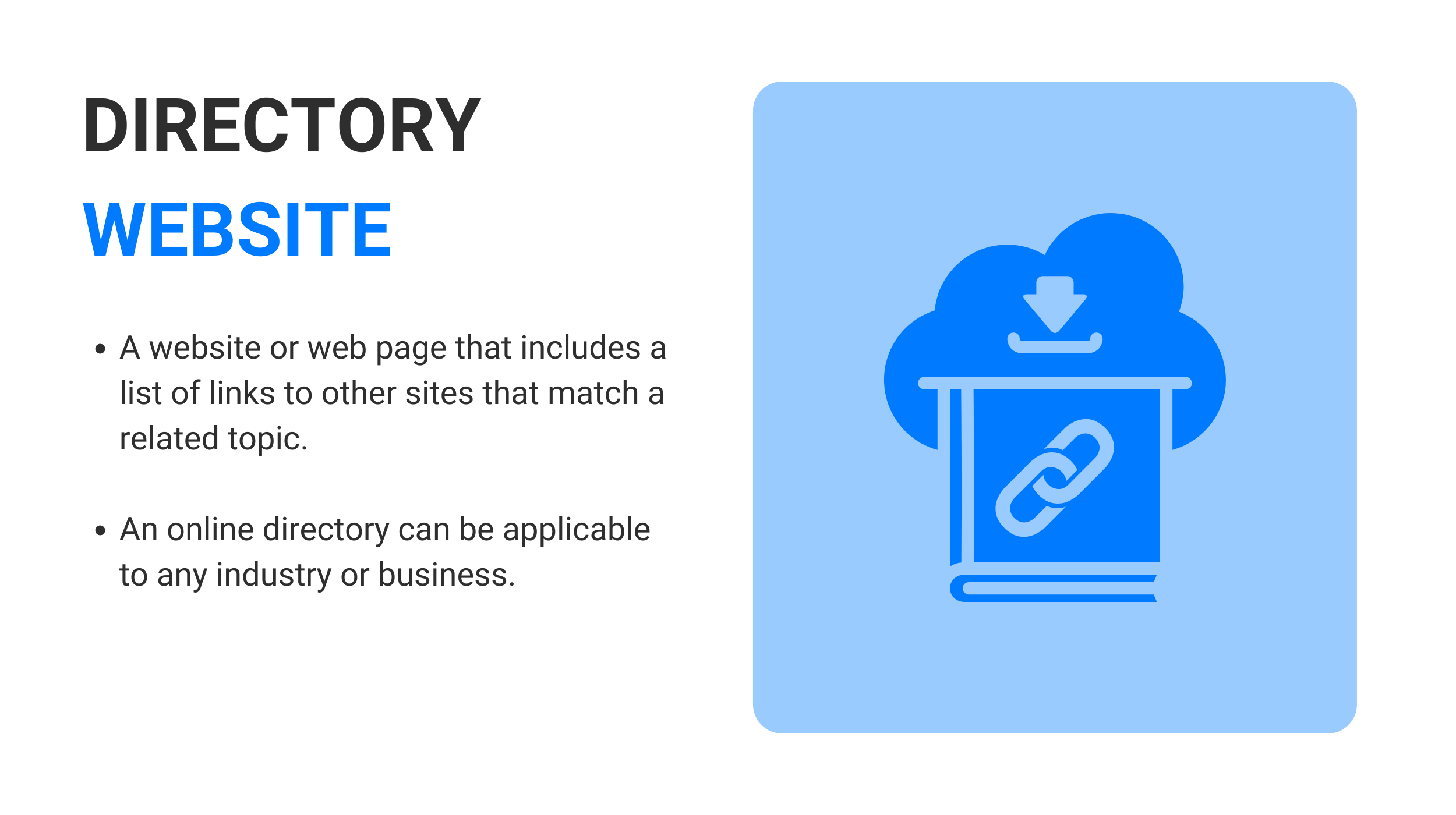 How Does a Directory Website Work?
Most web directories list websites by topic, which is why they are often referred to as topic directories. It is a real person (not a program) who determines which websites to list for each site, which means the entire directory is manually selected.
For content to be added to the web directory, the owner must manually include the link, title, and any other information they wish to include in the listing. Depending on the way the web directory works, the owner may also allow other website owners to request that their site be added to the directory. Submitting a web directory can be free or, depending on the directory, paid.
When you get into a website directory, there are usually two ways to find content: browsing and/or searching. Categories are often used to separate various sites and organize a directory in a better way, but there is usually a built-in search engine that allows you to search the whole site.
Types of Web Directories
With a directory website, there is no limit. You can go as wide or narrow as you like, provided that you create a directory of what people find useful and what interests you.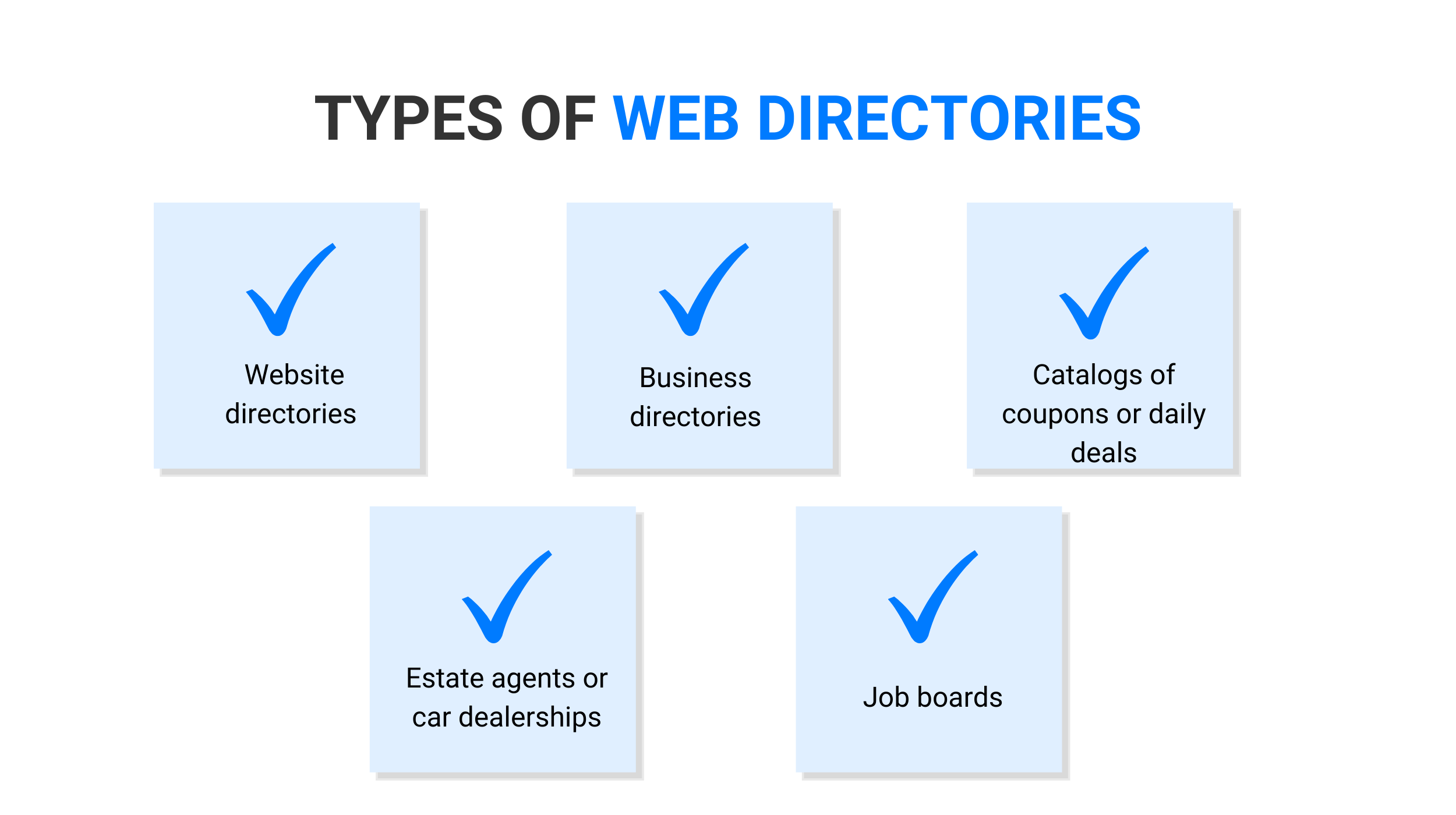 Some of the different types of directories are:
☑ Website directories
This type of directory works similar to business directories, but here you focus on websites. You can list them in a similar way to how you would list companies, but you can also create a directory of different types of blogs, scientific websites, educational websites, etc. You are only limited by your imagination, and with a little thought, you can create some pretty interesting directories.
☑ Business directories
As the name suggests, this focuses on various industries like lawyers, auto repair shops, plumbers, computer repair shops, etc. They can focus entirely on your geographic area. Also, once you increase your traffic, you may want to consider expanding your website to include neighbouring states or counties.
☑ Catalogs of coupons or daily deals
These catalogs have been gaining popularity lately and usually include coupons for specific stores, daily deals, or even price comparisons. In some cases, they also include e-commerce features.
☑ Estate agents or car dealerships
If your business revolves around selling real estate or vehicles, you can create a catalog of all your inventory to make it easier for potential buyers to find their new home or car.
☑ Job boards
Finding a job is never easy and most job websites tend to have a very broad focus. Come up with your own opinion and create a job board specifically for your city or consider creating a job board for a specific industry.
The List of The Best Business Directory Websites
When it comes to listing websites, we can't but mention leading platforms where your business can be listed. So here are some the well-known examples:
🔹 Google My Business
Google My Business ads appear in your browsers almost every day. The relevance of this directory is still growing for several reasons, the main one being the widely used search engine.

🔹 Foursquare
Foursquare is known for its validation feature. It currently focuses on user-written tips. Users claiming their business also use analytics.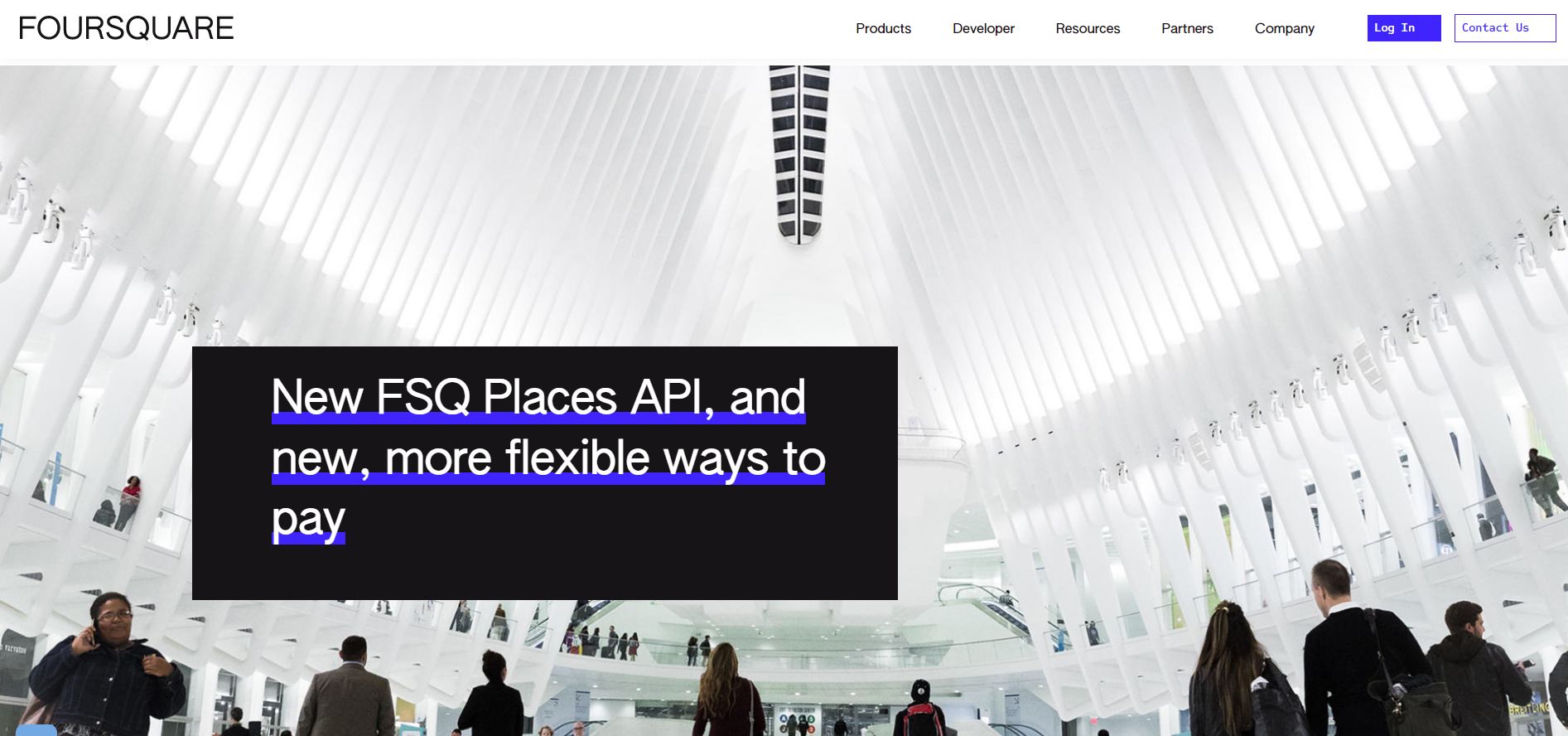 🔹 Bing Places for Business
Unlike Google, where links play a critical role, Bing's algorithm is more focused on social signals — likes, shares, and comments. Bing Places for Business features reviews from third-party websites such as Yelp, Facebook, and TripAdvisor.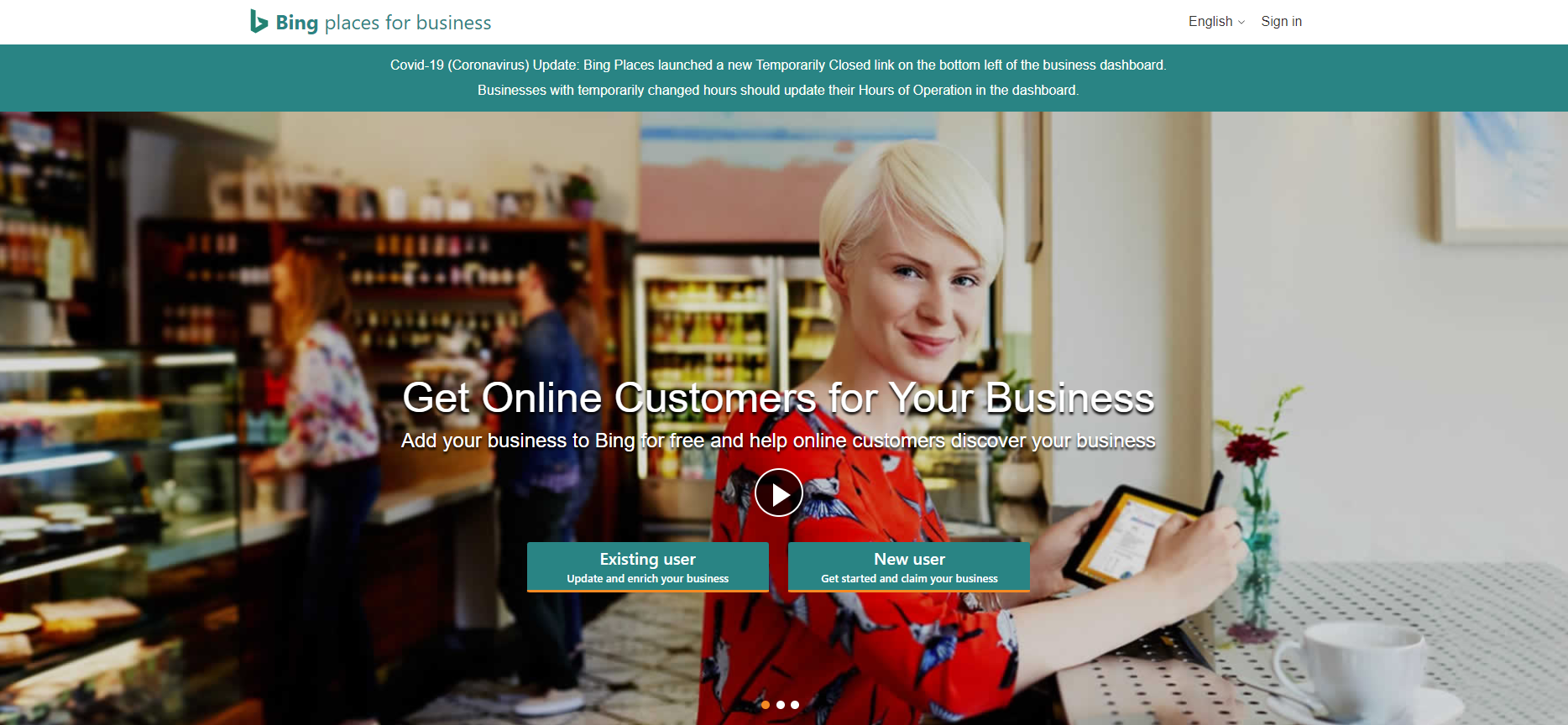 🔹 Facebook
No need to mention what Facebook is. With over 2.7 billion monthly active users, there are many services that you can connect to your Facebook page.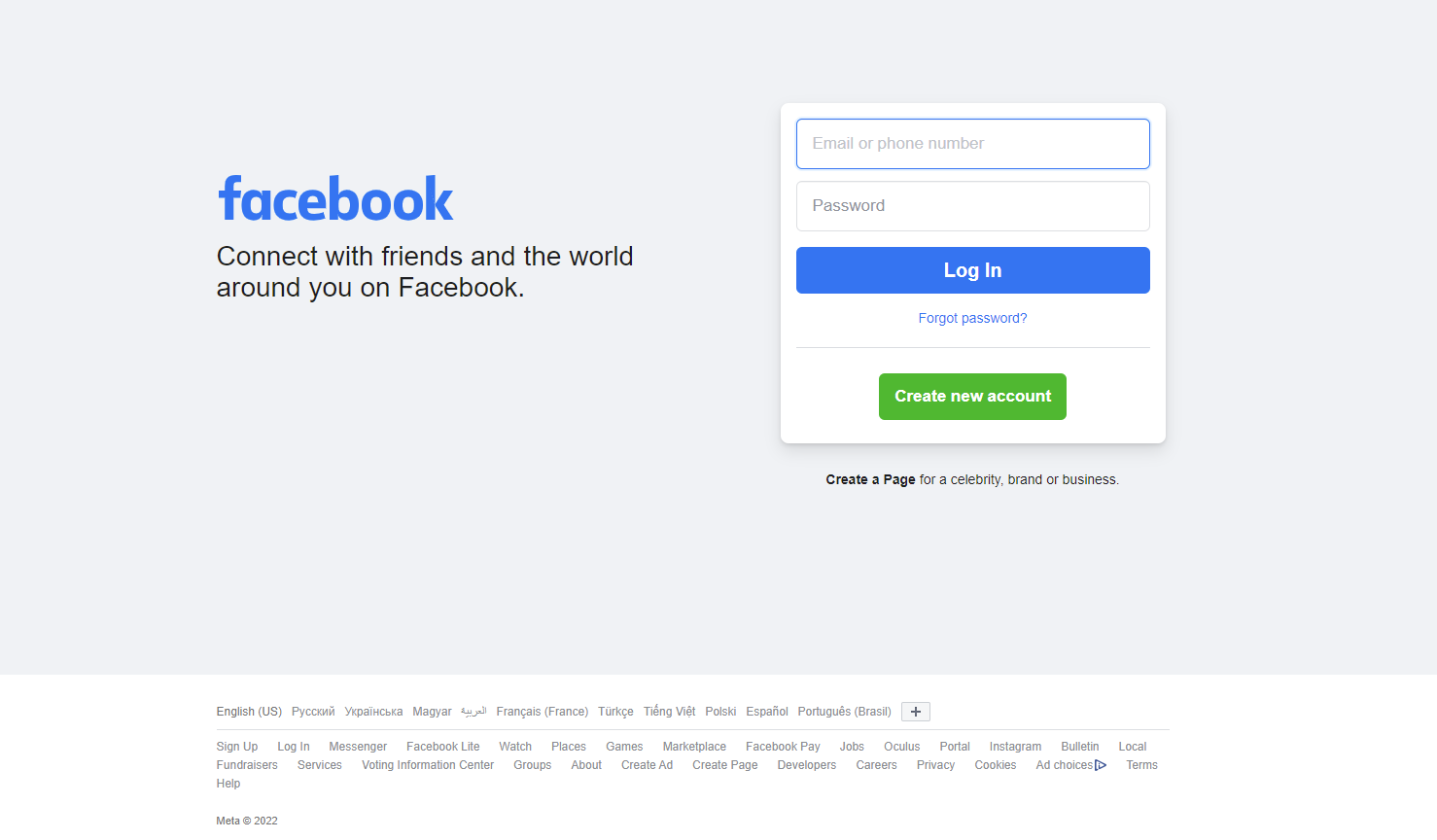 🔹 TripAdvisor
The world's largest travel site. Travellers use it to view 884 million reviews of over 7 million places — restaurants, hotels, and travel destinations.

Key Directory Website Features
To make the listing website prosperous, it's important to take care of its functionality. Below, we listed the key features.
✔ User-friendliness
If you want to grow and attract new customers, but the site is not user-friendly, you are doing something wrong. The directory site has to be convenient so that people can easily navigate it.
✔ Intuitive design
The website needs a solid construction that contains a logical arrangement of the screen sections. It will help visitors to draw attention to a critical part of the website.
✔ Free listing opportunity
A quality website directory allows users to post information about their company for free. It helps small entrepreneurs develop their businesses and get the most out of a large number of potential customers.
✔ Extended categories
A large number of advanced categories ensure that the site is self-explanatory and that users can use a variety of ways to find a company of their choice. It also helps entrepreneurs to present their respective categories.
✔ Speed of the directory website
Speed is a key factor of modern websites as it relates to SEO and bounce rate. A high-quality directory site should have lightning-fast compatibility.
✔ Mobile-friendliness
With the growing number of mobile users, it's time to make your site responsive. The website with the base directory needs to be mobile-friendly to easily accomplish this task.
✔ Location-based features
All company listing websites are mostly location-based, and a quality business listing website does the same. Most directory themes are built-in, supporting this principle at the core.
✔ Fat-free payment gateway
A payment gateway is a key component of a great directory website. In case you want to monetize it, you need to have easy payment gateway integration on your directory website.
✔ Connection channels
Making sure that both clients and companies are ready for dialogue is very important. In addition, to review sections, the listing website needs instant messengers and group chats.
✔ Reservation
Being within the same platform makes the user experience much more convenient. Allow people to book tables, test drives, hotel rooms, and appointments directly from your website. Thus, the person does not waste time navigating between web pages.
✔ AI and machine learning
Artificial intelligence and machine learning allow extract data from user-generated content. Over time, all popular tags, labels, highlights will be applied automatically.
How to Monetize Your Directory Website
Running a listing website does not require a lot of investment, and it is a solid business model that can be monetized in several ways, for example: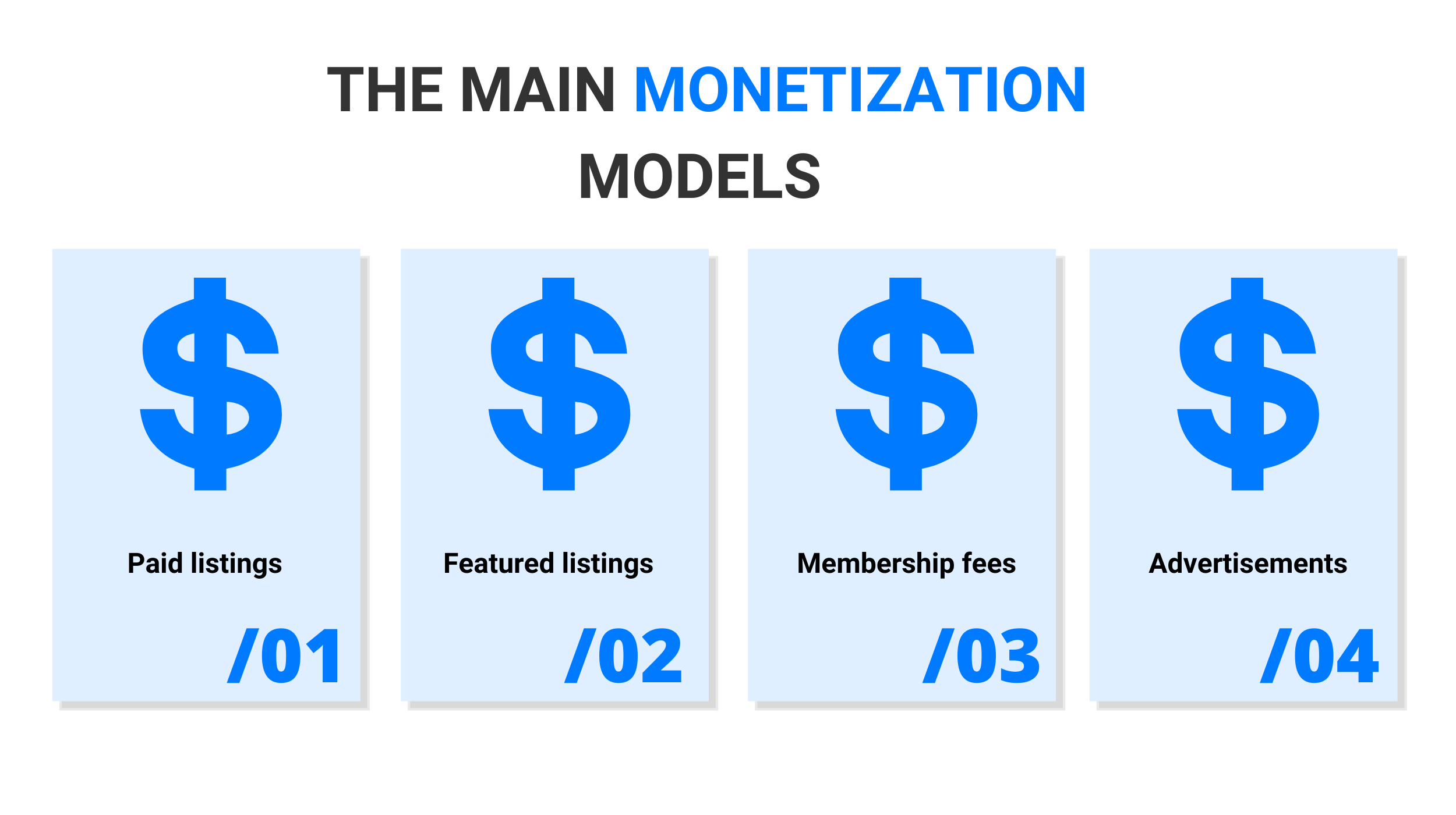 💰 Paid listings
Charging business owners to list their company in your directory is the most common type of monetization. You can offer various pricing plans, each with its own set of benefits.
💰 Featured listings
You can expand your paid listings by inviting ad owners to appear in special places on your website that tend to get more attention from the users.
💰 Membership fees
This monetization method works similarly to the ones above, but instead of charging for one ad at a time, you can allow them to post all of their ads on your website for a monthly or yearly fee.
💰 Advertisements
You can also sell ad space and allow banners, text, and video ads to be placed at specific positions on your website.
How to Create a Directory Listing Website Step-by-Step
Now, it's time to walk you through the main stages of a directory website development.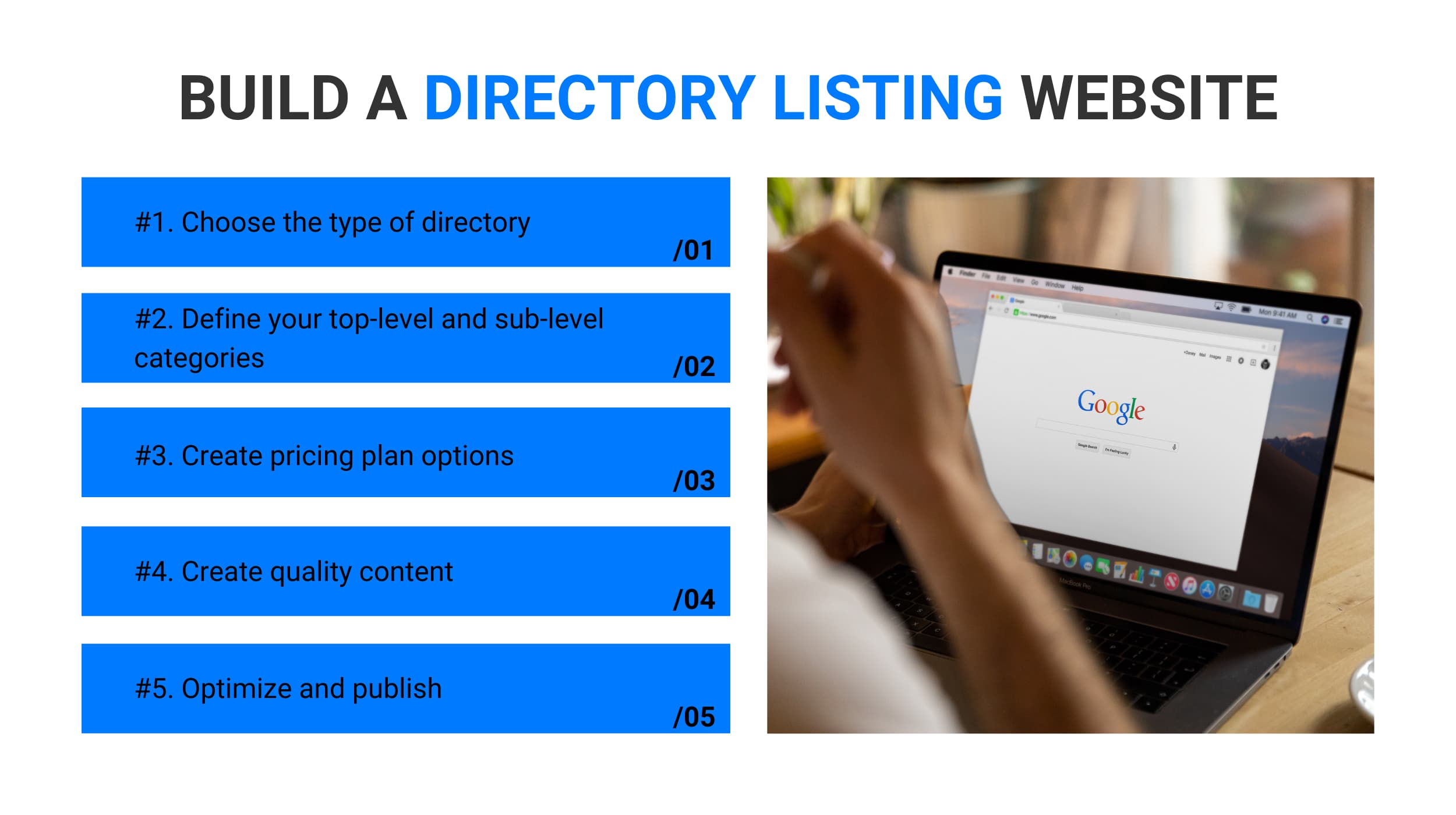 Stage #1. Choose the type of directory
There are several ways to create a directory website from which you can choose. The most common are local business directories, professional service provider directories, member directories, or association websites. To keep things simple, you can start from where you have the most experience, or where you live.
Stage #2. Define your top-level and sub-level categories
With top tiers and possibly different sub-tiers of categories that visitors can search across, online directory websites allow users to quickly and easily find what they are looking for.
Stage #3. Create pricing plan options
Getting people to your online community website is important in the early stages, so a free membership tier is highly recommended. Free members add a ton of value early on as they will contribute content, provide invaluable feedback, share their listing on their social media, and can upgrade to a paid listing in the future if you give them quality attention from the start. With the remaining price levels tweaked, make sure the top tier has what it takes to drive purchases, even do some promotional discounts on the first 100 paid subscriptions at 20-50% off, maybe even free banner ads for a month or two
Stage #4. Create quality content
Publishing high-quality content is a critical point in attracting new and qualified visitors. Think about what type of content will be useful to your readers and write it down, schedule it based on priority, and start with a convenient schedule for creating content for your directory website.
Stage #5. Optimize and publish
Once you start the process of creating quality content and attracting targeted customers, continue by asking yourself the following questions:
1⃣ What content will attract more visitors?
2⃣ How can I make my directory website engaging enough for members to visit and want to join my online community and contribute content as a paid member?
3⃣ How can I make sure the listings are deep enough to generate high traffic for visitors to the directory website?
How Much does it Cost to Create a Directory Website?
The next important question to discuss is how much it should cost to build a directory website. All the features will vary from project to project and these prices must be calculated individually. The MVP development of a business directory can take from 4000 hours. If you are going to build a full-featured project from scratch, it will require around 10 000 hours and more.
Code & Care offers web development services starting at $34.50 per hour and extended team & staff augmentation $4800 monthly.
Technology Stack
There are several ways to build a great directory website. The first one is to use CMS like WordPress which may seem attractive if you are hoping to cut costs. But if you want a progressive listing website, you will need something much more reliable. In this case, custom website development is the best option. Here is the list of the main technologies we recommend using.
Front-end: HTML, CSS, JavaScript
Frameworks: React/Angular/Vue
Back-end: Python
Database: MongoDB
Cloud infrastructure: Amazon Web Services
Authentication: Google Authenticator
Search: Elasticsearch
API: Google Maps
Summary
It's time to wrap up. Most of the content on a directory site is user-generated, which means:
People leave their reviews and also upload images of the companies they have interacted with.
When businesses announce their ad, they can edit the information and respond to reviews.
In this way, social proof is used to generate leads. Starting a listing website can be a great source of income if you understand the needs of the people.
📌Read also: