According to statistics, the global cross-platform market would rise sixfold to USD 364.54 billion by 2028. Following that, this article will discuss a variety of topics, including why and how cross-platform applications have become a popular option, their advantages, and disadvantages, and why developers favor cross-platform development over native development.
Continue reading to discover more about the benefits and drawbacks of cross-platform mobile app development, as well as whether or not this method should be used for mobile app development. Let's get this party rolling!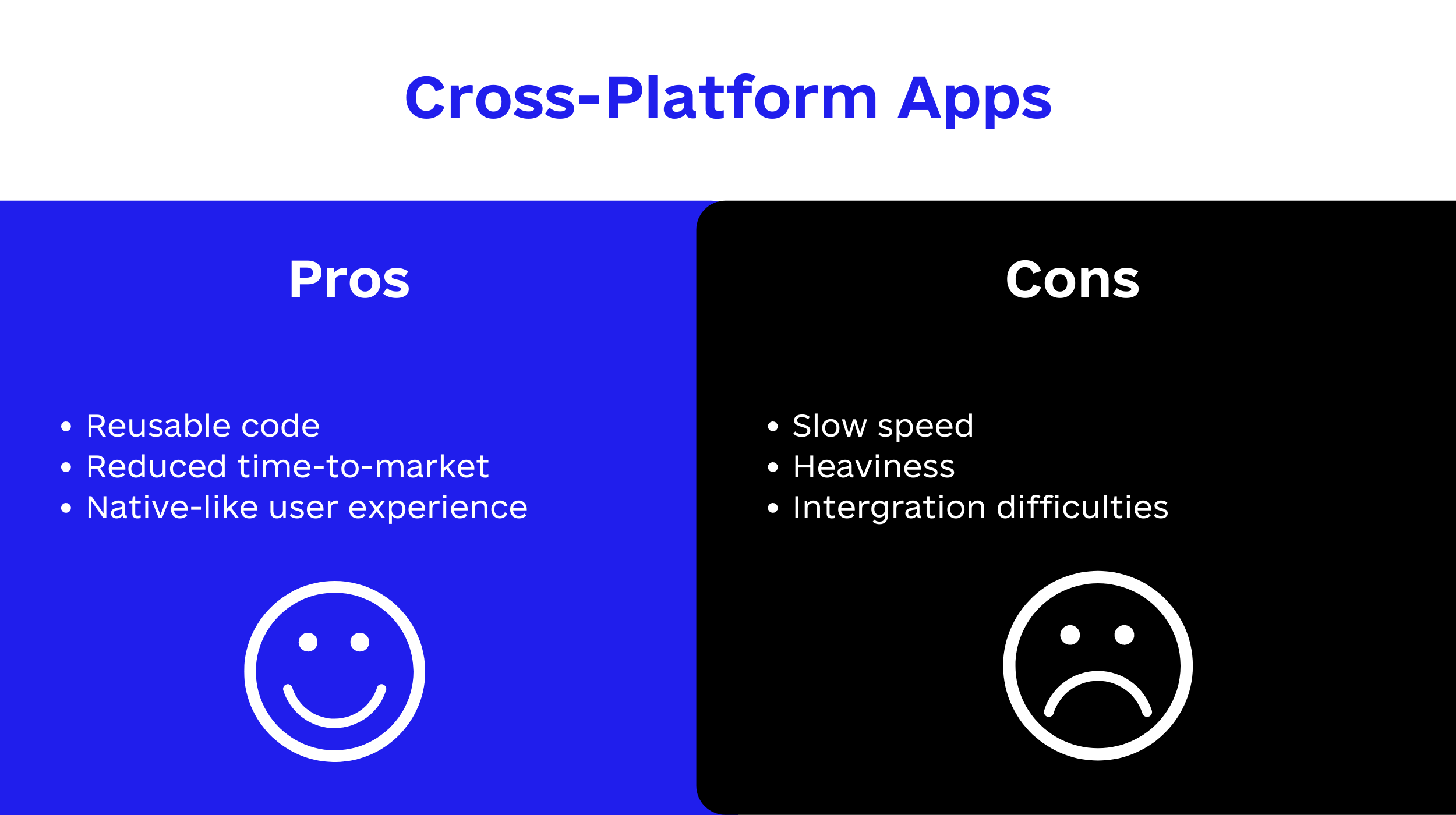 A Peek into Cross-platform Mobile apps
Compared to native apps, cross-platform development saves between 30 and 40% and cuts application development time in half, according to a report.
In addition, by 2028, the cross-platform market is expected to grow to USD 364.54 billion, roughly six times its current size.
It will rise at a CAGR of 26.31 percent from 2021 to 2028, owing to rising demand across continents, and by 2028, demand will almost certainly push the market value to USD 364.54 billion.
Definition of a Cross-Platform Mobile Application
✅ Mobile applications that are cross-platform or multi-platform have a single codebase that may run on a number of devices and operating systems (OS) after being built once. The practice of developing software programs that are compatible with a variety of mobile operating systems is known as cross-platform mobile development. The multi-platform approach to mobile app development eliminates the need for separate Android and iOS apps. Multi-platform development, on the other hand, allows developers to create an app that looks and feels perfectly natural on both Android and iOS by utilizing only one language (such as JavaScript) and a single codebase.
✅ The limitations of establishing a backend that worked across various platforms made developing mobile apps tough initially. Native applications for each mobile operating system (OS) were typically quicker to build, but they took time and money. The issue was that the programmer was unable to use code created for one operating system on another.
✅ The idea is to use a single language/toolset to construct cross-platform software with no hard spec constraints. While developers will still need to create individual use cases for iOS and Android apps, a single cross-platform product will be able to run on both platforms simultaneously.
Why Choose Cross-Platform Mobile App Development
In the development of mobile apps, multi-platform app development is essential. Pinterest, Instagram, Skype, and Bloomberg are just a handful of the well-known apps that have already made the switch to cross-platform. Many developers and organizations have chosen it as their preferred alternative due to its capabilities and market reach.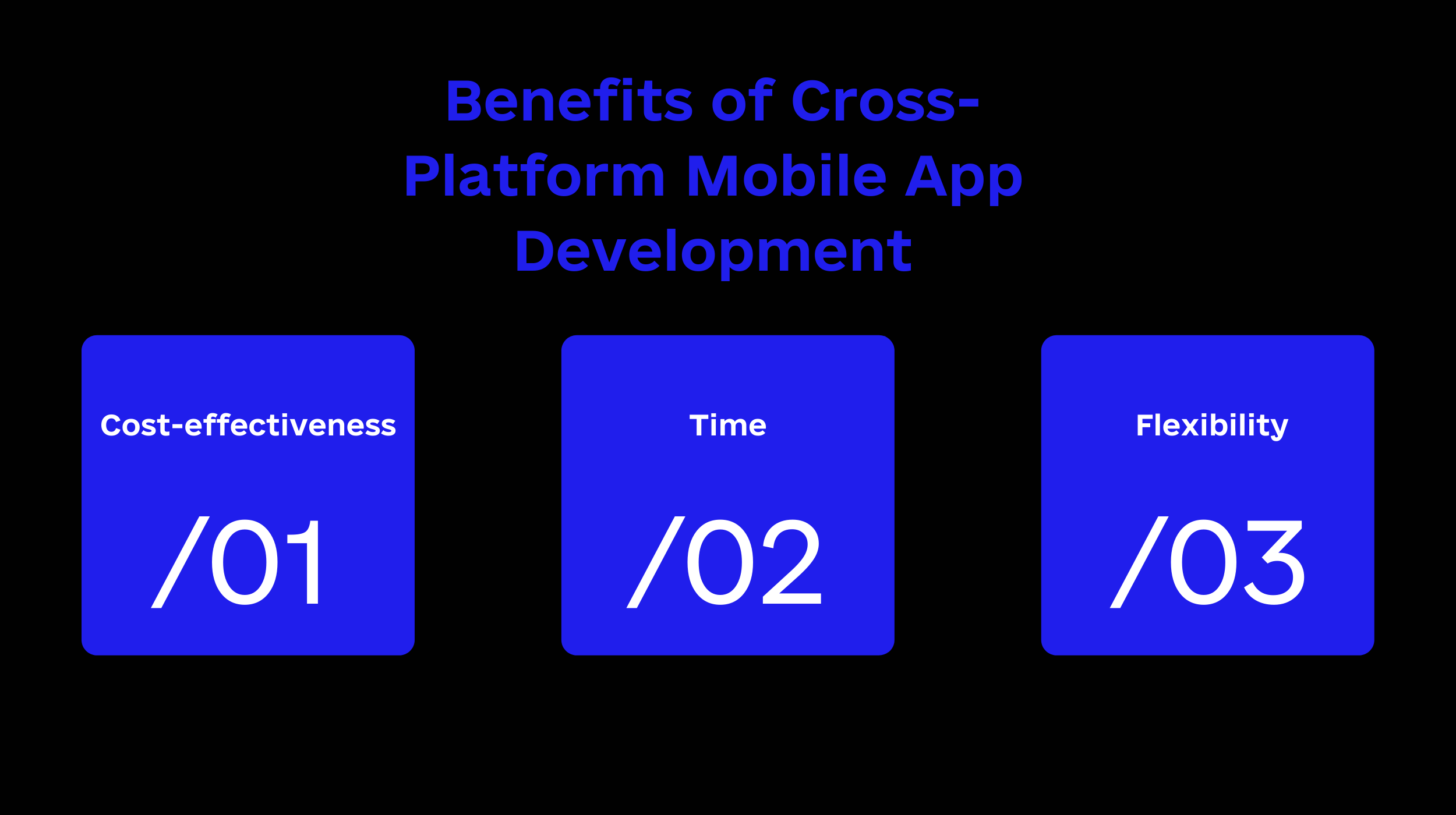 Various cross-platform aspects should be considered when selecting whether to create a native or cross-platform app. The following are some of these elements:
Cost-effectiveness: When working on a cross-platform program, the developer improves efficiency by being able to work on both the iOS and Android versions at the same time. Furthermore, compared to a native version, a cross-platform system requires fewer lines of code to write and maintain, cutting development costs.
Time: Cross-platform development cuts down on the time it takes to build a mobile app because the developer only has to write one set of code, allowing for speedier deployment and updates.
Flexibility: The cross-platform framework is designed to let you switch between modifying code and releasing iOS and Android versions of an app rapidly. The versatility of the cross-platform program is aided by its single code nature and rapid deployment time.
Advantages of Cross Platform Apps
The selling points of cross-platform apps cannot be overemphasized. Below is a breakdown of some of the advantages of using the cross-platform framework during the building of an application.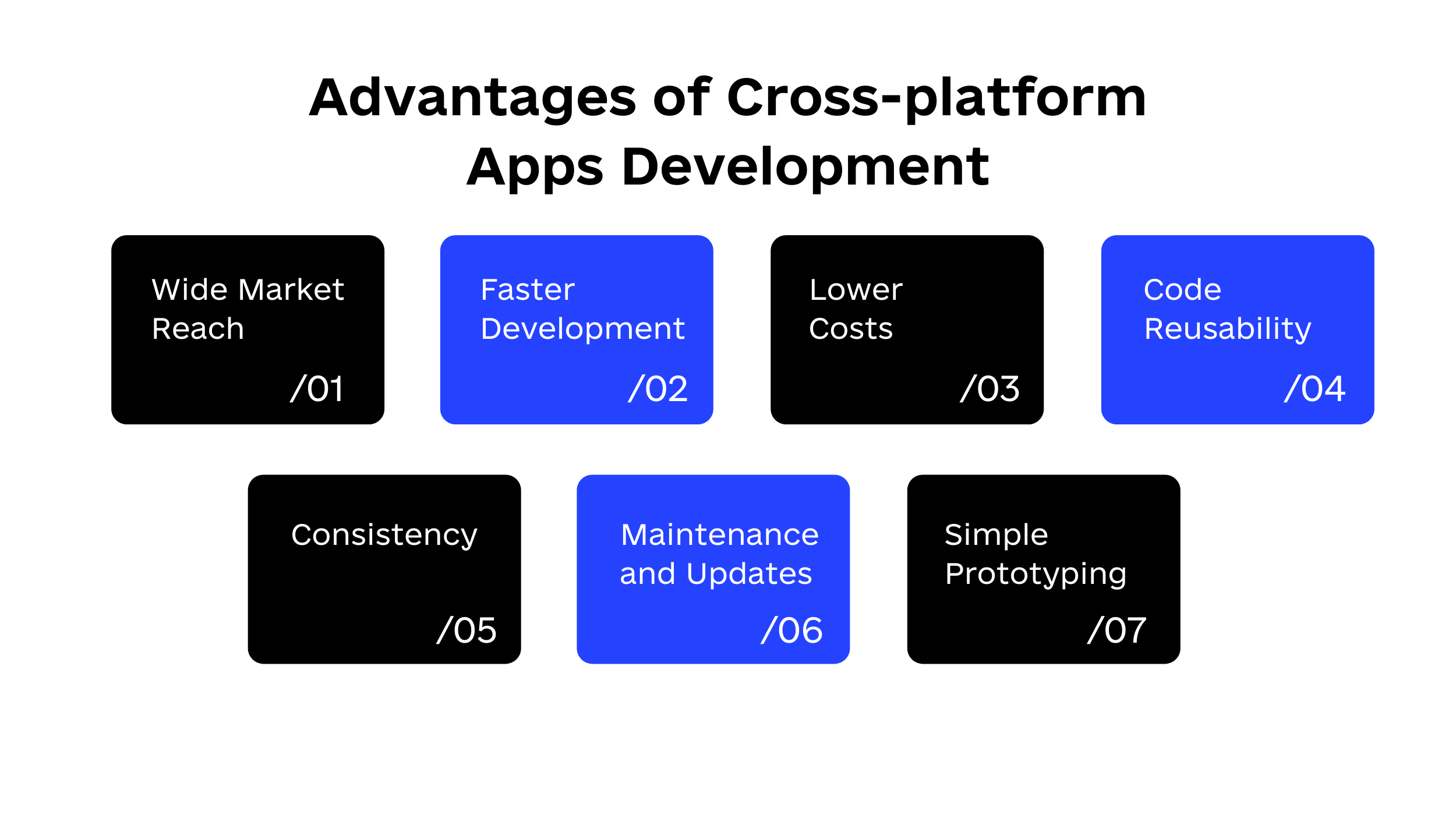 🔹 Wide Market Reach
Cross-platform application development provides several benefits, including enhanced exposure and market reach. Using cross-platform, the developer can increase the program's visibility without putting in a lot of time or work. The cross-platform framework's increased interoperability with a wide range of systems and platforms, including Android, web, and iOS, enables the app's broad market reach, making it a popular choice among developers.
🔹 Faster Development
Most web developers favor cross-platform development since it allows them to broaden their services to include app development. Cross-platform app development can be a faster and more straightforward approach for in-house developers who don't have a lot of expertise in designing apps because they don't have to grasp numerous technologies. The ability to write a single set of code speeds up the deployment and modification of a system. A faster time to market is the result of a shorter development cycle. In the dog-eat-dog mobile environment, this is important.
🔹 Lower Costs
With cross-platform software, developers may pool their technological and human resources, making application development less expensive and more efficient. Another cost-cutting feature of cross-platform software is the ability to reuse the codebase, which decreases the amount of time and effort required for app development. Cross-platform development is still one of the most cost-effective ways to investigate and test a market, and it could aid developers in making the best strategic decisions possible.
🔹 Code Reusability
Developers can work on a single codebase that can be used across various platforms using a cross-platform development framework. Thanks to the same codebase, developers can fix errors and make enhancements across multiple platforms at the same time. Code reusability's cross-platform trait avoids repetitive processes, resulting in a shorter application development life cycle.
🔹 Consistency between Platforms
To ensure uniformity between the iOS and Android platforms, some UI/UX components are employed in cross-platform app development. Consistency enhances an app's validity and credibility while also promoting a great user experience. Because the developer must adhere to specific standards, establishing platform consistency sometimes requires a significant amount of time and work.
🔹 Maintenance and Updates
Cross-platform app development is set up to automatically update apps for all clients, ensuring that users get the most recent version of the app, which has a significant impact on how it looks. Updating and maintaining cross-platform programs is simply because they have a single version codebase and are Internet-based. The cross-platform framework eliminates the need for several application versions to be updated and backed up, so clients don't have to download multiple upgrades.
🔹 Simple Prototyping
Because of the short development time, prototyping in cross-platform application development is generally straightforward and effective. In any app development, prototyping guarantees that the product is on track and that the concept is gradually taking shape.
Disadvantages of Cross-platform Mobile App Development
Multiple-platform mobile app development has substantial limitations, despite the fact that cross-platform apps are becoming more popular in the corporate world due to their benefits. Nonetheless, well-designed multi-platform software will make the differences appear insignificant, and it will be able to run on more systems where your product or service will be accessible. The following are some of the disadvantages of developing multi-platform mobile apps.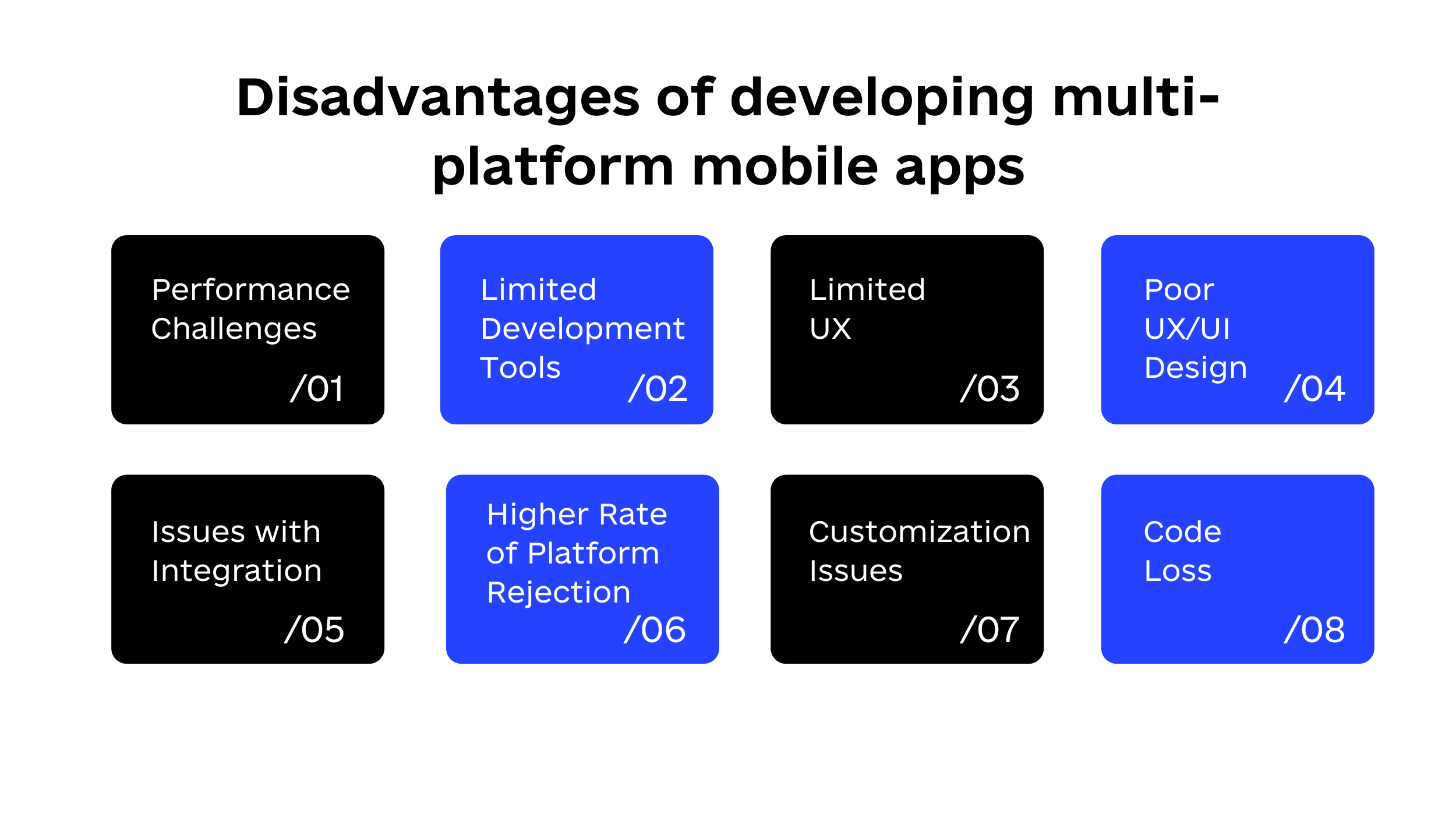 🔹 Performance Challenges
Cross-platform software development continues to be plagued by performance concerns, which could lead to a poor user experience. Inconsistencies in communication between the native and non-native components of gadgets are typically the source of performance difficulties. As a result, cross-platform software developers have challenges in maintaining consistency across devices and operating systems.
🔹 Sluggish Code Performance And Limited Development Tools
Two of the most typical obstacles in multiple-platform programming are sluggish code performance and limited development tools. Application sluggishness can occur for a variety of causes during the development process. The first and most important argument is that using a single piece of code for several platforms (which multi-platform is commended for) results in memory leaks, which slows down a program over time. An unsatisfactory user interface as a result of cutting-edge features and limited development tools could also contribute to slow code performance.
🔹 Limited User Experience
Because cross-platform programs aren't created with platform-specific IDEs, the capabilities, hardware, and software components of each device are constrained. A lack of functionality causes performance issues and a uniform design that iOS and Android users are unfamiliar with, making it harder to meet user needs and limiting the desired user experience standards.
🔹 Poor UX/UI Design
Another major disadvantage of the multi-platform development process is the issue of poor UI (User Interface) and UX (User Experience), which are important parts of the website design process. Because of the various settings and native code, the response of a module may differ depending on the operating system it is launched on, decreasing the app's speed.
🔹 Issues with Integration
The developer faces a number of time-consuming challenges when it comes to cross-platform software integration. It may be difficult to integrate with local preferences and settings, and storage considerations may necessitate the usage of third-party cloud providers.
🔹 Higher Rate of Platform Rejection
As a result of the multiple performance and user experience problems they face, cross-platform applications fail to meet the high performance and user experience criteria and requirements of specialized platforms such as the App Store or Google Play Store, and are consequently prohibited from these platforms.
🔹 Customization And Native Feature Integration Issues
Some critical device properties, such as integrating device local configuration capabilities, hardware functionality, and internal storage access, are not usually supported by cross-platform development frameworks. The situation is exacerbated by the lack of access to most native device functions, which restricts customization choices and inhibits the majority of digital product operations. It's crucial to choose a framework carefully because some popular frameworks may not have this problem.
🔹 Code Loss
Another disadvantage of cross-platform software development is the risk of code loss while transferring platforms. Many cross-platform app development frameworks lock your code into a project, preventing developers from accessing it outside of the platform in question, perhaps resulting in code loss.
Closing Thoughts
Because of its ease and cost-effectiveness, many businesses select cross-platform application development, but it is not without problems, as we've already covered. Although using the cross-platform framework to adapt an app for many platforms at once is challenging, performance and UI/UX can be sacrificed, and hardware (microphone, camera, geolocation, and so on) can be constrained. Most apps, on the other hand, do not require high performance or sophisticated capabilities in order to reach the market fast and affordably.
Read also:
Key Things You Need to Know About Productivity App Development
How to Make a Video Calling App Like Zoom and Google Meet?
How to Build a Price Comparison Website: The Ultimate Guide
How to Create a Directory Website: The Ultimate Step-By-Step Guide