Some companies that the people never heard about have suddenly gained attention due to the COVID-19 pandemic. Certain classes of apps have seen an unexpected rise in usage and installation. These include grocery delivery apps, on-demand entertainment apps, telemedicine apps, and for sure, various social networks and messengers.
According to research by Techcrunch, in just one week in March 2020, video conferencing apps for both business and personal use were downloaded over 62 million times. The market is showing, and the chat industry for digital conferencing or virtual events is gaining traction.
On the one hand, apps like WhatsApp, Snapchat, and Instagram can help people stay connected. However, Citrix, Skype and Google Meet, Google Cloud have always dominated the professional/formal contact environment.
Video conferencing platforms were considered unsuccessful even during technical meetings.
Besides, nowadays plenty of platforms have become well-known as COVID-19 social media!
What is a virtual event?
Virtual events are events that hold on the internet. They use web platforms to make people's communication more convenient and provide sophisticated functions such as voting, Q&A, chat windows, etc. The leading providers of digital events are Digitell, Evia, ON 24, Zoom, Intrado, GoToMeeting, and others.
Virtual events can cover anything. But there are four types of the most common ones. They are virtual conferences, webinars, hybrid internal events, and external hybrid events.
Advantages of virtual events
Here is the list of advantages that will keep sponsors, exhibitors, and visitors happy.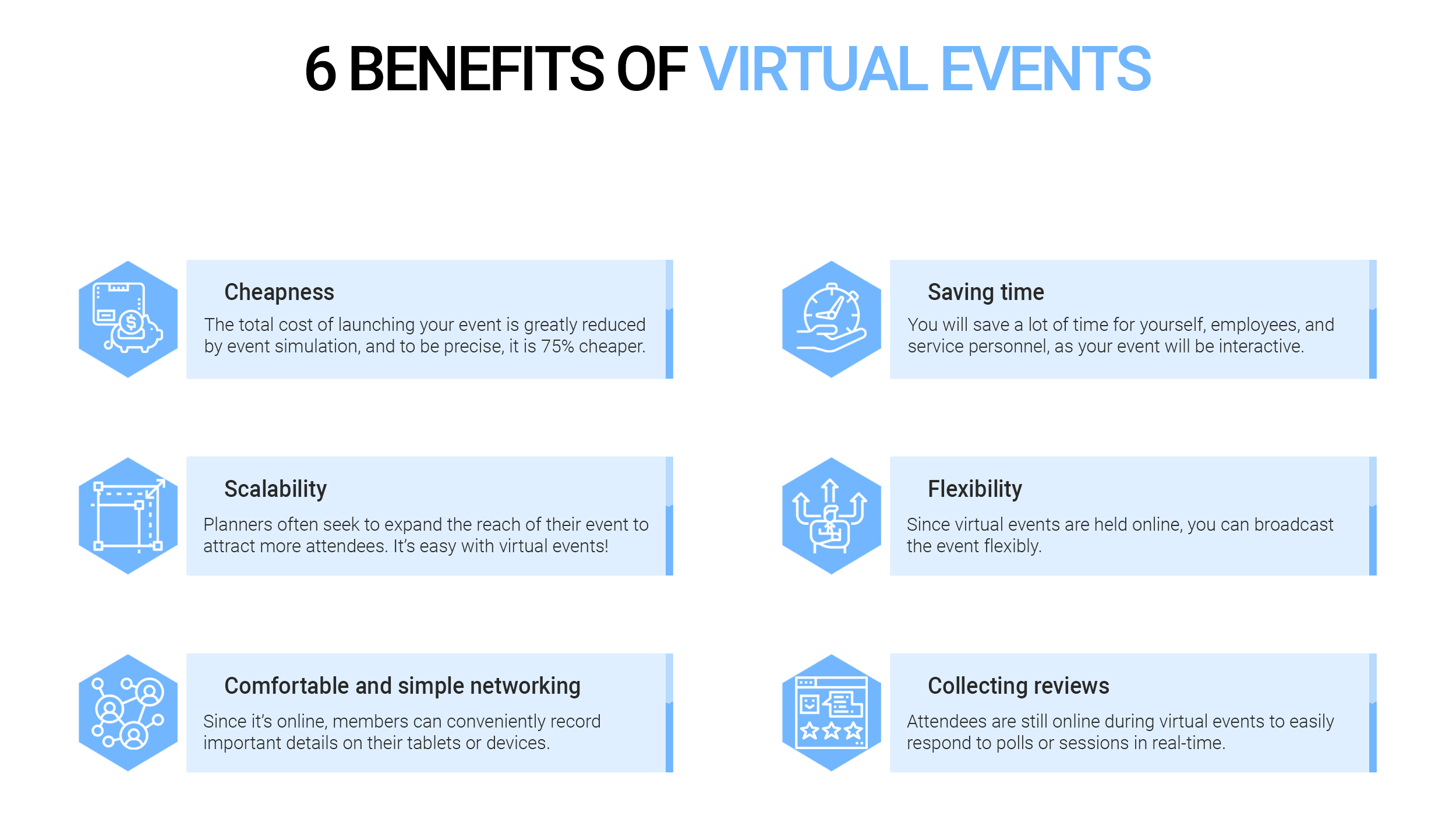 ☑️Cheapness
Meeting and event planners are still trying to save money by cutting budgets. The total cost of launching your event is greatly reduced by event simulation, and to be precise, it is 75% cheaper. Planners save on staff, location, setup and workload, staff placement, accommodation, travel costs, and more.
☑️Saving time
You will save a lot of time for yourself, employees, and service personnel, as your event will be interactive. While virtual events entail some set-up time (e.g. event website, registration, event marketing, promotions, etc.), this is significantly less than personal event set-up time. You also don't need travel time! Now your staff and support staff will take this opportunity to focus on all other important issues.
☑️Scalability
Planners often seek to expand the reach of their event to attract more attendees. It's easy with virtual events! By sharing your connection to your website and social media apps, you can easily promote your business. Without thinking about flying, people from all over the world will immediately enter. Hosting a virtual event allows planners to broaden their horizons as much as possible and attract everyone, wherever they live.
☑️Flexibility
Since virtual events are held online, you can broadcast the event flexibly. Whether you're hosting an influencer meeting, virtual city hall, a sales launch, or some special form of event, the sessions will be interactive. Various languages ​​are available for inviting invited speakers.
☑️Comfortable and simple networking
Because online events tend to be faster because attendees don't have to switch from session to meeting or get up on a counter, connecting with other attendees or presenters can be easier than an in-person event. And since it's online, members can conveniently record important details on their tablets or devices, such as names, titles, etc.
☑️Collecting reviews
Feedback is critical for virtual events. However, unlike individual events, attendees are still online during virtual events to easily respond to polls or sessions in real-time. This review will not only allow presenters to determine how their session is going but also help to gauge the overall effectiveness of your virtual event.
☑️Easy measurement of results
Even though the data generated by virtual events depends on the platform and event management software you use, some of your event and attendance data is easier to collect during virtual events than during in-person events. Why is this happening? Since it's all done online, it's easy to track. For example, when your members are logged in, you will know their number, payment method, and more.
How to Create Your Own Music Streaming App That Brings Clients
Crucial features of virtual event app
The market for meeting apps is relatively new. Nevertheless, there are already strong players that you are going to compete with, targeting different types of events. So let's take a closer look at your competitors.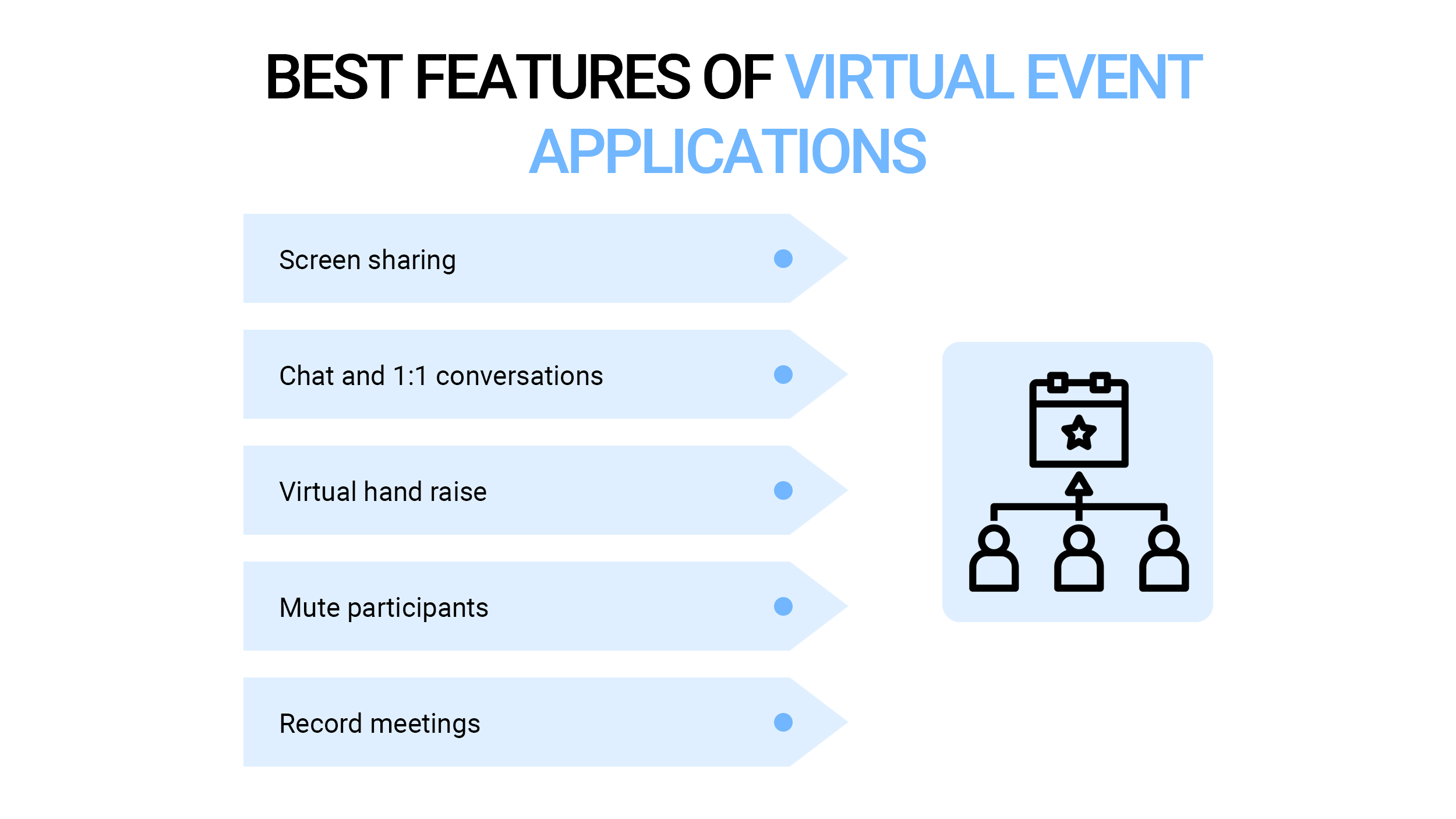 Because the attendees are not in the meeting room with you, you cannot display your presentation. The solution was a useful feature called Screen Sharing, which allows participants to share their screen with other participants in the case.
Meeting attendees can communicate effectively using the built-in chat feature. Both meeting participants can send messages at the same time or separately.
In addition to group chats, attendees and presenters can communicate in private chats.
If a participant wants to talk or express concern about a particular subject, he or she can remind the facilitator using a virtual smiley. The performance of the video conferencing application has improved further and many people cannot talk at the same time.
The host will collect responses by creating a survey if he or she wants to understand a participant's opinion on a particular topic.
The host can silence any attendees they like if they think the attendee is interrupting the meeting.
It helps get information about the number of registered users, the total amount of tickets sold, and other metrics.
With just one click of a button, you can easily record every virtual meeting. You can then transfer this recording to the cloud or save it locally.
By integrating email marketing (Mailchimp) and sales tools (Salesforce), you will add value to organizers. With this integration, organizers launch ads, track their performance, and measure results without leaving your platform.
Participants can pay for events using credit cards, PayPal, Google Pay, and organizers receive money in their bank accounts.
Add this feature if you want to develop an event streaming framework for global events with multiple presenters. Each speaker creates a profile, adds and edits their personal information.
Here visitors can find a description of online events, date and time, a progress bar showing the remaining time, information about hosts with links to their social media profiles, the number of registered attendees, and a registration button.
All online meetings have end-to-end encryption software. Its goal is to prevent unauthorized access. Because of that, even the organization itself cannot attend the meeting without the organizer's permission.
Virtual event software requires significant processing power to maintain high-quality video. Resources are also needed to receive, encode and send videos from one source to multiple viewers.
Main steps to create a virtual event app
Here are some critical steps we take to create an online event app: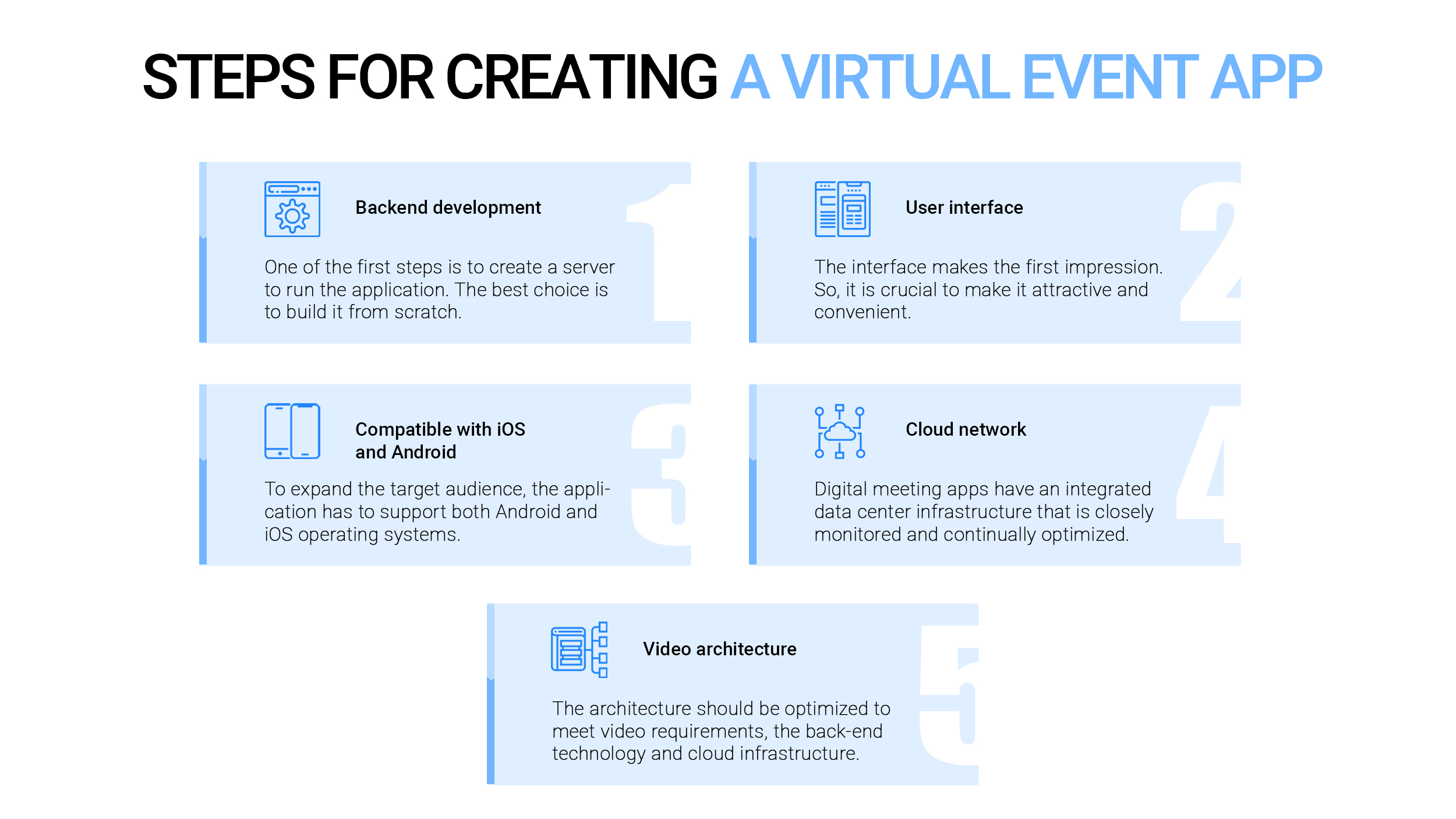 Step #1: Backend development
One of the first steps is to create a server to run the application. The best choice is to build it from scratch.
Step #2: User interface
The interface makes the first impression. So, it is crucial to make it attractive and convenient.
Step #3: Compatible with iOS and Android
To expand the target audience, the application has to support both Android and iOS operating systems. Swift suits for building iOS app and WebRTC for the Android app.
Step #4: Cloud network
Digital meeting apps have an integrated data center infrastructure that is closely monitored and continually optimized by professionals. The cloud network is built for global connectivity.
Step #5: Video architecture
The architecture should be optimized to meet video requirements, and the back-end technology and cloud infrastructure differ in four critical characteristics:
It allows people to share meetings on the network, seamlessly join meetings through a link to the nearest data center.
It provides a highly scalable system, multiple video streams, reduces the power consumption of computers. Commonly, an MCU supports fewer than 100 participants.
Every stream can be changed to multiple permissions. It eliminates the need for encoding, decoding, and optimizing the output and scalability of streams for the endpoint.
App quality of service level
Impeccable level of optimizing video, audio, and screen sharing for each gadget to provide the best quality of service across the entire network.
Tech stack for virtual event app development
The back-end is the part of the app that people can't see. Before diving deeper, let's discuss the way video streaming works. There are five stages that all streaming videos go through:
1. Capture
The camera captures visual data or raw video.
2. Segmentation
Videos contain plenty of visual content and take a long time to send over the Internet. Because of that, the streaming video is divided into smaller ones, 2-3 seconds each.
3. Compression and encoding
Compression removes excess video data that doesn't differ from one short video clip to the next. Encoding is supposed to modify two really important aspects in the technology stack will the video streaming data format to standard formats. I.e., H.264, VP9, ​​AV1, HEVC.
4. Distribution and acquisition of CDN
Streaming from a source server located in specific geolocation can cause delays and increase server load. To avoid video delays CDN (Content Delivery Network) is used. It caches and serves the content, not the origin server.
5. Decoding and reproduction
Customer gadgets get streaming data sent by CDN, encode and decompress information. The video player in the browser then interprets the fragmented portions of the video and the video plays.
So, how can we fit all of these processes into a virtual event app? For this purpose we need WebRTC.
WebRTC is an open-source streaming protocol. Open-source supposes that the project's code is accessible to everyone. WebRTC enables real-time audio and video streaming in web and native apps using two-way communication channels.
But WebRTC isn't enough to expand the capabilities for video-streaming events.
The virtual events app also requires the following:
✓CDN
CDN provides quality video streams. For a distributed content network, we use a Google CDN. This integration uses HTTP(S) load balancing as the cached content source and delivers a combination of static and dynamically generated content.
✓Cloud service
Cloud service acts as the origin server that sends the compressed videos to the CDN. We choose for this purpose Google Cloud Platform.
✓Database
First, WebRTC will send it to the application database located in the cloud. Then to end-users.
However, the digital event app may require another tech stack.
How to monetize virtual event app
Particularly, the most widespread monetization ways for event management apps are following: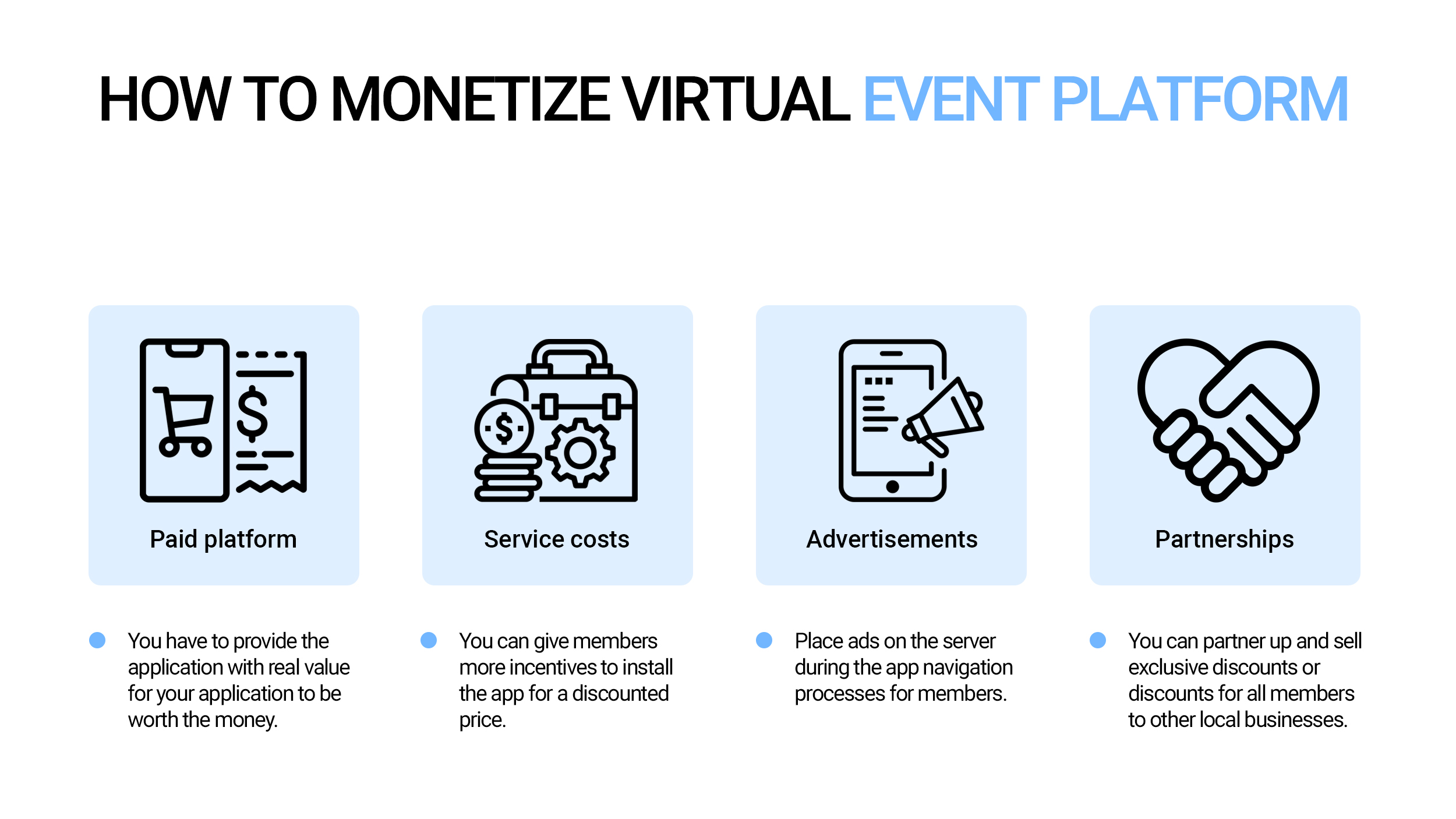 Paid platform
In this case, you have to provide the application with real value for your application to be worth the money. Your app may use some additional features, such as AR/VR capabilities, a social and social lounge, offer additional benefits like skip the line or coffee.
Service costs
It is the most widespread aggregator model. There is no point in charging extra for in-app purchases for personal use. Instead, you can give members more incentives to install the app for a discounted price.
Advertisements
Place ads on the server during the app navigation processes for members. These can be banners or others displayed during the event.
Partnerships
I.e., in call-to-ride apps like Uber or Lyft, you can integrate so members can get to the solution and return without leaving your apps. Likewise, you can partner up and sell exclusive discounts or discounts for all members to other local businesses.
How much does it cost to make a virtual event app
The final price of the virtual event app development depends on several factors. The main of them are geography and manpower.
Scope
Approx time, hours
1. Project Start

Initial backlog preparation

16

Project Schedule Preparation

3

Staging environment setup

16

2. Development Section (Back-end)

DB setup

16

Event entity

8

Events CRUD endpoints

16

User entity

8

Users CRUD endpoints

16

Authorization

8

Image saving

8

Log in with social networks

16

Swagger

20

3. Development Section (Front-end)

Setup navigation, redux, saga, persistor

8

Splash screen

6

Map page

2

Setup map plugin

6

Setup geolocation plugin 

6

Events pins on the map

4

Pin icons are emojis

4

Login page

8

Signup page

6

Social networks login

8

Setup image picker

6

Update profile page

8

Profile page

6

Delete Prompt

2

Change password page

4

Create event page

13

Event details page

6

My events

10

Attendee screen

4

Setup Drawer

8

4. Stabilization and Delivery

Prepare deployment docs

12

Prepare description docs

12

Production deployment

20

5. Project management

Backlog elaboration and maintenance

18

Planning meetings, review meetings

4

Project Management and communication

25

Quality Assurance, hours:
76
Total Development, hours:
302
Project Management, hours:
66
Total:
444
Summing it up
As a result of the COVID-19 pandemic, border closures, and social distancing measures, all events have moved from offline to online. The event apps with live streaming are the best way to host any type of event, from small seminars to huge cross-industry trade shows.
In the future, event organizers probably will adopt hybrid events using both personal and virtual components. Keynote speakers will gather in one place with a limited number of participants, while others will watch the live broadcast online. Thus, the demand for virtual events will remain high for the nearest time.
✔Related articles:
How to Create a Visitor Management System
E-learning application development: Process, Features, and Cost
How to Make Your Own Grocery Delivery App and Become The Leader of The Market
How to Create Your Own Cryptocurrency App: Everything You Need to Know