Before 2013, online dating apps were wholly boring and too mechanical. People were not fascinated by the features and UI/UX design many dating apps offered at the time until Tinder busted onto the scene with an appealing yet simplistic swipe-to-match design.
Tinder and Badoo came in full force, inspiring the online dating app industry and attracting engagements and participation. The numbers demonstrate this clearly. Today the app records over 70 million active users and is the number one dating app by app download.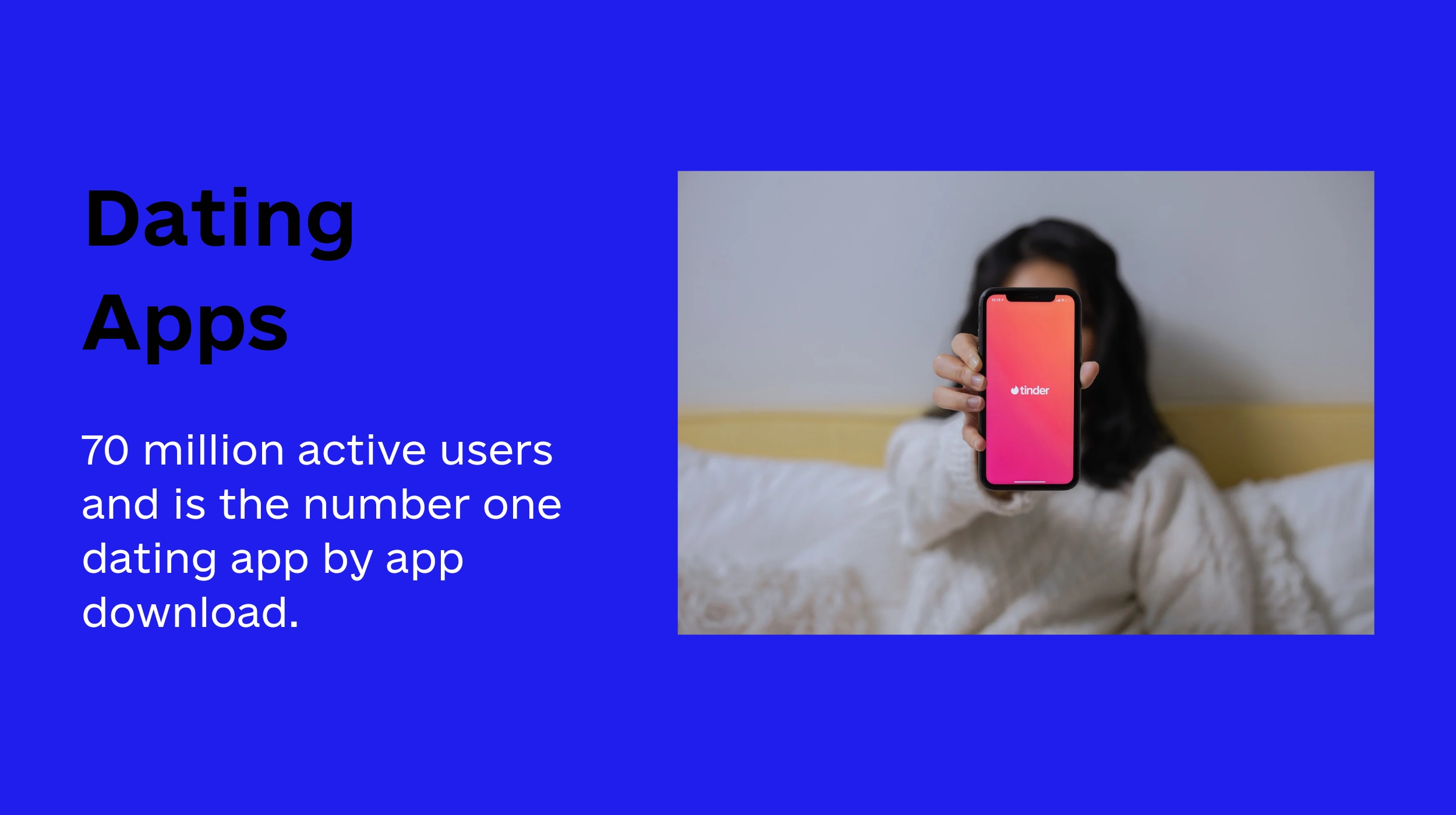 One thing is certain, creating a successful and highly-engaging dating app like Tinder has a lot to do with the design and features, not only the function. And this is what we'll be demonstrating in this guide.
So if you want to create an equally successful app, our guide considers the essentials of how to make a dating app, stats and research on dating apps, the best features to add, how to monetize it, and finding the best developer team.
Dating App Market Statistics
Data from surveys and dating sites as well as surveys conducted by experts in the field have been compiled to draw conclusions about the state of the online dating app market. Take a look.
What is the most popular dating app?
According to Statista, there were 105.73 million unique visitors to badoo.com in April 2022, making it the most popular online dating site. Tinder.com came in second in April with 94.96 million visits, just behind Badoo. Oneamour.com, a global dating site, attracted 2.96 million unique visitors during the study period, while pof.com (Plenty of Fish) attracted nearly 32 million.
How many American adults use dating apps?
30% of Americans over 18 have used a dating website or app. Nonetheless, there is a wide range of this depending on factors like age and sexual orientation. People between the ages of 18 and 29 are the most likely to have used a dating site or app (48%), followed by people between the ages of 30 and 49 (30%), and finally, people over the age of 50 (16%). Still, people's impressions of online dating vary greatly depending on their sexual orientation. Half of all LGB adults have used online dating at some point, compared to about a quarter of all straight adults.
How many people use dating apps globally?
The number of people who used dating apps or dating sites worldwide to meet new people grew from 240.9 million in 2016 to 323 million in 2021, a 34.58% increase in 5 years.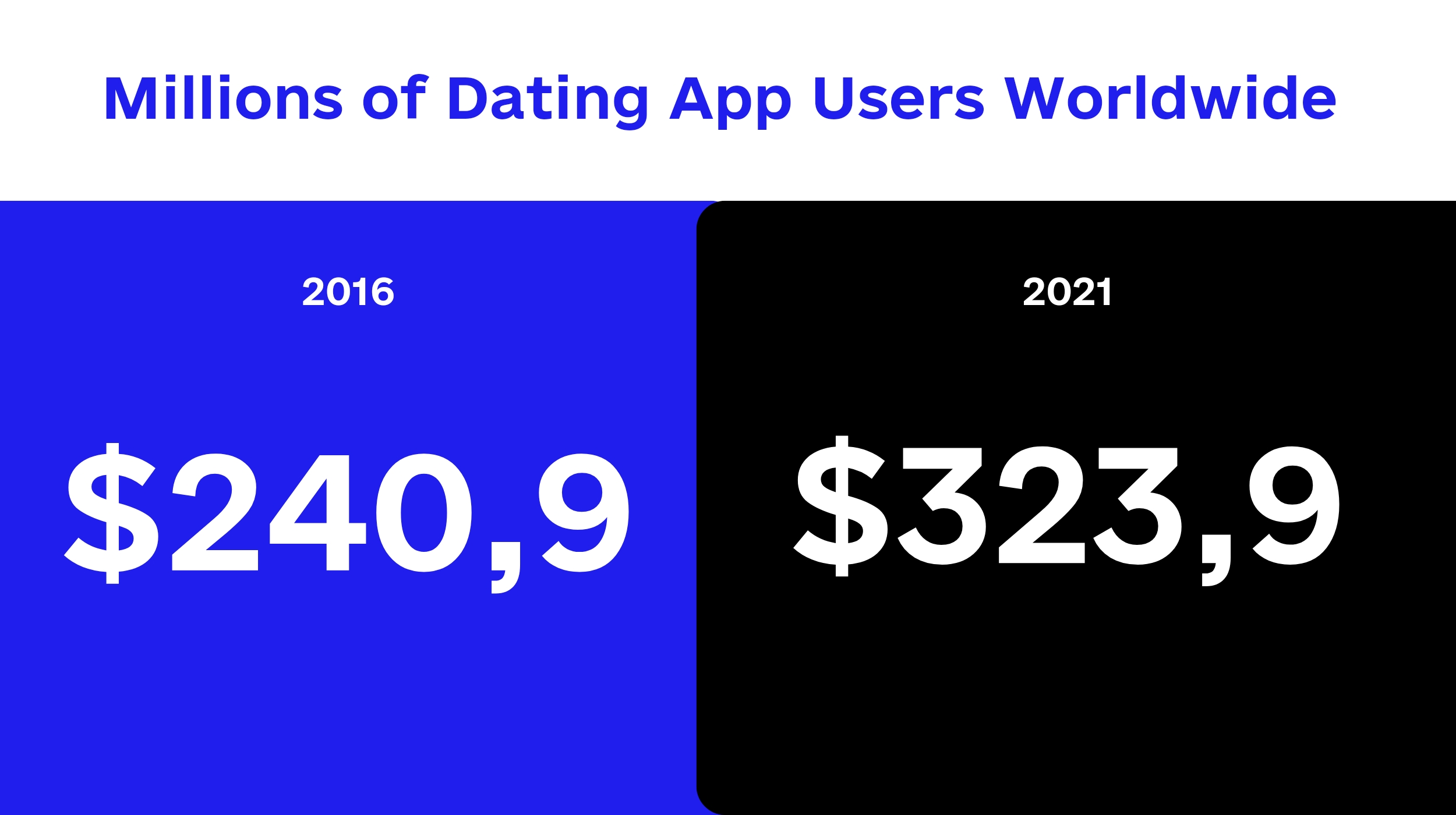 How much revenue do dating apps make?
On average, dating apps make $8.92 per user. It is projected that by 2024, the United States, which is the largest market for online dating services, will earn $259.3 million. In 2015, online dating generated $1.36 billion in revenue around the world. It reached $2.38 billion in 2018, however, and is projected to hit nearly $6 billion in Q4 2021.
What are Best Dating Apps of 2022?
There are a plethora of appealing dating apps available on the web today. While Badoo may receive more overall traffic, January 2022 research found that Tinder held a 32% share of the US online dating market, followed by Bumble (22%), Hinge (15%), and Plenty of Fish (15%).
Tinder
Everyone is familiar with Tinder: you've probably heard of it too. When compared to similar apps, it has among the highest numbers of users and potential dates. Tinder uses the user's location and other filters to find a compatible partner.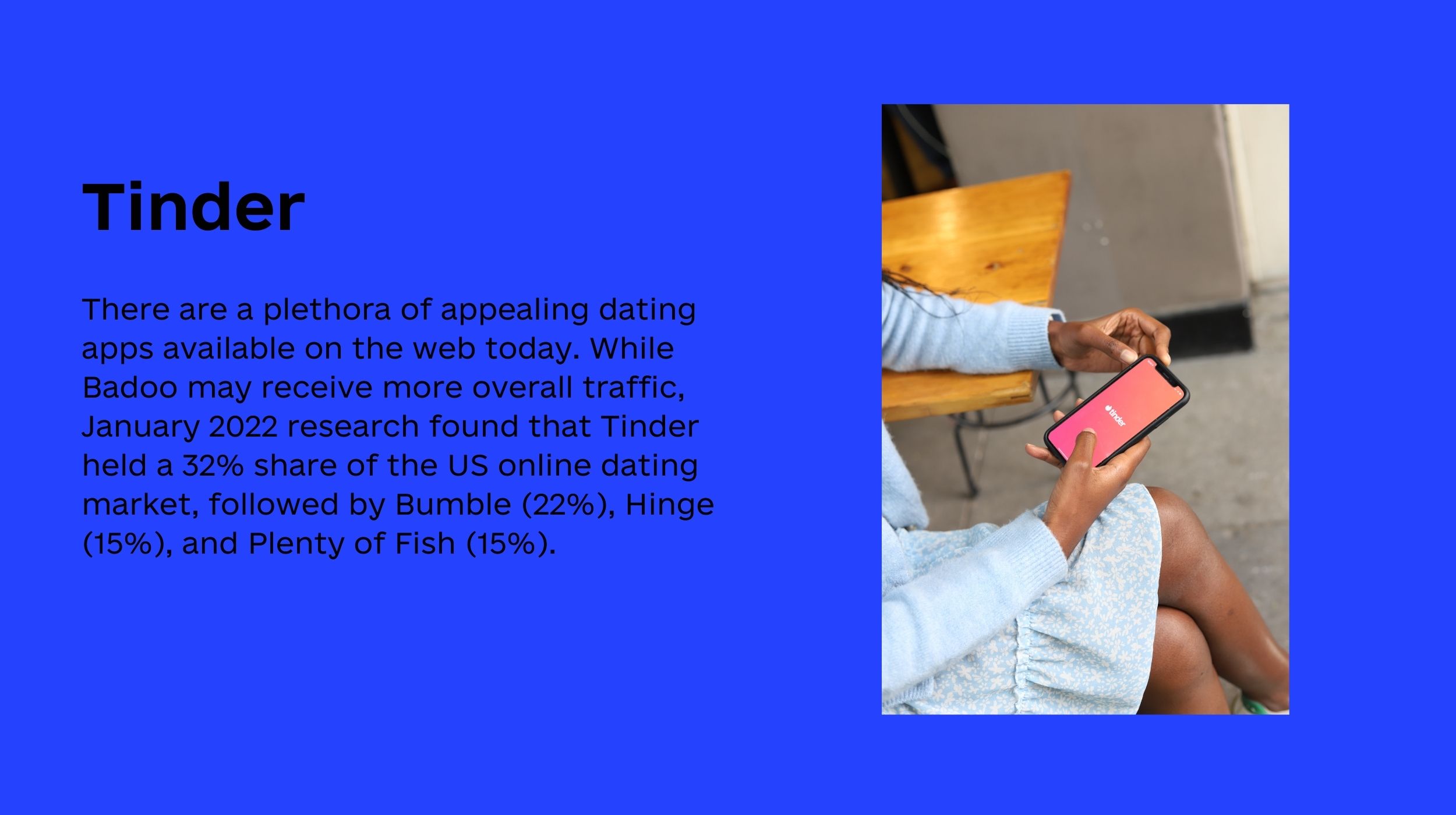 Bumble
Bumble is a Tinder-like app that was developed to solve an issue that had surfaced with Tinder. Many women who used Tinder felt unsafe and uncomfortable because of the behavior of some men. For this reason, women are the only ones allowed to initiate text communication with men, and men have only 24 hours to respond.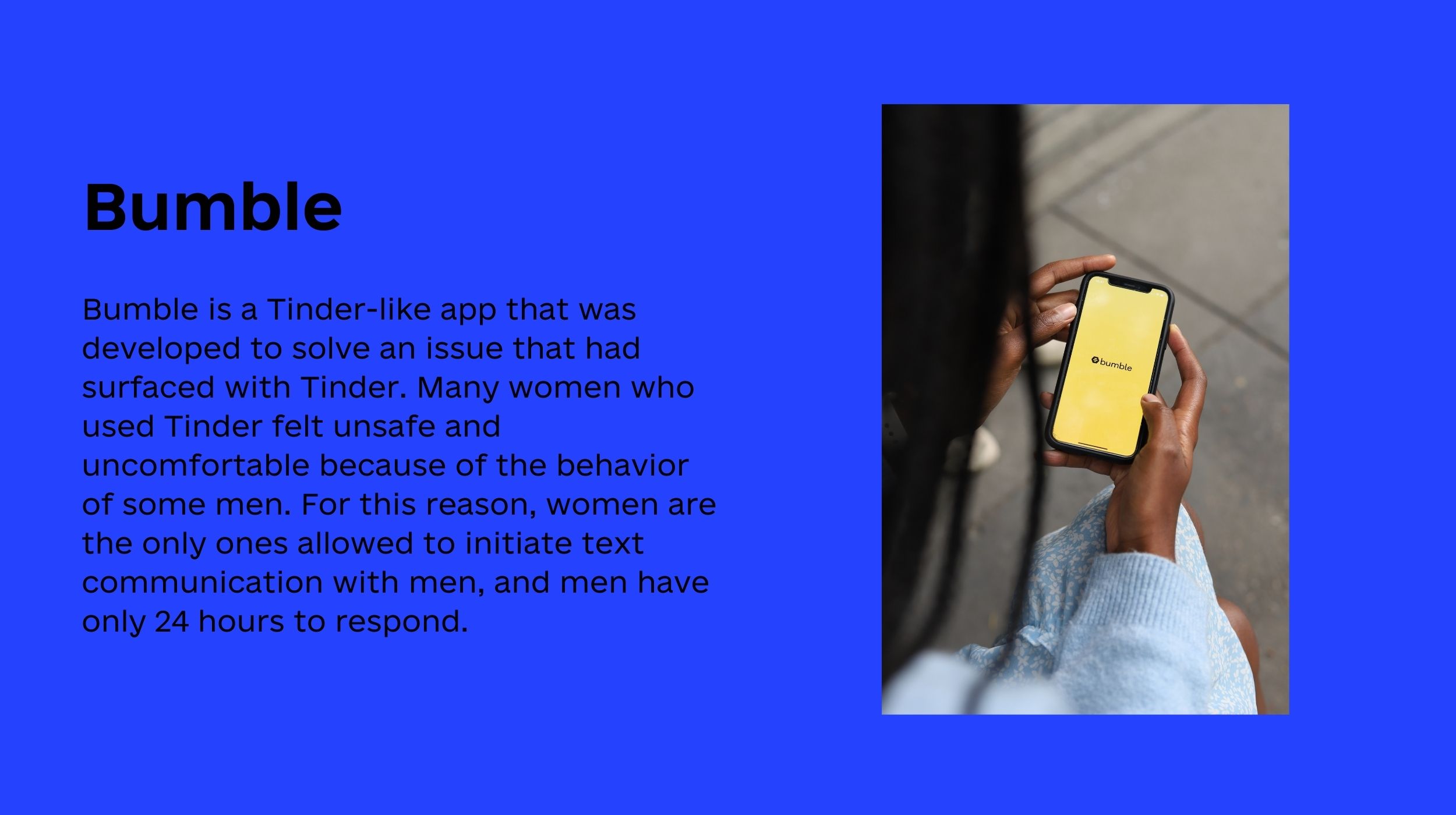 Badoo
Badoo is a free dating website as well as an app that caters to a younger demographic for the purposes of friendship, casual dating, and romantic relationships. As a result of the many unique features it provides, Badoo is widely considered to be one of the most successful dating apps currently available.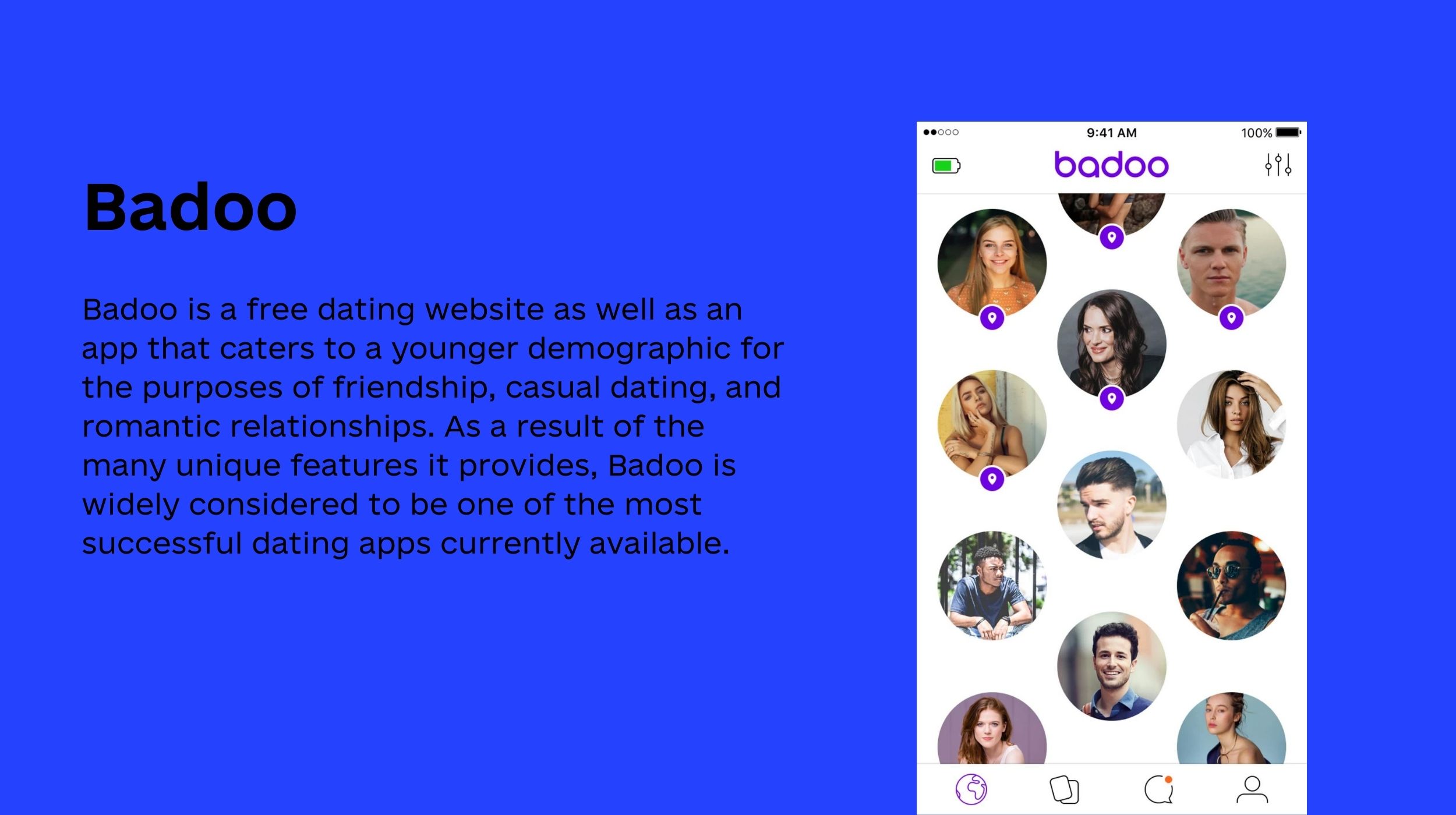 Hinge
Hinge's design centered on the idea of ditching online dating in favor of a committed partnership. There is no "swipe right" or "swipe left" functionality like on Tinder or Bumble. The algorithm uses shared interests to pair users who are likely to get along well.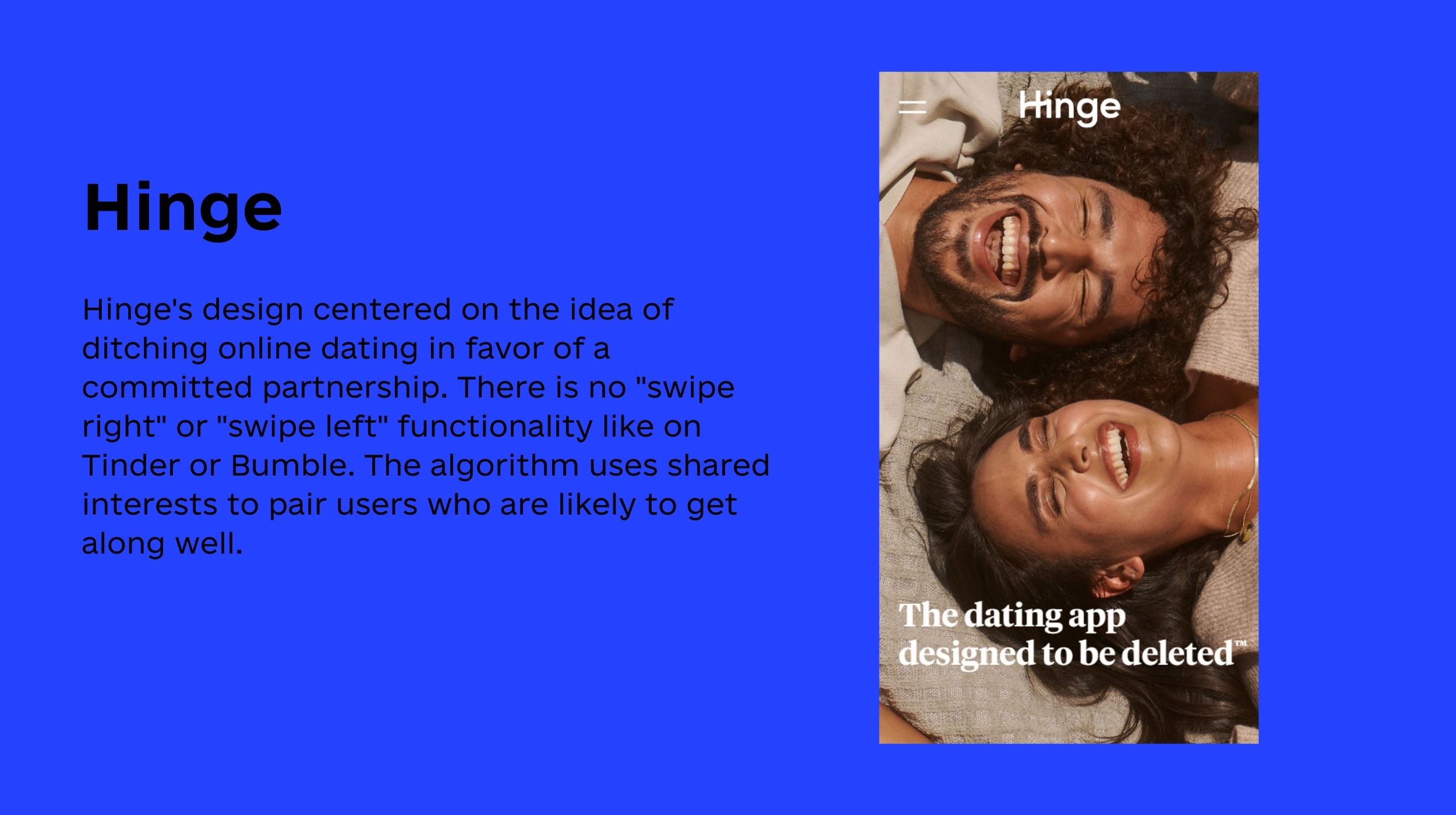 Plenty of Fish
Plenty of Fish is headquartered in Canada, but it serves users in Australia, the United Kingdom, the United States, Spain, Brazil, Ireland, and New Zealand. It places a premium on communication amongst connections and promotes chats between potential partners. Relationships are formed through shared interests and communication histories.
Other types of dating apps with less than 10% market share include Grindr (7%), OKCupid (4%), Match.com (4%), and Zoosk (2%).
Which features should a dating app have?
A successful dating app should have these key elements.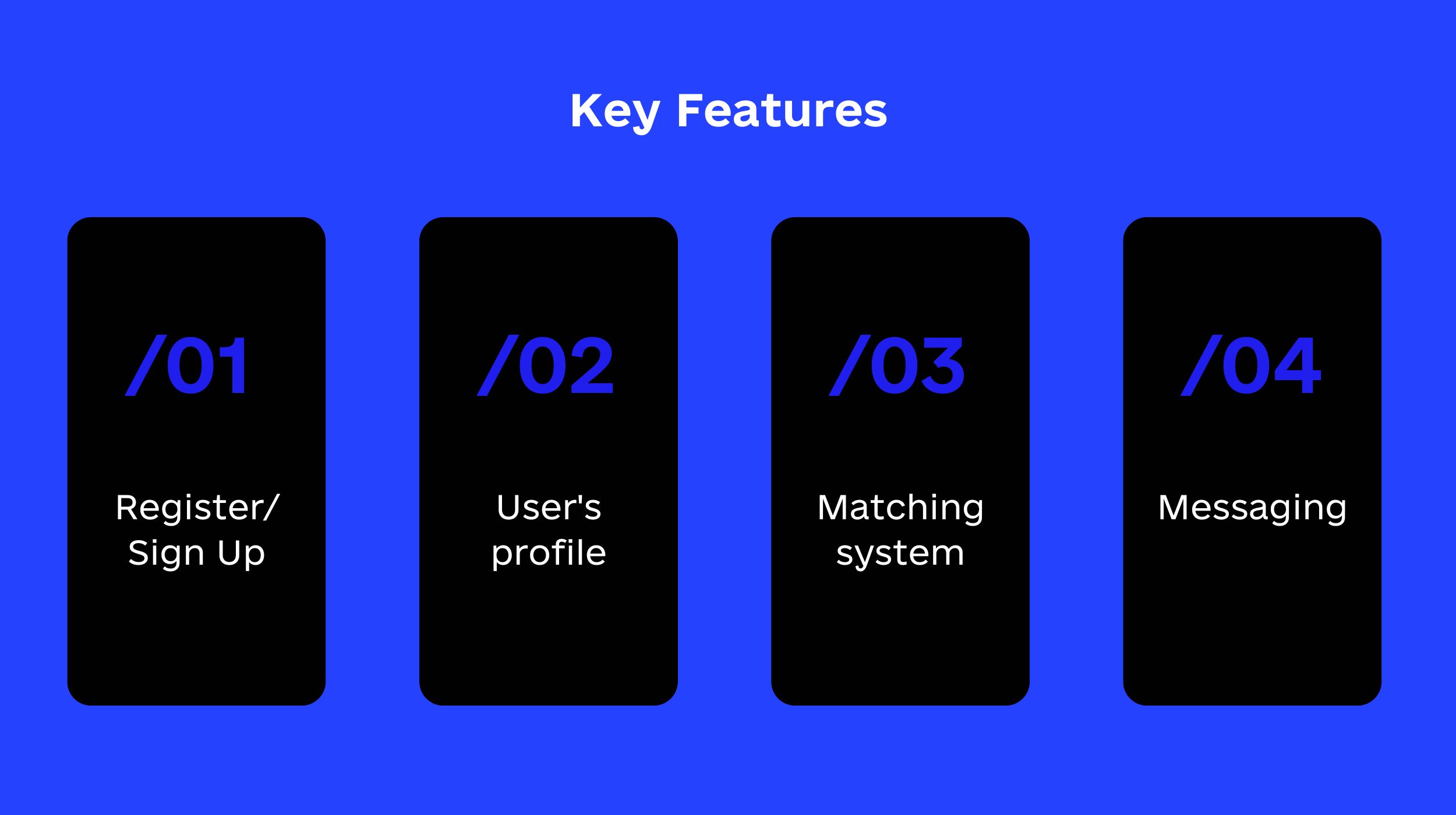 Register/ Sign Up
Most apps require users to sign up for an account upon initial installation. You need to let people sign up with their email addresses or phone numbers.
Make it possible for people to log in to your app using their Google or other social media credentials, like those from Facebook. Streamlining the signup process and eliminating wasted time for the user. Personal information such as age, location, gender, and interests should also be provided by your users.
Assure the user that their personal information will only be used for the purposes of creating a user profile if they choose to register using a social media platform.
User's profile
Every user's profile is crucial in establishing contact, as it acts as a sort of byline to introduce the user to anyone who might be interested.
The user should be able to edit their profile and upload a photo. The goal is to streamline the process of connecting with a potential romantic partner, so any data that increases the likeliness of a successful match is welcome. To streamline and expedite the filling out of personal information, you may want to implement a feature that requires users to connect with social media, such as Facebook.
Don't forget to make it as user-friendly and straightforward as you can. If there are too many bells and whistles, users might be put off and the product's success rate would suffer. The profile should also be intuitive and simple to update.
Matching system
There is a matching system in place on all online dating platforms that ensures each user meets compatible people. User choices, activity metrics, interactions, and interests could all form the basis of such a system. Here are just a few of the most well-known:
Geolocational matching system uses GPS technology for location-based matching. Apps use it to make matches based on the location and how far the area you want to reach.
Calculations-based matching system matches based on the user's responses to questions on interests, preferences, and even political views.
The behavior-based matching system records data on the user's interactions with the app and uses it to match the user.
AI matching systems are based on AI algorithms that learn what a user is looking for from successful or failed matches, enhancing the algorithm's precision and match excellence.
Messaging
Chatting is at the core of most online dating apps. However, despite its obvious importance, the challenge of preventing users from exchanging phone numbers and moving the conversation elsewhere remains.
One possible solution is to make your chat more robust by placing it inside the app itself. Users of interaction-based matching systems may benefit from additional incentives to encourage them to continue using the app. The standard messaging feature could be supplemented with video and voice calls, as well as voice notes.
Steps of developing a dating app or website
From identifying your target audience to development and launch, here's how to start a dating website.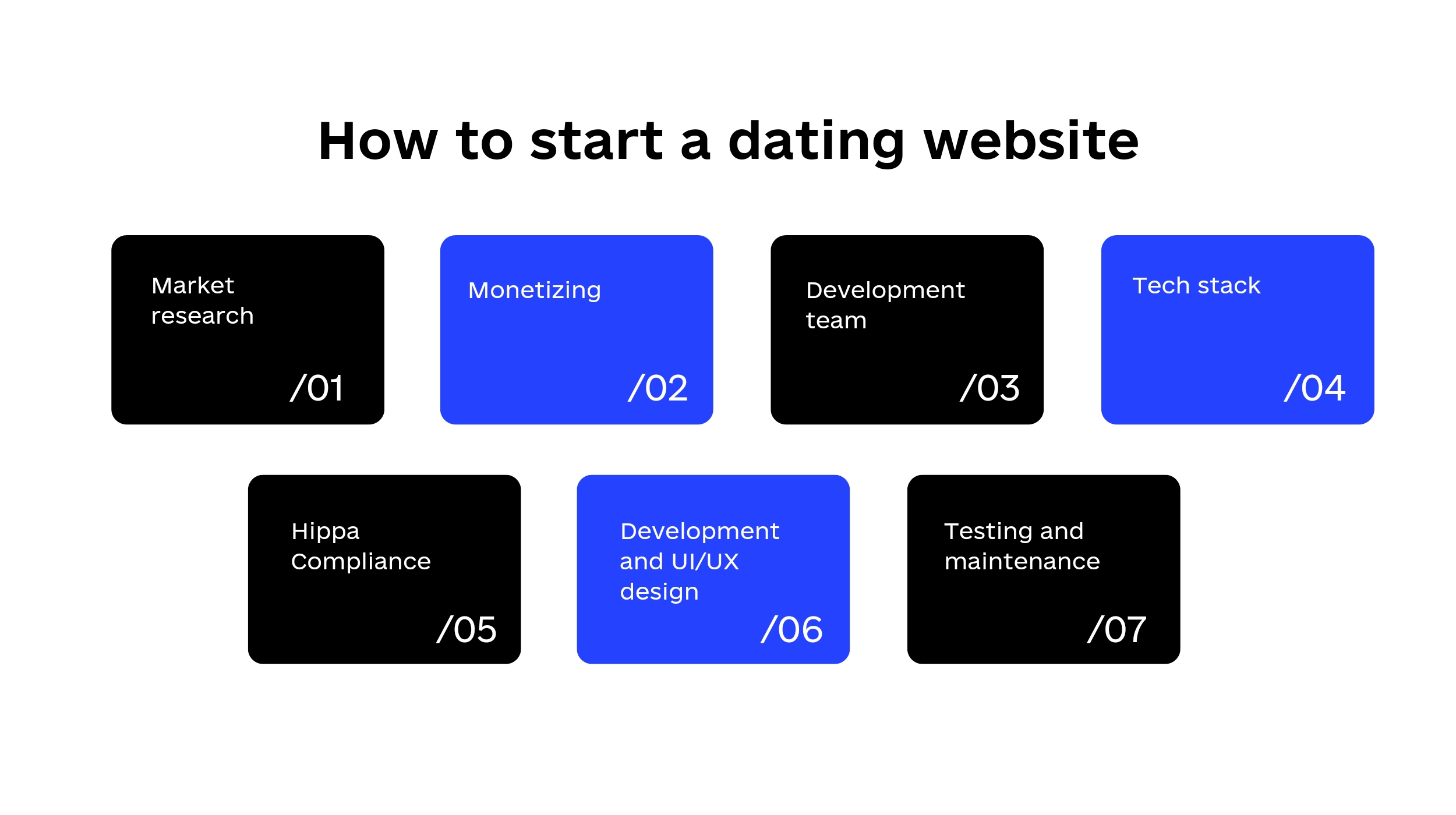 Market research
Understanding your potential users is the first step in launching a successful dating app. Successful app development requires first-hand knowledge of your intended user base. Conduct market research to identify your potential users and put them into distinct groups.
Users can be categorized based on characteristics like their gender, age, sexual orientation, location, income, occupation, race, ethnicity, and marital status. When you've finished sorting your people into groups, it's important to spend some time with them.
Asking questions of your target demographics is essential. An excellent piece of advice for getting to know someone is to avoid making assumptions and snap judgments.
Here are some sample questions you can use to learn more about your target market:
What characteristics do your typical app users have?
What are the most popular dating trends among them?
Where do they usually meet people?
What are their hobbies and interests?
What do they think about online dating?
What problems do they experience in finding dates traditionally?
What issues do they encounter when using a mobile or web application to find potential matches and dates?
Monetizing your app
How do you make money off of a dating app? CNBC reports that Match Group, owner of Tinder and Hinge, had a profitable third quarter thanks in part to a two percent rise in paid subscribers across all of its brands. Paid users increased by 7% on Tinder alone. App monetization is crucial if you want to gain a foothold in this market. There are many ways to accomplish this, including the ones listed below.
Freemium
The owner or service provider uses this model of monetization when they give away the service's core functionality for free but then charge for any additional functionality. In this model, users can download or use the first set of basic app features for free, and then upgrade to premium packages that include advanced and additional features, increasing the user's chances of being matched. Users have the option of remaining hidden from everyone else on the network except the people with whom they have chosen to share information, communicate, etc.
In-app purchases
This is because the app's business model supports in-app purchases. It can be used up or not, depending on the context. Purchases that are consumed quickly lose value. Once a user has used up all of their consumable purchases, they must make a new purchase of a consumable IAP to keep enjoying the same perks.
Once purchased, non-consumable items tend to remain in a customer's possession indefinitely. Time and use have no effect on it. Use it as much as you like; there will always be more where that came from. On the other hand, this method of monetization only works if the product or service you're selling has compelling enough features. Your feature should be appealing enough that people are willing to pay more for it.
Subscription plan
The subscription pricing model places the cost of using the dating site squarely on the user, who chooses from a variety of different subscription tiers. The schedule could be repeated at regular intervals. For instance, you can have a plan that spans six months, a year, two years, etc. At the end of the billing cycle, they can choose to renew their subscription.
Development team
Putting together a dedicated development team to take care of your dating app is a challenging task. This is because every aspect of your idea will be impacted by the dating app development team you choose. You must also use effective strategies for managing them, especially if they will collaborate remotely. Therefore, it is crucial that the team you assemble has the appropriate level of expertise, experience, and technical background. The ideal team would have at least:
Front-End Android Developer
Front End iOS Developer
Front End Web Developer
Backend Developer
Graphic Designer
Quality Analyst
Project Manager
Tech stack and platform
Ensure that your team is utilizing the most relevant technology stack when building. Because technologies are constantly evolving, it is preferable to employ software engineers who are current with the most recent trends. Ensure that your platforms can easily integrate with the following:
Programming languages: Java, Kotlin, Swift
Frameworks: Node.js, Express.js, Next.js
Database: PostgreSQL, MongoDB, Redis
Cloud storage: Amazon S3
Web servers: Nginx
Payment gateway: Stripe, PayPal
General utilities: Optimizely, Twilio, Elasticsearch, Google Maps, Google Analytics.
Hippa Compliance
Including security in your dating app is an important consideration from the get-go. Avoiding issues in the future requires ensuring the safety of our platform and your users' data.
Focus on adopting a stringent security standard, such as GDPR, to safeguard user information and prevent hacking (General Data Protection Policy).
For the safety of your users, activate features like user verification, the ability to ban harassing users or add them to a blocklist, and the capability to block inappropriate photos and messages. You can take it one step further by requiring a photo or facial scan as identification.
Development and UI/UX design
The development phase of a dating app is arguably the most crucial. It's been found that using agile practices can help teams manage their workload, get their work done more efficiently, and still meet or exceed quality and cost goals. But your UI design must also encourage more user participation because it determines how customers will use your products to accomplish their objectives. An improved customer-product connection is possible with a well-integrated user interface and user experience. Customer satisfaction is significantly impacted by a website's usability. Guidelines for achieving an effective user interface:
Make sure you know who you're designing for before starting.
Implement a well-designed information structure.
Make effective use of color.
Use a simple and elegant layout.
Improve usability by means of building interaction layouts.
Use a mobile-first approach.
Testing and maintenance
To keep up with user demands, software must undergo regular maintenance in the form of updates and tweaks. After a product has been released, it is time to begin software maintenance in order to improve the software, fix any problems or bugs that have been discovered, increase performance, and so on.
Cost of dating app development
The cost of developing a mobile dating app depends on a number of factors:
Complexity of the project.
Platform.
Team size.
Location.
A developer's hourly rate, years of experience, and level of expertise all play a role in how much your team will cost to staff.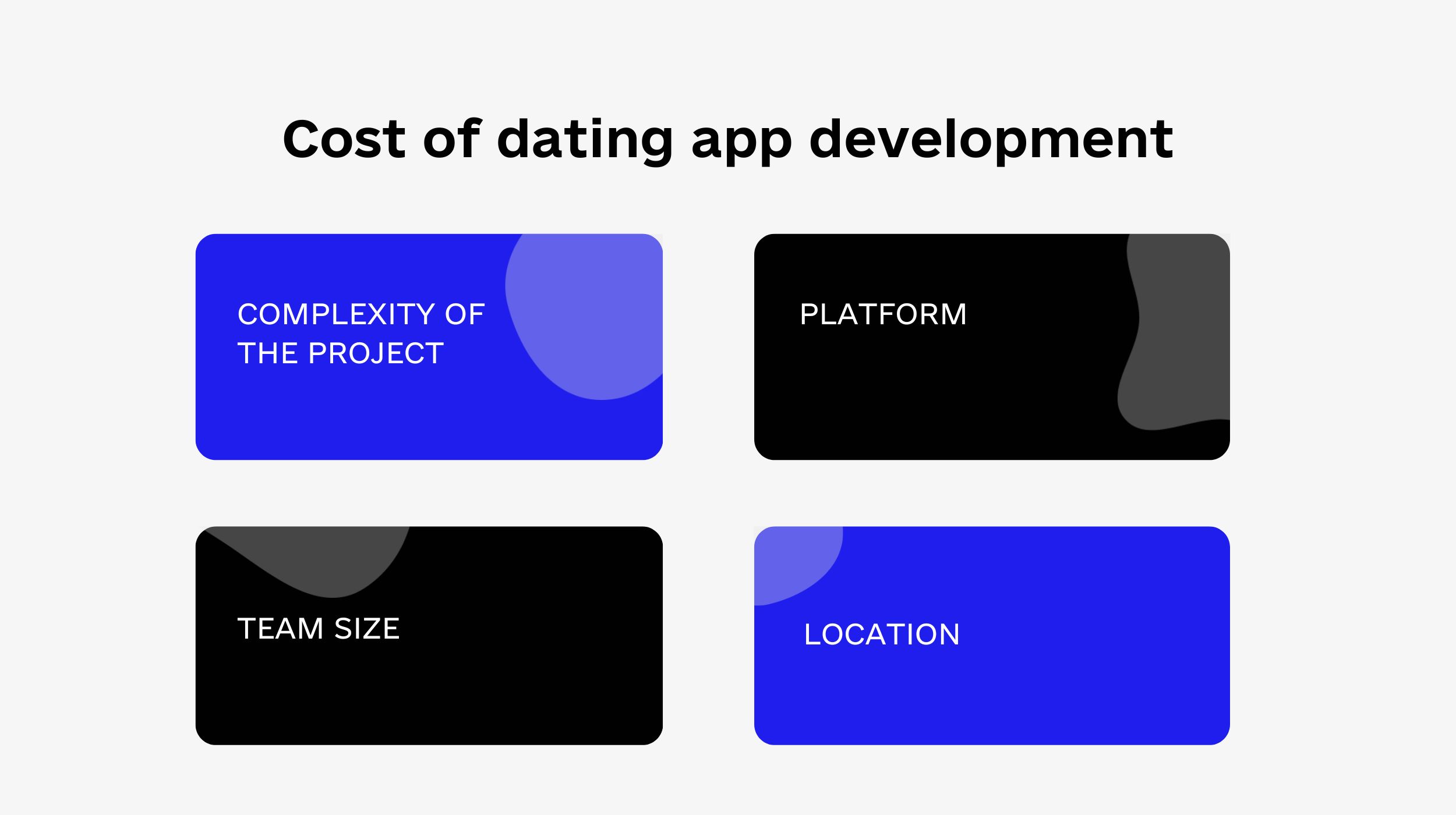 You can hire a number of independent contractors and be responsible for coordinating and syncing their work, or you can outsource the development of your dating app to an experienced team.
The time and money spent on development can be cut in half by using the adaptable strategy of outsourcing. Hiring a team of developers in your own country, on the other hand, will almost certainly double your expenses for no additional benefit.
It's estimated that the price of making a dating app, with all the bells and whistles included, will be between $55,000 and $100,000.
Conclusion
Online dating is growing even larger as more people embrace digital socialization and networking. And you should know that leisure activities like online dating need to be really people-oriented and user-friendly. In essence, creating a successful dating app requires a thorough understanding of your target audience and creating designs and functions that appeal to them.
Building a dating app is not just about having the technical knowledge to build apps. But understanding the peculiarities of a dating application and designing an app that fits the purpose.
At Code&Care, our experienced and dedicated development team understands the unique requirements of a dating app, and we build to suit every purpose. From the UI/UX design to the functionality, we are just the right team for you. Feel free to get in touch for more dating app tips.
Read more:
How to Build a Product Roadmap for a Start-up
How To Make A Video Calling App Like Zoom: Markets,Types, Features & Key Steps
How To Build A Question and Answer Website Like Quora: Costs, Features, & Steps