Global markets and advances in technology have changed the way businesses operate. For many, staying competitive means capitalizing on a smaller, more tech-savvy world, and taking advantage of outsourcing. So, if you hire dedicated web developers, it will lead to lower overheads, increased growth,  and greater focus and service quality. Sounds great and statistics only confirm that.
I.e. Deloitte's 2020 Global Outsourcing Survey took a more intimate approach to their research as a result of the COVID-19 pandemic. They interviewed 40 executives across their clients, service providers, and lawyers globally, both before and after the start of the pandemic, to get a precise representation of how industries have responded. About 70% of those surveyed said outsourcing was being used as a cost-cutting tool and "the uncertain economic environment is back to numbers," and another 40% said outsourcing provides an organization with the flexibility to cope with the pandemic; remote work and rapid digitalization.
Let's move on to the dedicated team model definition, its pros and cons, and peculiarities of the work in this way.
What is a Dedicated Team Model?
A dedicated team model supposes hiring remote developers for a project. It means that the team can work independently as well as be a part of the main team. The model allows customers to choose if they want to hire the managers on their side or select the vendor's project manager for this team.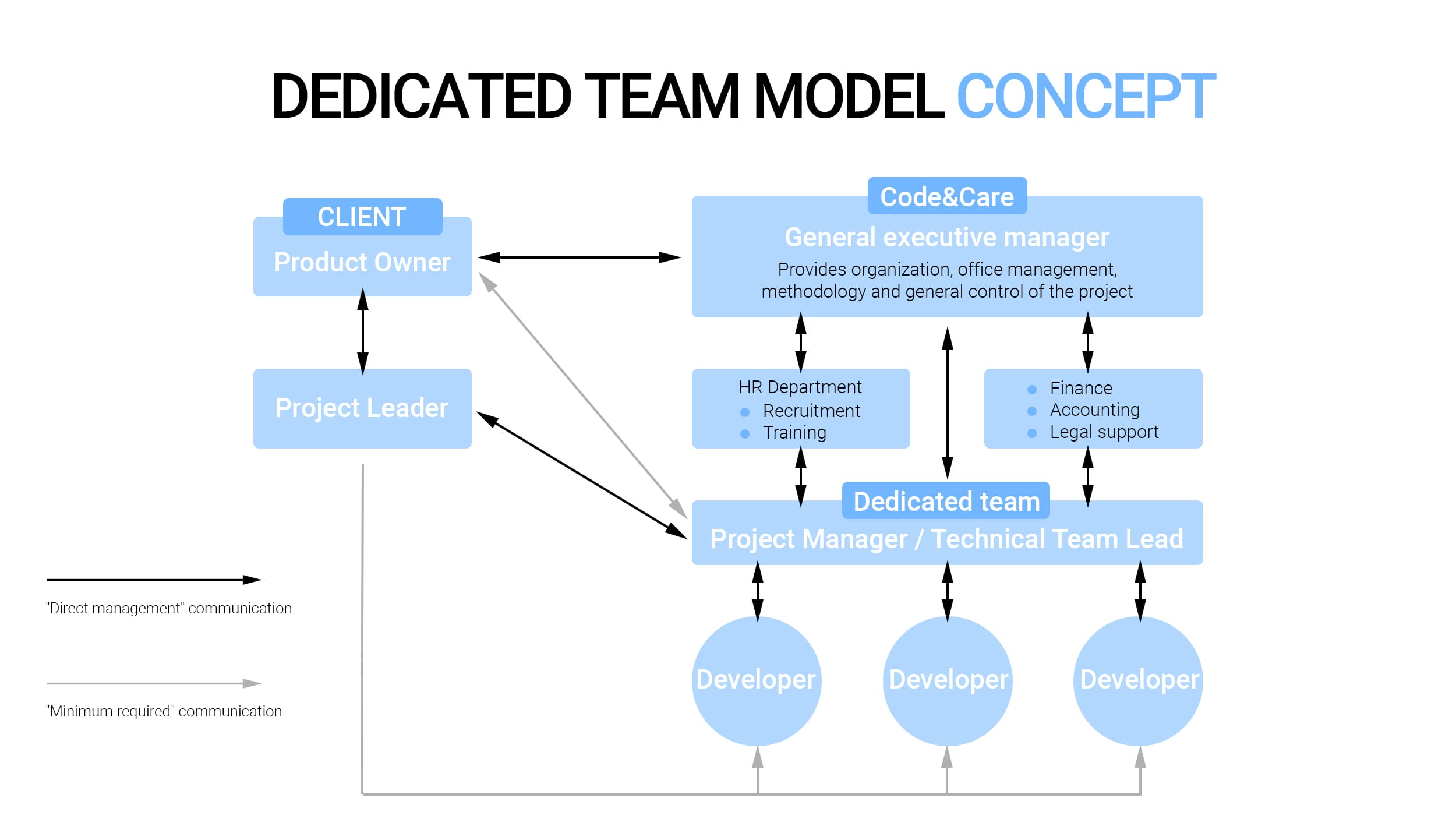 One more significant feature is that the model supposes long-term partnership. At the beginning of the work, the customer and vendor agree on conditions and sign the contract. The team can be scaled up or scaled down if it's necessary.
Web development pricing models comparison
When you hire a developer's team, you need to sign a billing contract. Usually, the pricing model depends on the type of project. The most widespread models are fixed-price, time & materials, and milestones. Let's overview all of them.
Fixed-price model
This model is based on an estimate of the amount of work that needs to be done. So, the first thing that should be done is to define the scope of work. The one more thing that has to be done is wireframes. They help the development team to understand how many hours they need to implement all the features. In the case of a fixed-price model, every extra task has to be paid additionally. In this model, it's crucial to discuss every nuance before the starting of development to determine the final cost of the project.
The fixed-price model is the best option for small projects with limited features and clear requirements. Also, it's good for MVPs and projects with limited budgets and strict deadlines.
Time & materials pricing model
The time & materials pricing model supposes deep customer involvement in the web app development process. Also, the client's level of responsibility for the development process is much higher than in a fixed-priced model. In this case, the customer unites with a team and he or she gets bills for the actual time spent on the website development.
This model fits for long-term projects and for projects with changing all the time requirements. The client has to be ready to be involved in the processes for the best result.
Milestone pricing model
The milestone pricing model supposes that the customer has to pay when a service provider has implemented a specific scope of work over a certain period, achieving a predefined milestone. At this point, the client is billed an amount of money that depends on the time spent and the things achieved for the given milestone.
This model is a good variant when the customer and the service provider are in a good relationship. So, the possibility of fraud is excluded.
Thus, the main advice is to choose a pricing model based on your project's features and requirements.
Pros and Cons of Hiring Dedicated Web Developers
Trust your product development to a dedicated team of web developers may prove to be beneficial in a lot of ways if done correctly. Here are just a few benefits: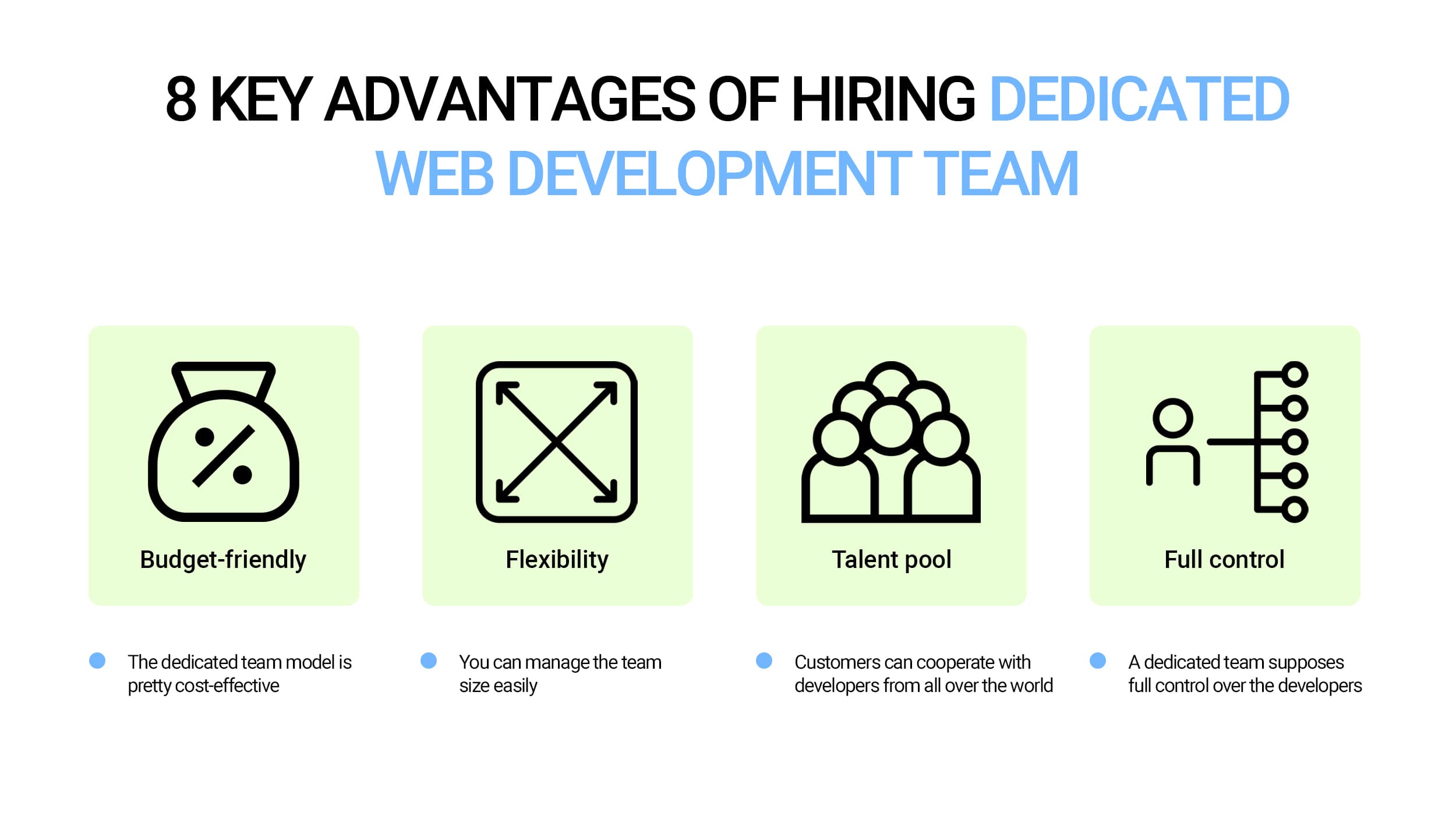 ➕Budget-friendly
The dedicated team model is pretty cost-effective. Entrepreneurs can be stunned by the cost of web app development at their homelands, while they can pay fewer teams from Eastern Europe, Asia, or Latin America to get the same high level of software development service.
➕Flexibility
You can manage team size easily depending on the current development situation. If you understand that a project requires more features, it's always possible to hire extra programmers.
➕The huge tech talent pool
You are not limited by the borders of one country or company. So, customers can cooperate with developers from all over the world trying to find the most suitable ones.
➕Full control
A dedicated team supposes full control over the developers. So, it means that all management is carried by the customer. You can assign management to the CTO or do it by yourself. Whatever you want.
Besides the pros of hiring a dedicated team, there are some cons. Here are a few of them.
➖Communication difficulties
Rather often working with a remote team supposes a huge distance between customers and developers. For example, the time zone difference has a significant impact on communication. Moreover, keep in mind language barriers and cultural differences may occur.
➖Technical knowledge for team supervising
To manage all the processes you need to be tech-savvy or at least to have on your side a project manager or CTO that will regulate the work of the team.
Now, when you are familiar with all advantages and disadvantages of hiring a dedicated team you are ready to make a decision.
In-house Team vs Dedicated Developers
In-house team supposes that the company development teams are built from their employees, that work directly under the control of the company's leaders. When you want to build a team of in-house developers, your first focus should be on the hiring process. After interviewing and signing the contract, you will be responsible for ensuring the salary and well-being of each team member, including labor law requirements.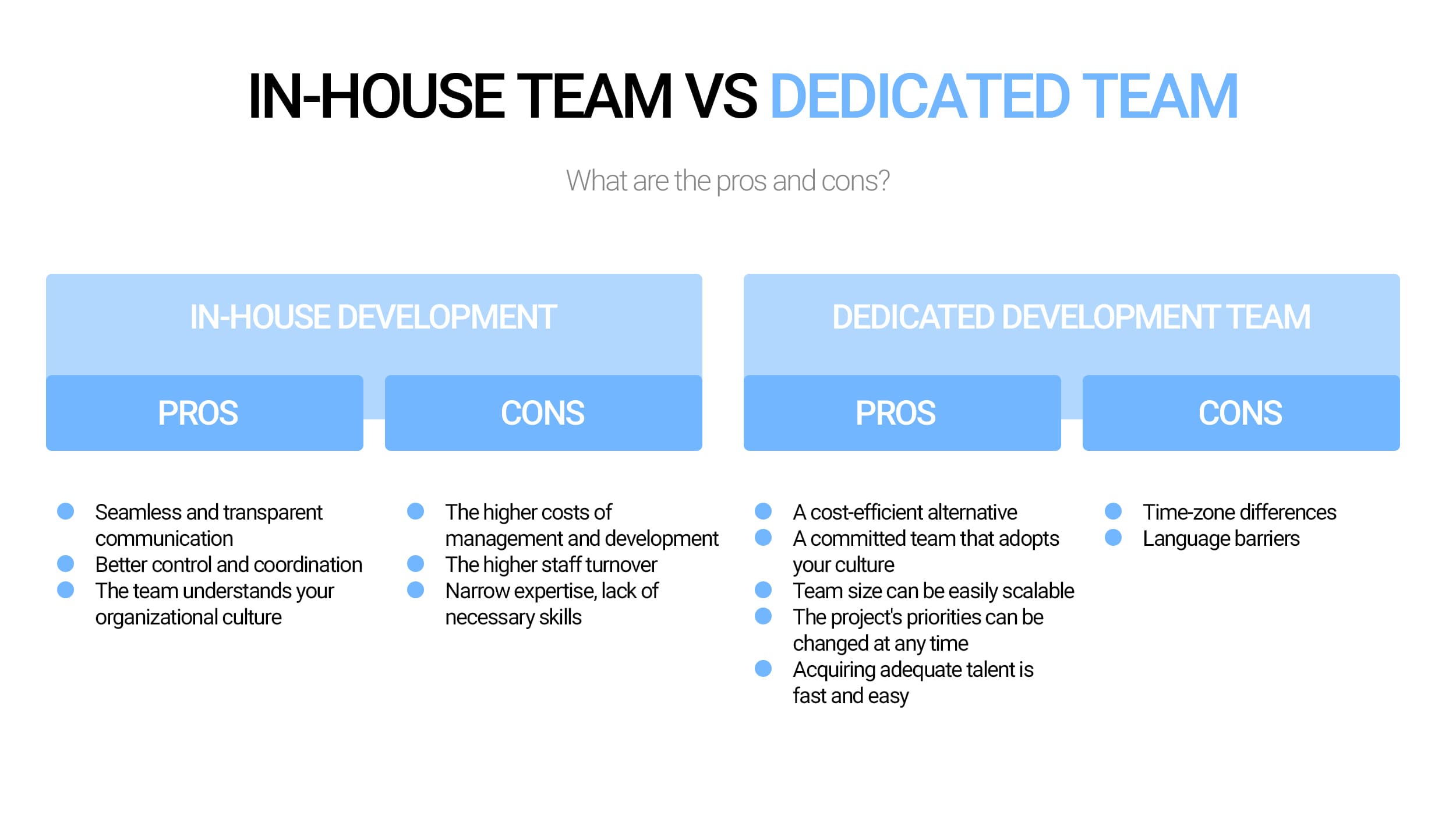 The dedicated team model is commonly used in outsourcing software companies and involves three parties. The first one is clients who want to implement projects for the development of mobile applications or web applications. The second is IT development companies that regularly operate in low-cost areas. For long-term projects, clients have a great incentive to use specialized development services instead of contract models. Especially for projects with some ambiguous aspects that need to be constantly changed, a dedicated team will work as part of the client's internal team to ensure the value of the projects.
Now, when you know the features of both models it would be easier to make a decision which one fits best for you.
10 Steps to Hire Dedicated Web Developers
To hire a team of dedicated developers first you need to understand clearly what result you want to get. Other important things are to calculate your budget and understand what skills your future developers' team needs to have. Long story to short, we recommend following this 10-step plan.
Step #1: Establish objectives
Two key things define your team hiring — requirements and the budget. Because of that, we highly recommend you start with setting goals for a future project. It may look like: "We need the web application" or "We want to remake the existing website", etc. The more accurate your goal, the better.
Step #2: Determine the budget
After setting objectives you should determine the budget you can spend on the team. The budget defines what team you can afford and the number of developers.
Step #3: Determine skills
If you have project architects or lead developers in your company, then they can refine the skills needed for the project. In case you don't have any experts, you may rely on external consultants. Also, they can help you find the necessary team.
Step #4: Research the market
Imagine that you have already defined requirements, budget, and skills. The next step is searching for a team that will fit your needs. The most common places where to find developers are Eastern Europe, Latin America, Asia. Depending on your language, location, and budget, certain countries will be more suitable than others. I.e., if your company is located in Europe and you require an excellent English-speaking team, developers from Eastern Europe are the best choice.
Step #5: Request portfolio samples
Surfing through IT-companies' websites' may give you some results. But there is a high probability that you won't notice certain facts during such research. To get better capabilities of developers you should ask for a portfolio. Companies will provide you brochures or information packs.
Step #6: Shortlist providers
Case studies review will help you to understand what companies are the most promising. Your decision may be based on similarity to your idea to the project that the companies have already released, etc. Anyway, you need to make a shortlist of providers that you like.
Step #7: Check reviews
Now, when you have a shortlist of the companies, it's time to compare them. Clients' reviews studying is the best way to do it. As they provide people the opportunity to give a clear opinion about pros and cons of the company. But you need to understand that anonymous reviews may be a lie. So, try to treat them skeptically.
Step #8: Schedule calls
The next step is the interviews with companies that you liked the most. It will be useful to talk to the lead developer that makes critical decisions, as his or her technical skills or their absence play a crucial role in the success of the full project. You can do it by phone, Skype, Google Meet, or any other video calling app that is convenient for both of you.
Step #9: Request a reference
If you can reach out to the previous client of the company, do it. Of course, it's not necessary to do it. As it may require too much time and effort. But on the other hand, if you succeed in past clients' searching, they may share valuable information with you that help to make you the right choice.
Step #10: Pick a provider
Collected all the information you need, you are ready to make a final decision about hiring a dedicated team. Pick a suitable service provider, make sure you agree on the terms and conditions of your business relationship. You will need to sign service contracts that spell out all legal and contractual aspects of the collaboration.
After going through all these stages finally, you can start the work on the desired project with the dedicated team.
Dedicated Developers Team Structure
As we have already mentioned in our recent article, the typical web development team structure consists of software engineers, Project Manager, QA engineers, DevOps Engineer, UI/UX designer, Project Architect, Business Analyst, SEO specialist. Depending on the project some of the specialists may not be needed or vice versa you will need to scale the team up with additional experts.
Let's briefly overview the role of every team member.
| | |
| --- | --- |
| The role | Responsibilities |
| Front-end developer | The major task of frontend developers is to build web pages that will be displayed on any gadget or browser ideally.  |
| Back-end developer | Back-end developers are responsible for the server-side of the application.  |
| Full-stack developer | Full-stack developers can work with the front-end side as well as the back-end side.  |
| DevOps Engineer | DevOps Engineer works on a way to automate and improve the development process. |
| QA engineer | QA engineers test your application to guarantee that it works seamlessly.  |
| Project manager | The project manager manages the production of required deliverables. |
| UI/UX designer | UI/UX designer creates the interface of the application and takes care of the user experience.  |
| Project architect | The project architect defines the type of web application. |
| Business Analyst | Business analysts make sure that the team creates the right product at the right time to solve the right problem. |
| SEO specialist | SEO specialists make keyword research; analyze traffic, metrics, and competitors; optimize the website's work according to search engine requirements; etc. |
Every team player separately and together makes your wishes real. Now, when you understand all the team members' responsibilities it would be easier to scale up or down the team.
What are the Main Challenges when Managing Dedicated Web Developers?
Let's imagine that you have already hired a dedicated team. But it's not the end. You need to understand how to manage developers remotely in the most efficient way. Here are a couple of things to consider.
✓Build Trust
The main problem you may have working with a remote team is trust. In most cases, clients never saw their developers in real life. And this fact might compromise their ability to trust each other. Because of that, you need to build trust through effective management and communication.
✓Management
Both in-house and remote workers need to work with an equal level of productivity. That's why you need to impose the same standards on all team members.
✓Effective Communication
One of the factors that may make work more difficult is the language barrier. Make sure that remote developers speak English or other comfortable languages well. One more pitfall is cultural differences. You need to understand that people from other countries may have a different attitude to employment.
Well, hiring a remote team is a rather challenging task. But advantages override disadvantages.
Why You Should Hire Code&Care's Dedicated Developers
Code&Care provides you a carefully handpicked team of technical experts, programmers, system architects, QA engineers, whose experience and knowledge will help you to achieve your business goals. We offer our clients a time-tested, individually adaptable collaboration strategy, as well as the opportunity to interview preselected specialists.
Advantages of hiring Code&Care's dedicated team
Exclusivity
The team is completely immersed in the client's project, adjusting to his business processes, project methodologies, and requirements.
Flexibility and scalability
By hiring a dedicated development team, you can regulate the composition and size of the project team flexibly, and gain experience in using advanced technologies, effective development methodologies, and IT infrastructure.
Communication maintaining
Customer immersion in the workflow simplifies the interaction of the parties. That's why our clients don't just study the reports but are constantly aware of the work carried out within the framework of the project.
Change management
In case if the requirements for the project changes, the team proceeds to operational planning of subsequent actions, taking into account the previously determined budget and project implementation period.
Risk management
Constant monitoring of risks at each stage of software development allows us to control the progress of work and find optimal solutions, keeping within the established time and budget framework.
Our team experience allows us to be involved in projects at different stages of the software life cycle and successfully solve the assigned tasks. Are you interested? Contact us in any convenient way, and we will find the best solution for you!
Read next: 
How to Build a Marketplace Website That Users Will Love
How to Create an e-Commerce Website Like Amazon and Flipkart?
How to Make a Location-Based App Tailored Exactly to Your Needs
All-in-One Guide to Telemedicine App Development