Are you interested in realizing your big plan? You're possibly wondering how much time is needed to build a website. Is it days, weeks, or months? There's no correct response. The time it takes to create a web resource depends on lots of factors, including the design, the number of pages, whether you'll be creating it yourself, or engaging a team of developers to do it for you.
Let's discuss the development process step by step.
There are dozens of website types, from landings to huge web portals and marketplaces. They vary in the scope of work, difficulty, and skills needed to build them. Let's try to estimate time frames for the most popular of them.
What are the most popular types of websites?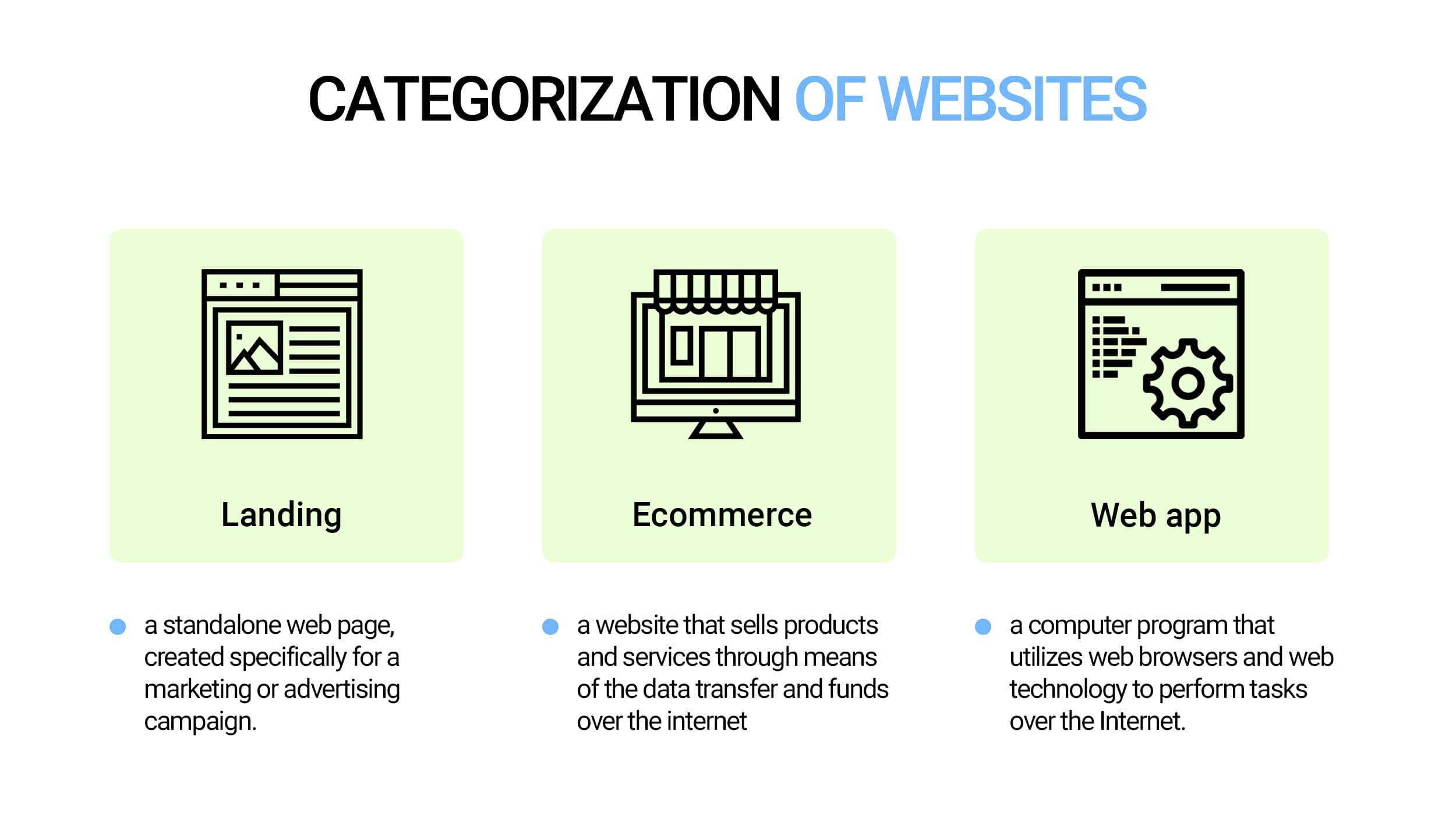 ☑️Landing
Landing is a small website. Usually, it is used as a "face" of a company or as a selling page of particular items or services. Landing pages contain information about the company or items page, contacts, etc. But it also has limited functionality. That's why the development of landing pages doesn't take a lot of time.
Average development time: 8-20 hours
☑️Ecommerce
The process of eCommerce platform development is similar to building other websites. But it has got additional functionality with various page layouts. So, the minimal time is 1-2 weeks. In some cases, the process can last up to 6-12 months. It's possible to finish work faster, but there is a risk to sacrifice quality.
Average development time: 40-100 hours
☑️Web app
Web application development is a complex of long-term processes where every detail is important. Some apps are simple and some of them are complex. The ones carry lots of functions, the others have just only a few. So, as you get, timing can vary drastically.
Average development time: 100-1000 hours
We've discussed just three types of websites, but there are dozens of others with different expenses of time.
The website creating process includes 7 stages. The amount of time spent on each of them matches its set of goals and difficulty level. Let's overview them and calculate how much time they will take together.
7 stages in the website development process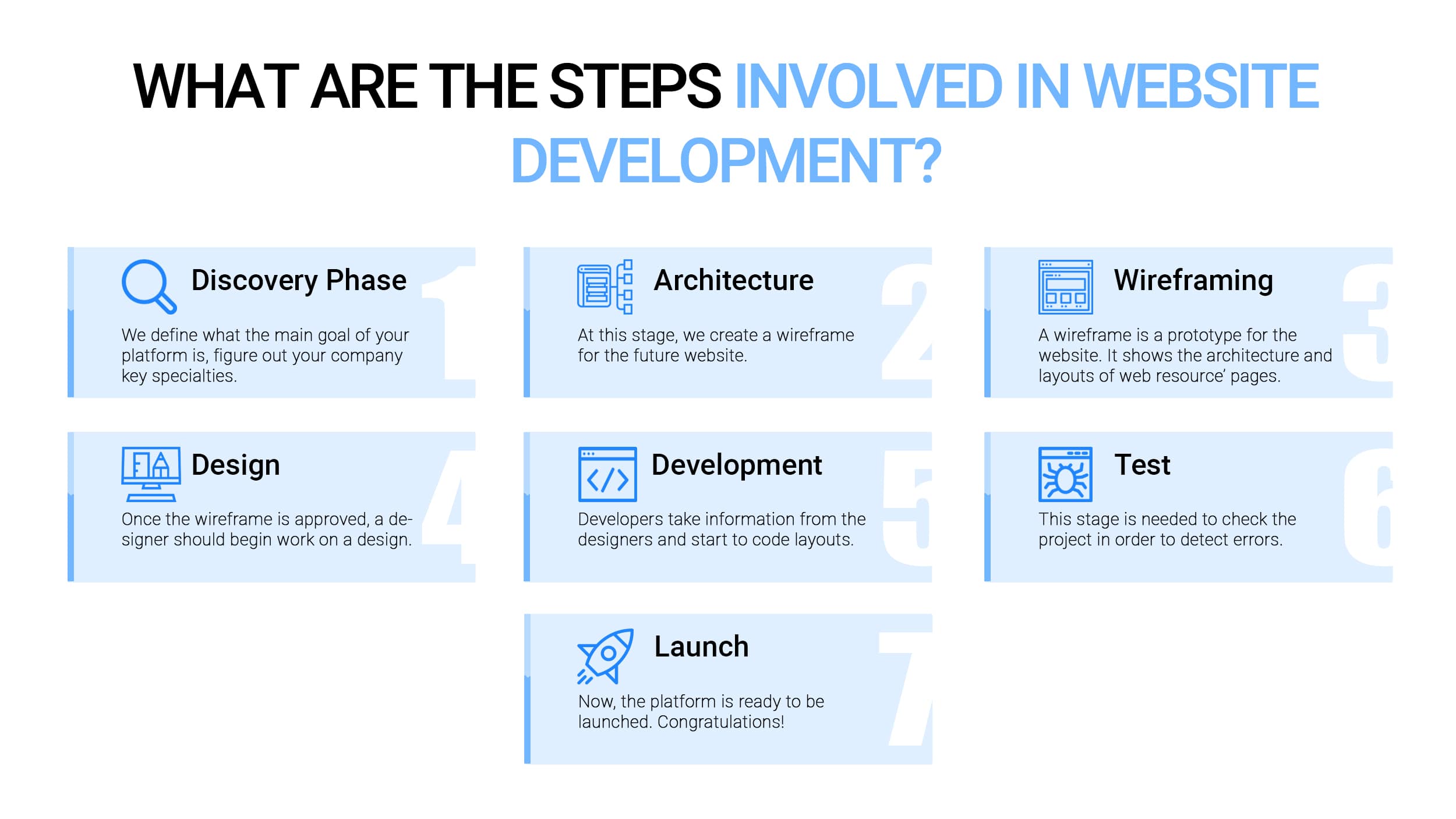 Discovery Phase (2-5 hours)
We define what the main goal of your platform is, figure out your company's key specialties, get existing photos and branding elements.
Architecture (8-20 hours)
At this stage, we create a wireframe for the future website. Depending on the size of the project, it may include deep detailed Adobe Illustrator files for the websites with complicated hierarchy or sketches for simple ones.
Wireframing (16-32 hours)
A wireframe is a prototype for the whole website. It shows the architecture and layouts of web resource' pages. Thus, clients get the possibility to approve the construction before creating graphic elements.
Once the wireframe is approved, a designer should begin work on a design. Depending on the complication of the project, it may require from several days to several weeks.
Development (40-100 hours)
Developers take information from the designers and start to code layouts. Then they make layouts dynamic, create an adaptive version, make the website cross-browser. Usually, it takes from 3 to 10 days. If it's a big project with specific functionality, the stage will last a bit longer.
This stage is needed to check the project in order to detect errors. If errors are found, the testers will tell the project managers about it. Then bugs should be fixed. It takes from a couple of days to a couple of weeks.
Launch and support (8-16 hours)
Now, the platform is ready to be launched. Congratulations!
But remember that it always needs to be improved to provide your target audience the best user experience.
Unfortunately, the process of website creation rarely goes smoothly. Thus, it's time to discuss the most widespread particularities you can meet face-to-face.
What pitfalls can you come across in the process of website development?
✓The date of starting development
Usually, skilled developers are booked up months in advance. So, you'd rather find your team better sooner than later. In other cases, the start of the project can be delayed.
✓Requirements for the website
Business owners often make one mistake — they start to develop web resources without understanding what they really need and then waste a lot of time.

✓The number of items or services
The more products you sell, the more pages your website needs, the longer the development process will take. If you offer tons of different items, you should be ready for long-term website development.
✓Pay a premium
Be ready to pay more if you need to finish your website in the short term.
We overviewed just four main pitfalls. Unfortunately, you should understand there are plenty of other ones.
How long does it take to build a basic website?
Lots of businesses start website development with plain layouts that can show their products or services. And this approach is good as well. The process of development can take about several days.
Usually, a basic website includes several useful pages. For example, about a company page, contacts, products or services, and homepage. It's rather easy to build it using a content management system (CMS) like WordPress.
For a plain blog theme just use domain and web hosting. Due to WordPress, you can create a static welcome page or a blog. If you want to provide more information, you should customize the website. It's possible to do this by yourself or to hire a professional.
Let's overview a basic website estimate of one of the Code&Care' projects.
Basic website estimate
Scope
Approx time, hours
1. Project Start

Staging environment setup

2

2. Development Section (Back-end)

Install WordPress

1

Create a new WordPress template

3

Install and set up the SEO plugin

1

3. Development Section (Front-end)

Create basic structure (header, footer)

3

Create menu (2 level dropdown)

3

Home Page

9

About Us Page

6

Our Approach Page

6

Services Page

6

Contact Us Page

4

4. Stabilization and Delivery

Deployment to the production environment

4

Quality Assurance

8

Total Development, hours:

48

Estimated project time, hours:

56
It is average timing. The process of developing a website based on WordPress may vary from 40 to 120 hours.
How long does it take to create a custom website?
The custom web resources require more time as they are intricate, full of details, and nuances. The difficulty might relate to design, functions, navigation, number of pages, etc.
If you choose to engage a skilled team, accustomed website development will require from a couple of months to a year.
But you need to understand that web resource is a long-term investment of time and money. Moreover, it's a base that helps your partners, customers, and potential employees to find you online.
So, it's a bad idea to believe all that advertisement that promises you to get the platform of your dream in a few clicks.
How to choose technology for web development: 6 critical steps
Custom website estimate
Scope
Approx time, hours
1. Project Start

Initial backlog preparation

2

Project Schedule Preparation

3

Staging environment setup

12

2. Development Section (Back-end)

Environment setup

8

Database architecture design

44

Sign Up / Sign In

24

User Profile Page

16

User Dashboard Page

32

Shopping Cart

32

Checkout

32

Email Notifications

16

Search

24

Ratings & Comments

24

Messages, Message center

78

3. Development Section (Front-end)

Environment setup

4

Common components

41

Header, footer

6

Home

6

Products

57

Analytics

31

Profile

58

Messages

37

Order

28

Authentication

48

4. Stabilization and Delivery

Deploy to dev/staging/production

10

5. Project Management

Backlog elaboration and maintenance

1

Planning meetings, review meetings

14

Project Management and communication

20

Quality Assurance:

67

Total Development, hours:

673

Project Management, hours:

35

Estimated project time, hours:

775
The average timing of custom website creation is 120-1000 hours
If you are planning to launch a web resource, perhaps you want to do it as quickly as possible. That's ok, it's achievable to get a flawless web resource faster. Here are some pieces of advice on how you can do it.
How to speed up the website development process?
☑️Prepare detailed project specification
The more complete and understandable you explain your needs, the faster developers make it real. The Technical Task is your guarantee against unnecessary alterations. Also, it allows you to monitor the work process.
☑️Hire seasoned developers
A website on the basis of a template seems like a good idea, but there are some pitfalls. Its settings can't be changed due to code restrictions, the design is poor and can't be even compared with a unique one. In other words, templates will not save time. You'd rather hire dedicated web developers at once.
Also, you should remember that constant contact with the developers' team is the biggest determining factor in your timeline. And, that, you are able to control.
Conclusion
Developing a website that looks nice and works in the right way lasts from a few days to one year. It depends on your budget, desired functions, and what you want to get in the end. So, do homework, prepare a list of demands and web pages you need, then contact the team for a more detailed timeline.
To get professional advice, contact us via email andrew.gromenko@code-care.pro, and we will consult you for free on a cost and time estimate of your project.
✔Related article: 
How much does it cost to develop a web application?
How to Build a CRM Software: Types, Features, and Cost
How to Build Your Own Auction Website Like eBay
How to Make a Video Calling App Like Zoom?