Question and Answer platforms are online forums where people can ask a question and receive feedback from other members of the community. Using these tools, companies can compile a FAQ database for their employees or customers and marketers can better address the concerns of their target market.
Although question and answer websites are helpful, how can businesses make the most of them to improve the quality of service they offer? Fortunately, we can learn from the experiences of other, more established Q&A platforms like Quora. New estimates put Quora's monthly active user base at around 300 million. Moreover, each month, there are about 633 million unique visitors to Quora including both registered and anonymous users. Three hundred million of these are first-time visitors.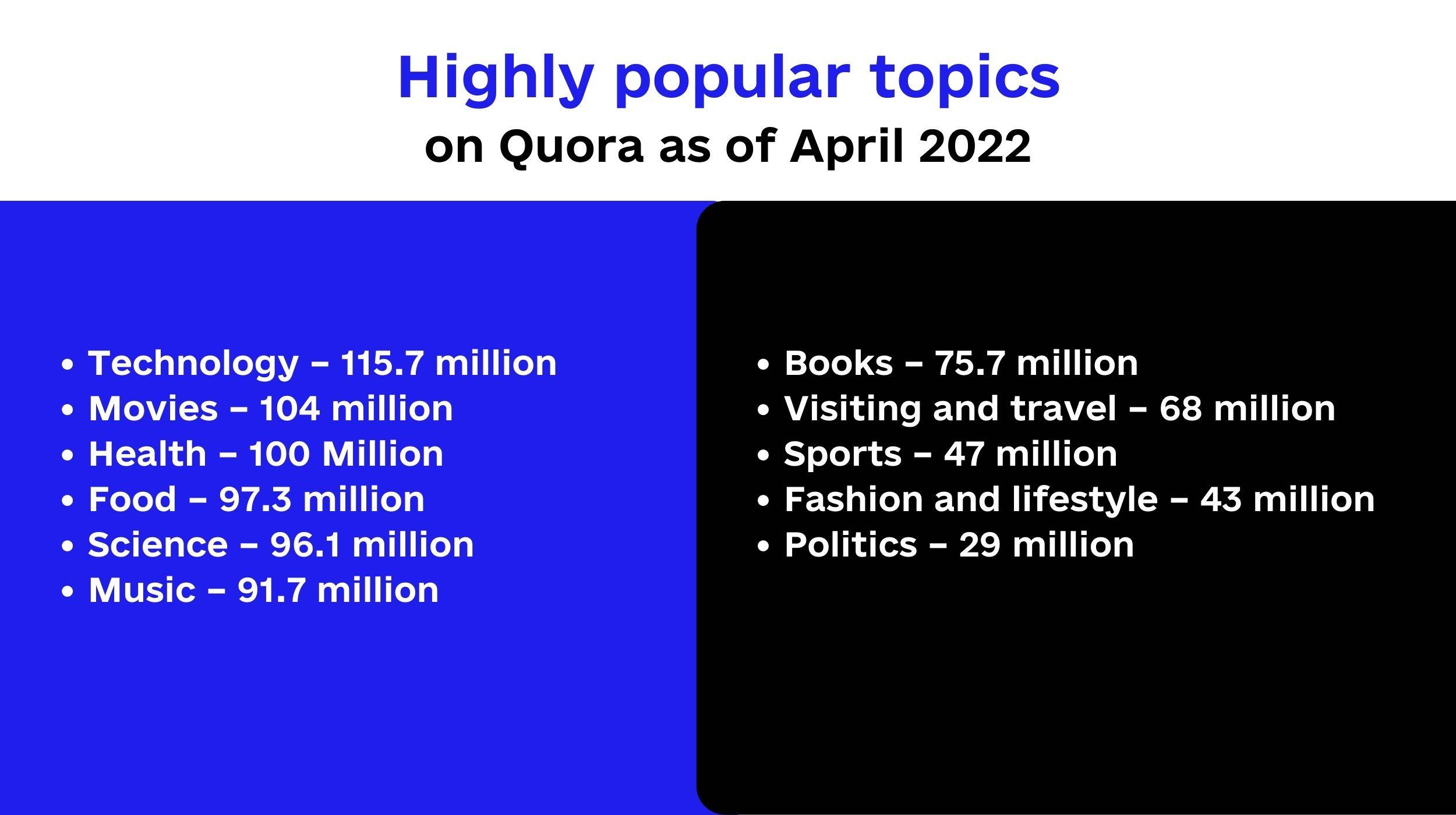 If you want to create a platform that is on par with or even better than Quora, you're on the right route. Because this will primarily be a place for people to share their knowledge while expecting unique experiences, you can always build your own Q & A website, tailoring the features to your specific needs.
So, let's cut to the chase and answer the most pressing question: how do you make a question and answer website like Quora from scratch? Stay tuned as the Code & Care Team delves into the benefits, features, costs, and, most importantly, the steps involved in developing a Q & A platform.
What is a Q&A Website?
A "Q & A website" is simply a platform for users to enter queries and receive pre-answered/new responses. Niche-specific question-and-answer websites, as the name implies, aid in the dissemination of knowledge by addressing the needs of specific communities.
These websites combine the features of various social media platforms. You also have access to a wealth of information and perspectives from people all over the world. The best responses receive higher ratings.
Some popular question-and-answer websites like Answers.com, and Yahoo Answers have been around for years, however, Quora tops the scales.
Why Is Quora So Popular?
There are a number of factors that have contributed to Quora's meteoric rise to the top:
Quora is niche focused
Finding and dominating a niche market is the first step on the road to success. So, here's what Quora did about it: By narrowing its focus, Quora was able to avoid the common pitfalls of scattered efforts and poor quality content. This strategy has paid off in several ways, particularly in Quora's rise to the top.
Massive topic library
Initially, Quora was a place where people interested in business and marketing could meet each other, exchange ideas, and learn from one another. Quora evolved over time to become the renowned knowledge hub it is today, with topic-specific subreddits. Statistics show that there are 400,000 different topics discussed on Quora. There is also a feature that allows users to follow specific "Topics," and have the platform alert them whenever there is any noteworthy activity related to that Topic. The following are the most-asked questions on Quora during the month of April 2022, recorded in millions.
✅ Techn: 115.7
✅ Movies: 104
✅ Health: 100
Effective search engine optimization; 63% of Quora's traffic is attributed to Google
Alexa reports that Google and other search engines account for 63% of Quora's traffic. This means that if you answer people's questions on Quora and they happen to be looking for an answer on Google, they will see your brand name because you provided the best result.
SEMrush explained it clearly: by answering questions and engaging with people on Quora, you can increase your quality of traffic, your credibility, and your understanding of your target demographic.
B2Bs increasingly show ads on Quora
Quora's JD Prater says that many businesses are benefiting from the platform's advertising options. According to an interview with PPCChat from January 2019 with Prater, 60% of the businesses using Quora Ads are B2B and 40% are B2C. With Quora Ads, you can get in front of a large audience that is actively searching for solutions to problems related to your business. Quora can be used for marketing purposes even if you don't use the advertising feature, though doing so may take more time and effort.
Quora's flywheel effect
In their insightful publication, Hubsbot delves deeply into the flywheel effect on Quora. This practice is built on sharing, thought leadership, and participation. The flywheel effect means increasing your efforts gradually until they bear fruit. The same is true for those in the marketing industry. As with any endeavor, you must begin on a small scale and steadily expand your brand's outreach until the appropriate audiences become aware of your efforts. Interestingly, Quora is one of the only platforms that provides a solid marketing flywheel for businesses.
What benefits do question-and-answer websites provide?
If you're on the fence about starting a Q&A platform like Quora, here are the top reasons why you should.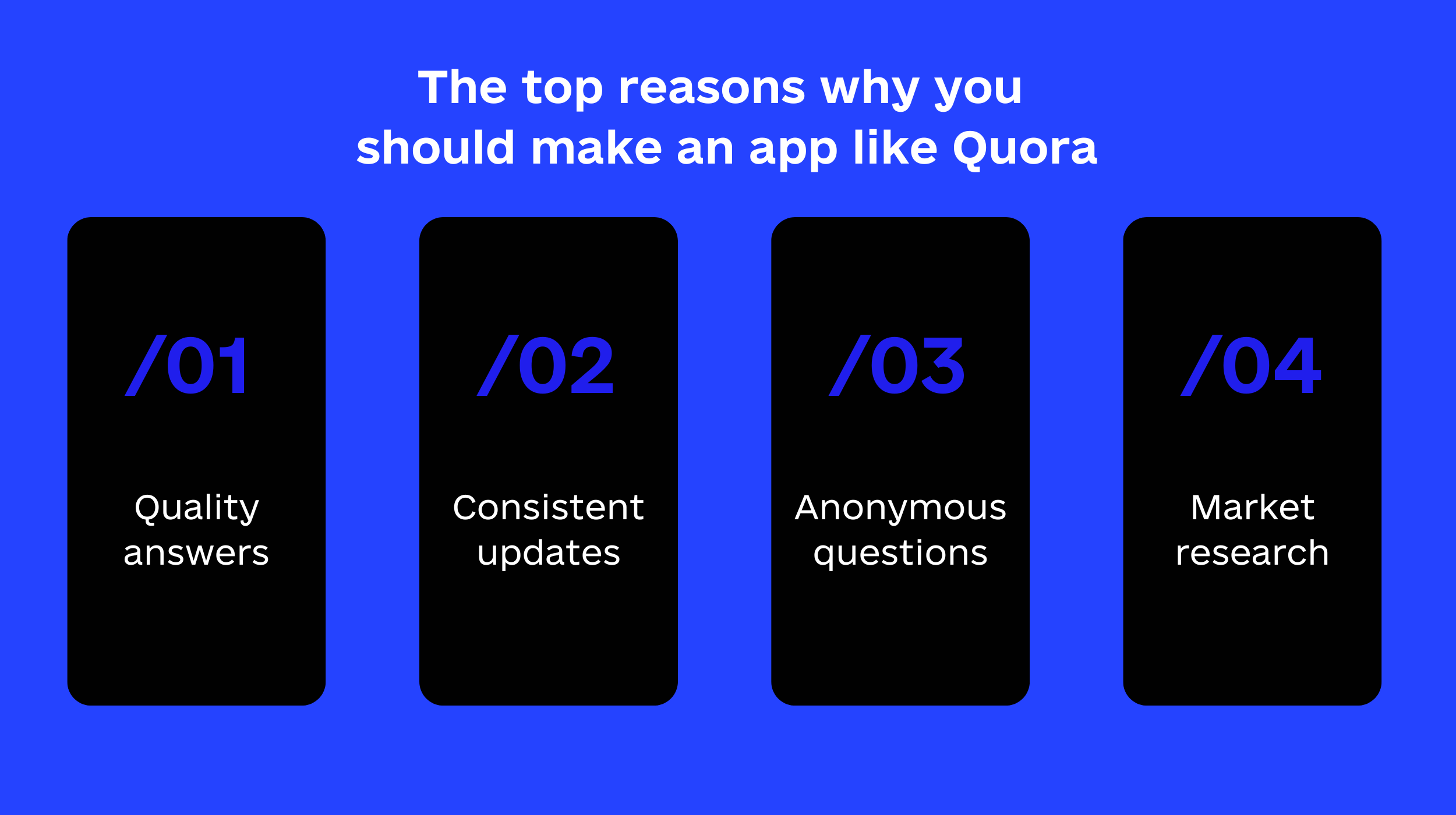 Quality answers
Online question and answer communities are frequently used by people looking for guidance on a range of issues. Users get access to easily digestible content thanks to a custom algorithm that eliminates incomprehensible comments. Practical and well-supported sources suitable for the technology sector are favored by the rating system, increasing the possibility that a user will see your response in their feed.
Consistent updates
Frequently asked questions (Q & A) websites are well-known for their massive readerships, and with many users contributing content, there is never a lack of material. By most measures, content on social news aggregators like Reddit is significantly more likely to be original than information on other sites. Questions and answers posted by a user whose account has been deleted will continue to be viewable by the public indefinitely.
Anonymous questions
Users often ask questions anonymously out of respect for the privacy of others or for other reasons. But everyone is different, and some prefer an anonymous forum where they may express their opinions freely without fear of repercussion. These people finally get a platform thanks to Q & A websites.
Market research
Q & A websites like Quora and Reddit are popular within the business space with pages like wallstreetbets and others, sharing information on the latest trends and opportunities in the business world. Matter of fact, 27% of marketers said they would increase their spending on Quora Ads in 2020. Q & A websites also allow brands to communicate their messaging to existing customers and prospects while getting important feedback on areas of the operations that need improvement.
What are the drawbacks?
While the idea of creating a service similar to Quora is appealing, here are the most common challenges to keeping in mind.
✅ Traffic attraction
Any website, especially a question and answer site that relies on a massive amount of traffic, will find it difficult to increase its visitor numbers.
Finding the right content to draw in visitors can be equally difficult; the Quora team overcame this challenge by asking questions, researching, answering answers, and gradually honing in on the programming and startup communities.
✅ Fake/ bot accounts
Social media platforms face a significant challenge from bot accounts, and a high volume of these accounts can distort the platform's coverage because there is no real way to prevent users from creating an account under a false identity. We all know that user-generated content is what makes sites like Quora successful, so it stands to reason that the presence of fake accounts would have a negative impact on the site's reputation.
Verified accounts, used by highly rated users whose identities can be verified, are denoted by a blue tick on Quora to cut down fake accounts.
Sites to Ask and Answer Questions: Recommendations
Unfortunately, not every question-and-answer website has reliable sources or interesting articles. We did some research and here are some places you can find answers to questions.
➡ Quora
In first place is the question and answer website Quora. Quora's design and user-friendliness have made it a popular destination for entrepreneurs, researchers, and those simply interested in expanding their horizons. As was previously stated, Quora attracts over 300 million unique users every month (with a majority of quora users being women and US residents). There are between three thousand and five thousand new questions every day, which suggests that users are being presented with perennially relevant material on a consistent basis.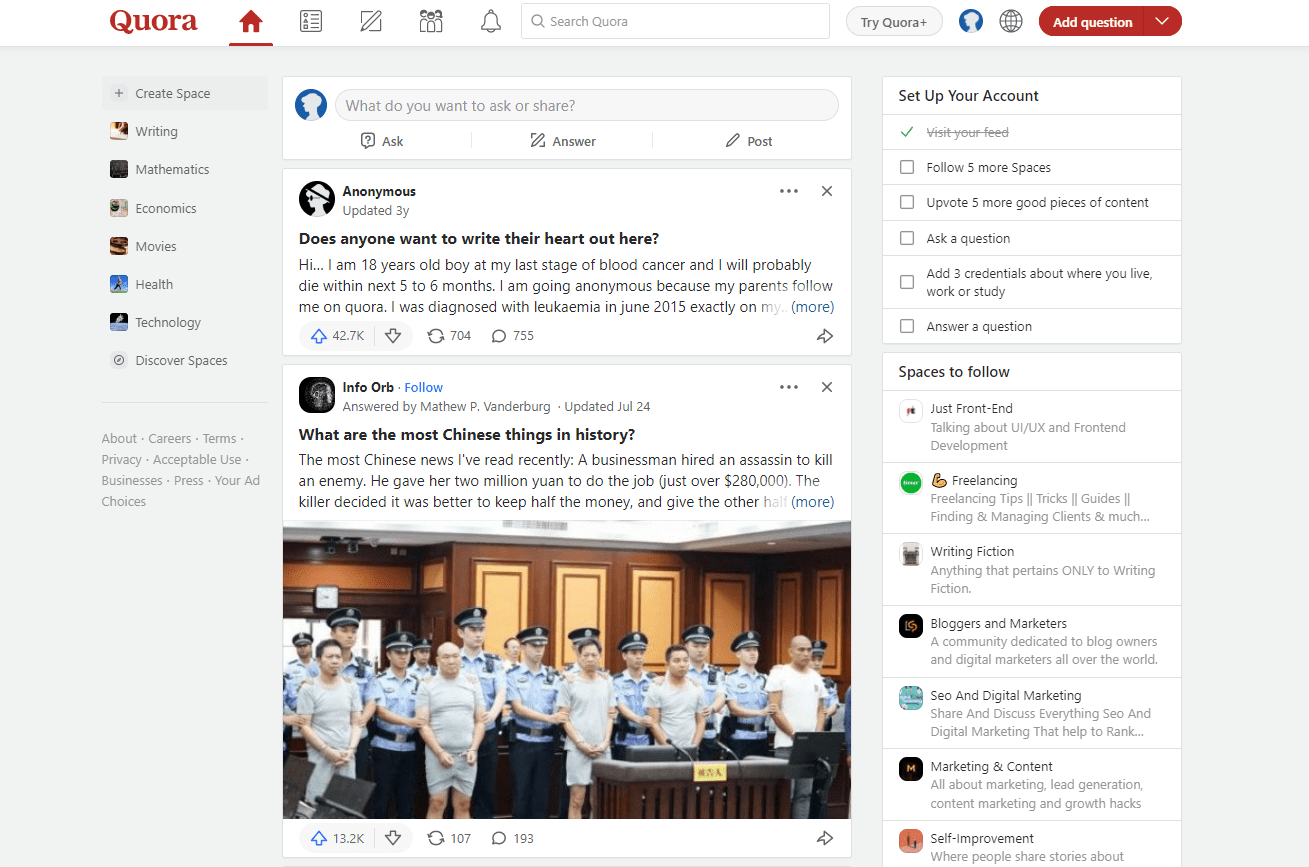 ➡ Reddit
Because of its prominence in the social media sphere, Reddit has become a go-to place for sharing news about noteworthy developments, opportunities, and events. More than 47% of Reddit's monthly traffic comes from the United States.
Subreddits are user-created communities that cover a wide range of interests. According to Statista, Reddit's user base has been steadily expanding since the site's inception; as of April 2022, an estimated 1.1 billion people from all over the world used Reddit.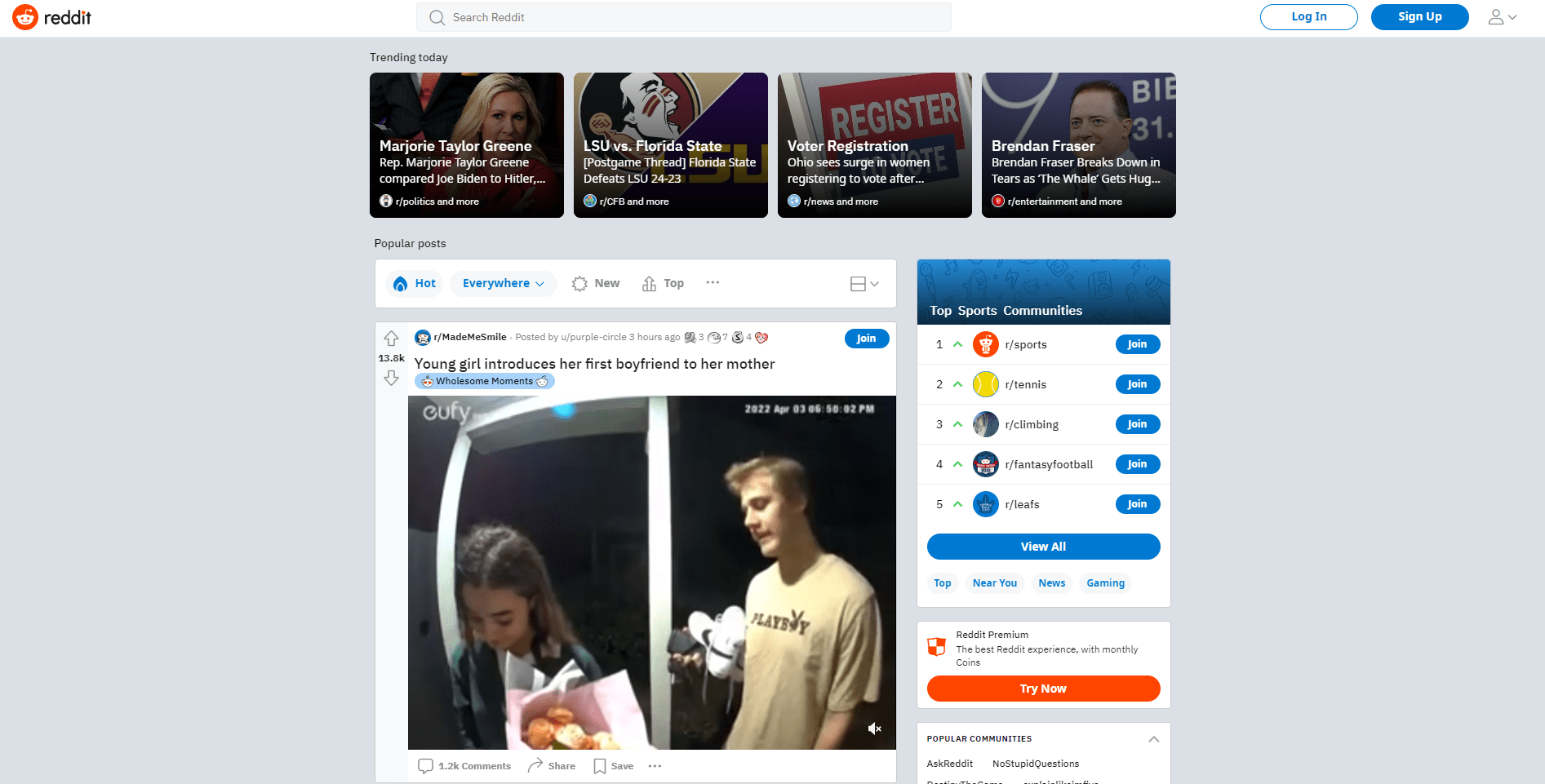 ➡ Ask.fm
Janis Griffins, the company's chief operating officer, confirmed that the majority of Ask.fm's users are between the ages of 13 and 25, and she attributed the site's success to the anonymity it provides by not disclosing the identities of its contributors. About 32.8 million people use this service regularly, so new material is consistently being added.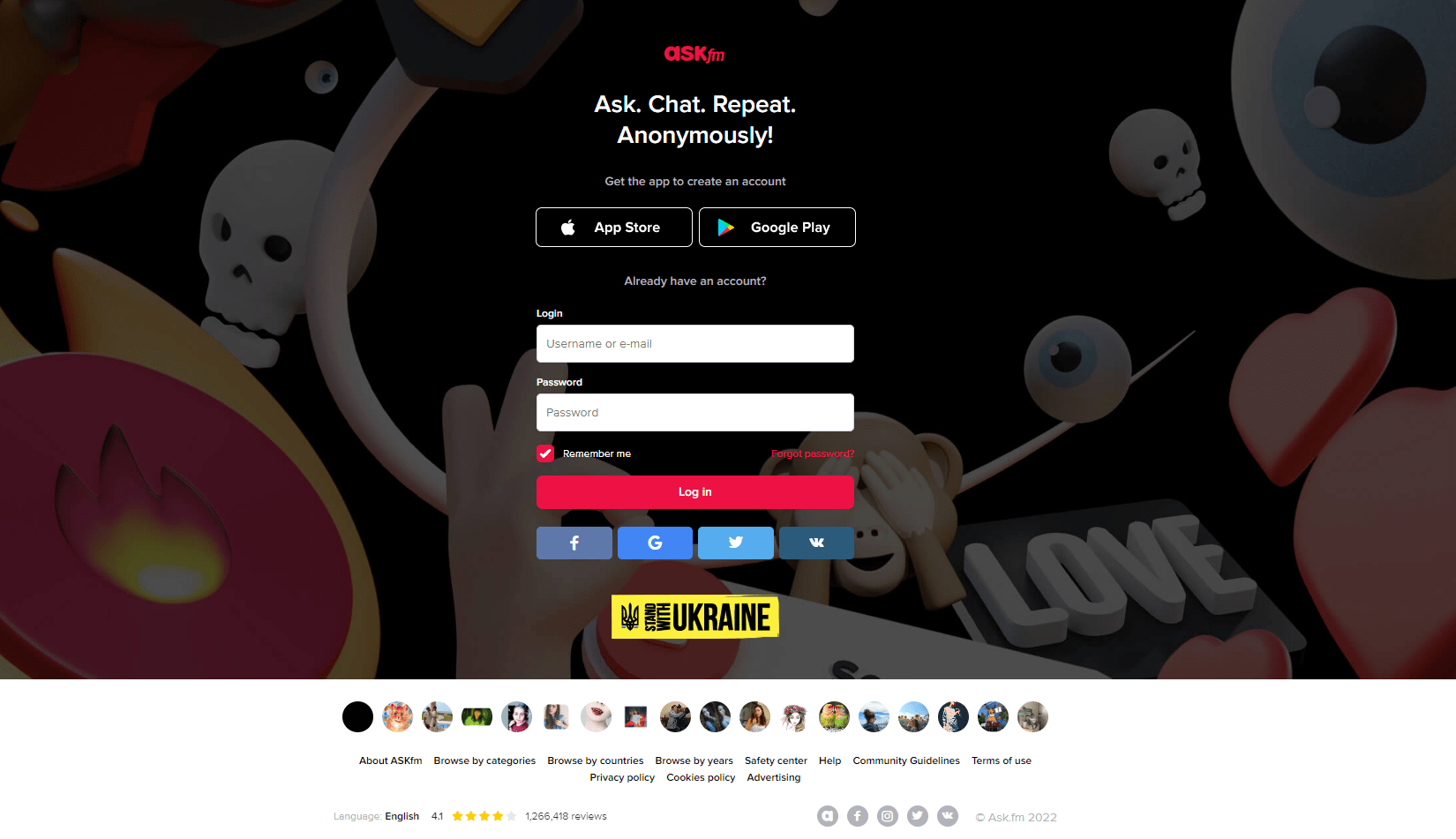 ➡ Blind
According to CNBC, Blind is an anonymous platform for rating and reviewing workplaces, which puts human resources departments on high alert. However, Wolfe, a former Indeed CHRO, claims that Blind is different from sites like Indeed and Glassdoor because it is "more conversational," and that he has witnessed "bashing of employers" on the site.
While Blind may not have as many users as some of the other sites on this list, its reputation in the tech industry is such that of its 3.2 million users, about 1 million are working professionals who ask or answer questions about their jobs.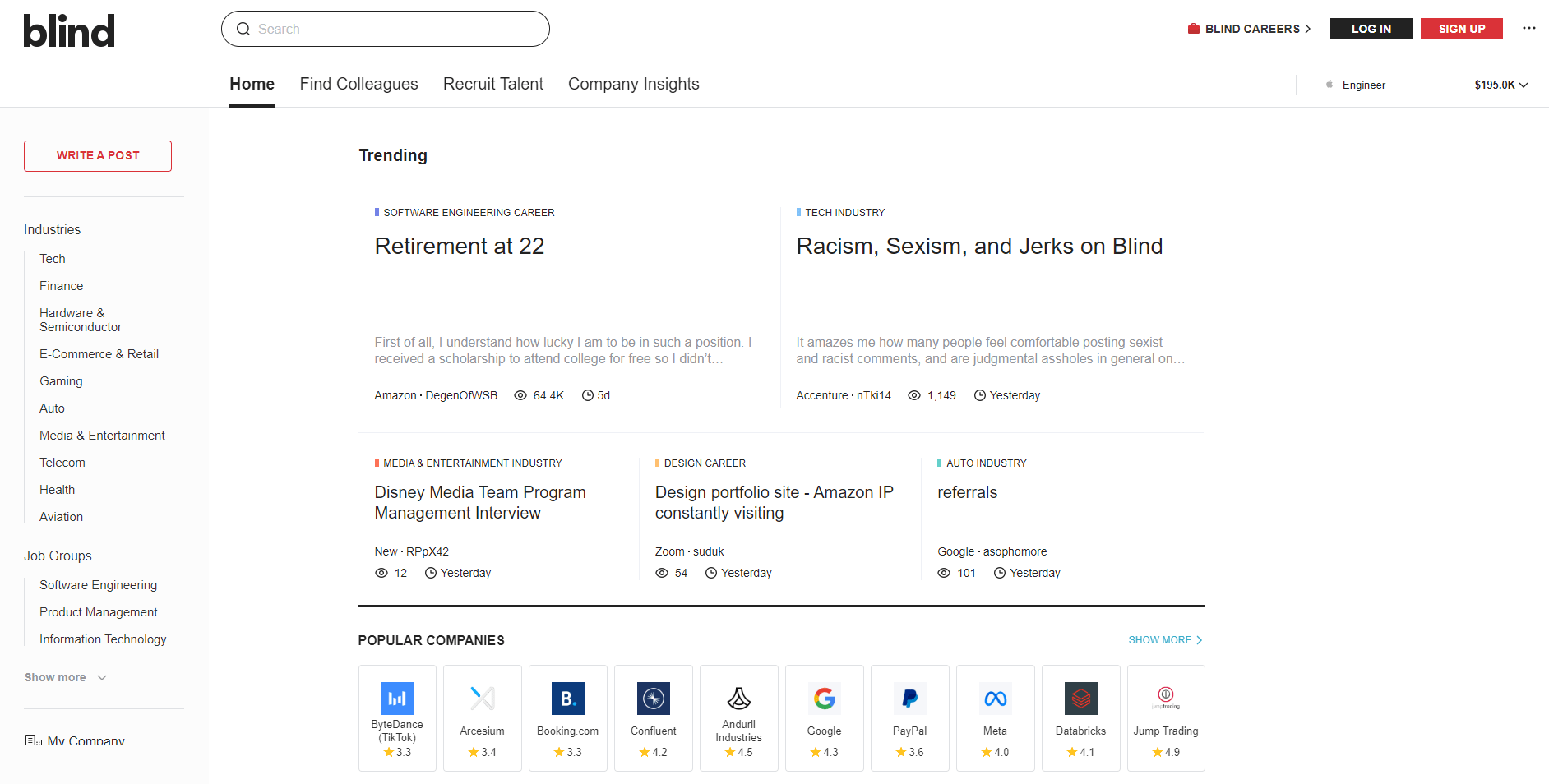 Must-have Basic and Advanced Features for Your Q & A Website
Your question and answer website's functionality is crucial. Bonus tip: One of the aspects that helps Quora lead the rest of the pack is its extended library of immersive features. Hence let's look at both basic and advanced features to incorporate.
Basic features
User profile: Users can fill out a "bio" section of their profile to tell others a little about themselves. Names, biographies, pictures, and other identifying information are all commonplace in profiles.
Activity feed: This is where users can peruse recent questions and answers as well as learn about hot button topics. Subscribers to the activity feed can also tailor their experience to receive updates from only the communities that most pique their interest.
Topic following: Users can follow specific topics to stay current in their areas of interest.
Messaging: The ability to send and receive private messages is an essential component of any online community. Therefore, this feature is a must-have on your site.
Sharing: Using this function, users can connect with other social media sites like Twitter and Facebook and share interesting discussions and topics with their friends.
Advanced features
Advanced features create a unique side to your website, making it stand out from others. Here are some examples of sophisticated functions that could be added to your website:
☑ Content rating
☑ Verified accounts
☑ Integration with external platforms
☑ Multiple language availability
☑ Audio and video communication channels
☑ Targeted question responses
7 Steps to Developing A Question and Answer Website
The following is an in-depth tutorial that will teach you how to create a website that features questions and answers.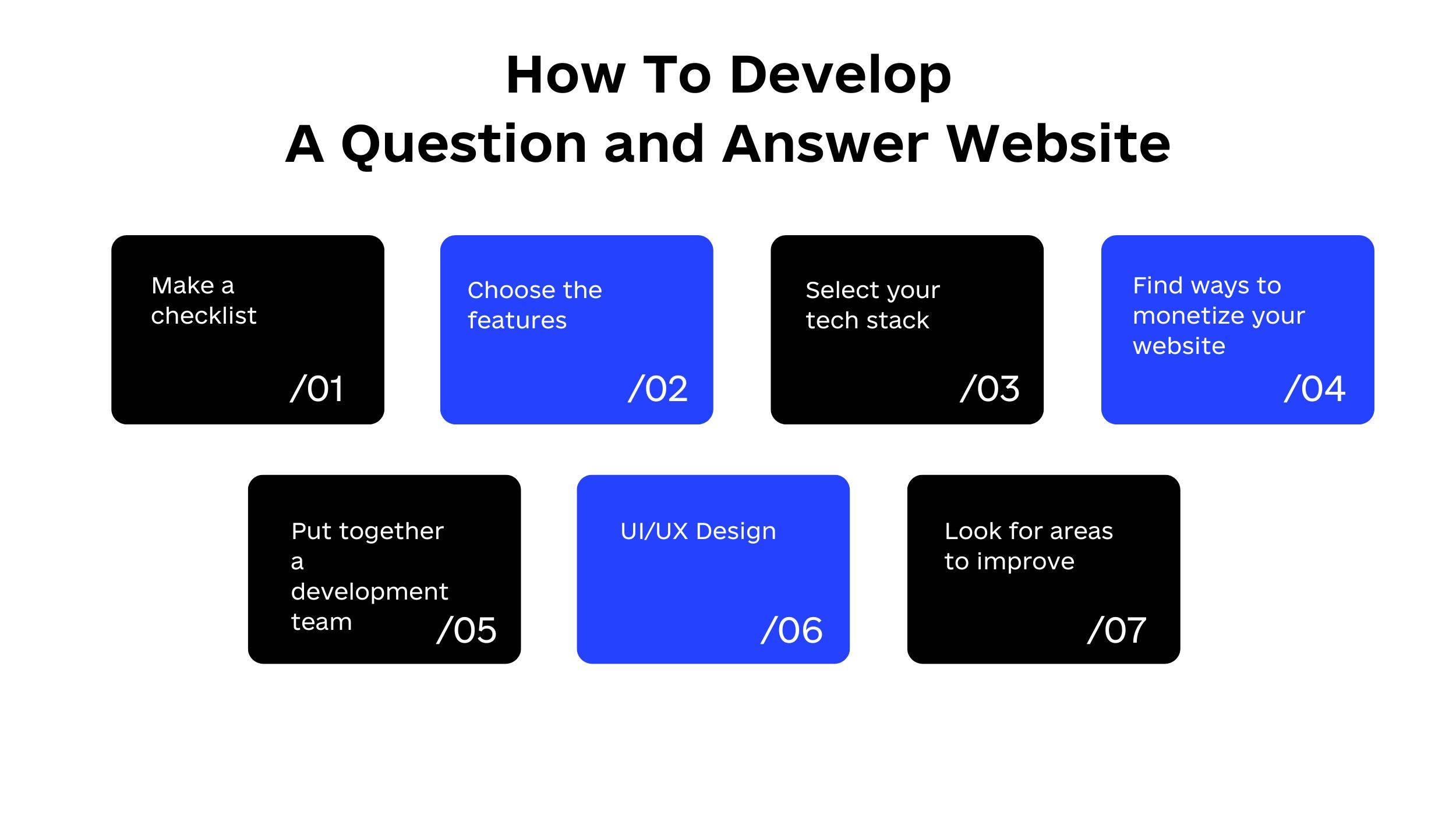 Step #1. Make a checklist before building a Quora-like site.
The first step in creating a site like Quora is to compile a list of important factors to consider. Check these things out:
How your competitors rack up their traffic.
How to find a custom development company to assist or take on your project.
How to make the user interface more intuitive.
What functionality, both simple and complex, should you add to your platform?
How to attract users
How to monetize your website
How to maintain and improve it.
Step #2. Choose the features of your Q&A website
Functionality (as mentioned in the previous sections) is an important part of your question-and-answer website because it enhances the user experience. Listed below are features to include on your website.
Signing up functionality: Users can sign up for the service using a variety of methods, including email and social media logins. This feature also lets users tailor their activity feed before they're fully logged in by selecting their areas of interest during the registration process. Websites like Quora stand out from the crowd because of features like the ability to switch users' interests at will.
Search functionality: A simple but vital functionality that grants quick and easy access to information scattered across the platform.
Questions and answers feed: The user's questions and answers feed will show up in their activity feed, where they can keep tabs on the latest developments in the Q & A community and read updates from the subscribers they've chosen.
Questions functionality: Options for direct or anonymous posting, previewing posts before submission, displaying the asked question in the feeds of your followers, and adding images are all crucial features for questions functionality. Polls, image polls, dropdowns, and checkboxes can be used to make the platform more interactive.
Answers functionality: The "Answers" feature entails allowing users to post their responses to questions in the form of comments. Users can benefit from being able to add inbound links to their responses.
Rating system: Users can upvote posts they find useful and downvote posts they don't find useful using the rating system, filtering out any fluff and ensuring that only the most relevant content is displayed.
Moderators: Although the anonymity feature has its uses, it can also encourage abusive behavior and cyberbullying. Inappropriate posts will be flagged and removed automatically by moderators.
Step #3. Select your tech stack
Your website's potential features are determined by the technology stack used in its development. Python is widely used for Q & A websites due to its many advantages (ease of programming/coding, speed, etc.), hence Python has become a popular choice. Specifically, Quora uses Python because it was the best language for making a community-driven site. That said, here are the most important aspects of any technology stack:
☑ Dynamism
☑ Flexibility
☑ Simplicity
☑ Quickness and efficacy
You may find our blog on how to choose a tech stack helpful. Check it out.
Step #4. Find ways to monetize your website
A  few ways to start earning money from your website after you've built it, include:
Advertisement: Many websites make a significant portion of their income from partnering with other businesses and promoting their brands on the site in exchange for financial compensation.
Google Adsense: Google Adsense can be used to earn money from your Q&A website in addition to your other monetization strategies. In 2020, Adsense reported over $200 billion in alternative revenue. By working with Google through this monetization model, you can have Google ads displayed on your site and get paid for each click.
🔹 Donations: Users can show their appreciation for the valuable information you provide by making a financial contribution. Several businesses, including Wikipedia, use this method.
🔹 Premium subscriptions: This gives special access to hidden features on the platform for either a monthly or annual fee.
🔹 Self-service ad platform: Quora users who are interested in running ads can sign up for an ad account, limiting the number of unauthorized ads that appear in user feeds.
Step #5. Put together a development team
Recruit a dedicated development team that understands your niche and is capable of seeing the project through to completion. Among the key members of your team are:
Web developers write the codes.
Designers make user-friendly interfaces.
Quality assurance specialists perform important diagnostics before your platform goes live.
Business analysts select a tech stack and validate the ideas of the business.
Scrum master ensures the development process runs smoothly and deadlines are met.
Step #6. Create an attractive question-and-answer website for users (UI/UX)
The main goal of any niche-specific Q&A website is to facilitate communication between people who share an interest in a particular topic. Websites like Quora have found success by differentiating themselves from the competition by incorporating entertaining features—such as user-generated content in the form of images, GIFs, and videos—into their infrastructure. Taking a cue from Quora, honing in on a specific niche, creating high-quality, useful content, and promoting it effectively can do wonders for your website's visibility.
Step #7. Look for areas to improve
If you want to build a question-and-answer website that beats the competition, you'd require unique selling points that no one else is offering. Integrating social media platforms, email newsletters, and providing high-quality, engaging content to your audience are all great ways to set your Q&A website apart from your rivals.
Why build a Q&A Website with Code & Care?
Understanding how to build a question-and-answer website like Quora is only part of the journey. Expertise from professionals is needed to create something truly one-of-a-kind.
Code and Care is a full-stack software development company whose goals are aligned with yours. We can help you create a site that meets your unique business needs by utilizing our experts' extensive knowledge and experience in the field of computer programming.
Since we opened our doors in 2015, we've grown from a small startup into a reputable technology provider thanks to our cutting-edge expertise and our familiarity with advanced frameworks and platforms.
Because we place a premium on creating high-quality products and relationships, our team members participate heavily in both the technical and non-technical stages of project development, playing roles as diverse as business analysts and quality assurance controllers.
Conclusion
The rate of global change is increasing, making it critical for individuals to keep up with the latest developments, even if they frequently require assistance from others. A question-and-answer website, with the wealth of information already available online, can help people learn from one another and build a knowledge network.
You can quickly and easily launch your own question-and-answer website by following the steps outlined in this article or contacting Code & care for assistance.
Related articles:
Your Go-to Guide to Live Streaming Shopping App Development in 2022
How to Build a School Management System: Steps, Features, Benefits, and Costs
How to Build a Job Search Website: Extended Guide [5 Key Steps]
How to Make an App Like Udemy in 2022: Features, Costs, and Tech Stack