After two years of disruptions from COVID-19, the overnight shift to online and hybrid learning, and efforts to safeguard teachers, administrators, and students, cities and countries are seeing the first signs of the next normal. As interest and participation in online learning continue to grow, one technology that has come into the limelight is school management systems.
✔ A school management system is a great way to keep things simple and organized. An SMS can quickly help a school become more structured and effective. Although the increase in demand for online learning platforms is undeniable, creating compelling offerings that appeal to prospective students is an ongoing challenge for many providers. Therefore, it still begs the crucial question: Are providers ready? Well, that's why we're here. Code&Care as a software development company has helped a number of startups, mid-sized and large organizations develop educational management systems that have been able to scale and adapt over time.
Is developing digital products and bringing real value to your business something you'd like to do? 👉 Bring on a team of dedicated software engineers to get your project off to a flying start.
Here, we'll walk you through the process of developing a school management system, step-by-step. Our hope is that this article provides a potential starting point for School Management Software providers as they seek to reinvigorate education systems. Let's begin with its definition, and then dive into the specifics of how to build a school management software, shall we?
What is School Management System Software?
A school management system is a piece of software created with the express purpose of overseeing educational operations. These systems provide functionality from applications and class enrollment to detailed performance monitoring and financials. They give users the ability to manage and track all of their information assets digitally from a single location. Requirements of School Management System Software include:
☑ Keeping track of students' attendance.
☑ Providing exam schedules at regular intervals.
☑ Assisting in two-way communication with students and their parents.
☑ Registering new students.
☑ Administration management for both the faculty and the students.
☑ Managing the payment of fees.
☑ Offering new room facility features that will help the school's branding.
What is the difference between a school management system (SMS) and a learning management system (LMS)?
Since LMS and SMS share many functions and capabilities, they are often mistaken for one another. This results in a lack of clarity about their distinct purposes.
The Learning Management System (LMS) is responsible for all aspects of the learning process, while the Student Management System (SMS) is responsible for managing student information and scheduling.
Here's a table illustrating the differences.
| Difference | Learning Management System | School Management System |
| --- | --- | --- |
| Relationship | Instructor-to-student | Institution-to-student |
| Purpose | The instructor or faculty member is able to manage the relationship with their students when using an LMS. In other words, the LMS aids in the administration of course resources, whether they are physically located inside or outside of a classroom setting. | With the help of an SMS, a university, college, or school can manage the administrative aspects of its relationship with its students. It not only manages and stores information about students, but it also automates the entire process. |
LMS and SMS have administrative features, but the latter does not eliminate the need for other systems to handle the administration of instructional materials. In fact, the two systems should complement one another.
When SMS and LMS are integrated, they create a relationship with students that is not only practical but also improves their student experience at an institution. When selecting an SMS and LMS, it is critical to consider their capabilities and assign specific tasks to each system, with the integration of some where possible and relevant. Integration eliminates duplicate data entry, resulting in faster data management and, ultimately, less manual work for everyone, as well as more accurate data management.
How School Management Software Works
Five different systems work together to run school management software: the educational, financial, employee, inventory, and task systems. Let's examine them more closely.
📌 Educational system: This system focuses on the actual learning process. It is used to assist students in learning more efficiently, to plan classes, and to evaluate students for teachers.
📌 Financial systems: With this system, all school financial transactions can be tracked and required funds can be calculated. The financial systems are overseen by the school's leadership.
📌 Employee system: This section evaluates the performance of the employees. KPIs and vacation balances should be clearly communicated to all staff members, including teachers, administrators, and support staff. All processes must be transparent, and this is especially important here.
📌 Inventory system: You must keep track of all the school's supplies. As a result, inventory management relies heavily on the school management software's inventory component.
📌 Task system: Everyone involved in the educational process, from students to teachers to administrators, must have a clear understanding of their roles and the goals they are charged with achieving. This is where the task system comes in. It gives users a personalized dashboard where they can keep tabs on their projects and their progress.
School Management System Software: Market statistics
The School Management Software market is massive, but there are several factors that influence or drive it aside from the vast pool of e-learning innovations. Entrepreneurs and start-ups seeking a piece of this lucrative market should pay close attention to the most critical aspects of its landscape, which are described below.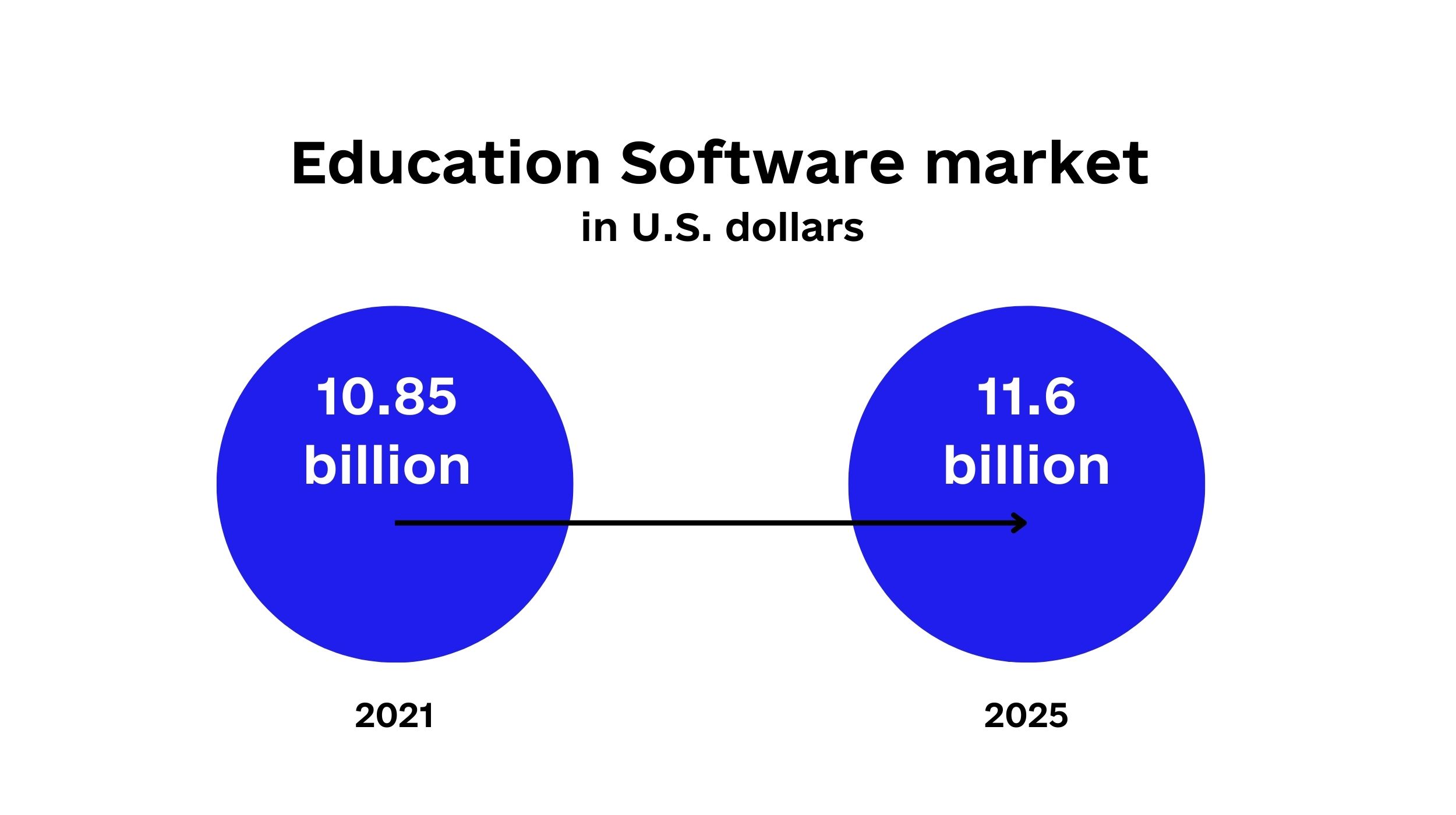 Forecasts say that the education software market as a whole will bring in around 10.85 billion U.S. dollars worldwide in 2021, which is an increase of nearly $200 million from the year before. Projections suggest that this trend of strong growth will continue for years to come, reaching $11.6 billion by 2025.
But getting down to the SMS market:
📈 According to a detailed report by Market Research Future (MRFR), the School Management System market will grow at a compound annual growth rate of 17.7% to reach USD 8.5 billion by 2025. While the market's gains and growth are obvious, where should investors look for the most promising opportunities?
The best-performing markets for SMS are North America, Europe, and Asia-Pacific. For context, North America dominates the worldwide market for school management systems. Europe currently holds the second spot, while Asia-Pacific has emerged as a profitable market in recent times.
Each market has its own set of key players. In general, we recognize the importance of COVID in the transition from the four walls of a school to digital management systems. Here are the main drivers, in addition to the pandemic and lockdowns.
The need to implement modern student, staff, and financial management solutions.
The need for collaboration, simplification of learning processes, and increased productivity.
The proliferation of intelligent mobile devices.
With such a rapidly expanding market, some setbacks are unavoidable. So far, three have been spotted:
Shortage of human resources.
Budgetary constraints,
The lack of customization options and expertise in the field.
The school management market is split by component, deployment, application, end user, and geography. These segments let you assess specialized pockets of growth, market approaches, primary application areas, and target markets.
Here's a visual representation of each segment.
Attribute
Details
By component
- Software
- Services: Consulting, Implementation, Support&Maintenance
By deployment
- Cloud
- On-premise
By user
- Private Schools
- Public Schools
By application
- Student management
- Academic management
- HR management
- Finance management
- Stores management, etc.
By location
- North America
- Europe
- Asia Pacific
- Middle East & Africa
- Latin America
Now that you understand the market, let's talk about why you should build a School Management System.
Benefits of Student Management System
SMS has numerous advantages, which are tailored to a specific group of users. This includes students, parents, and school administrators. Keeping that in mind, we'll look at the benefits of a School Management System.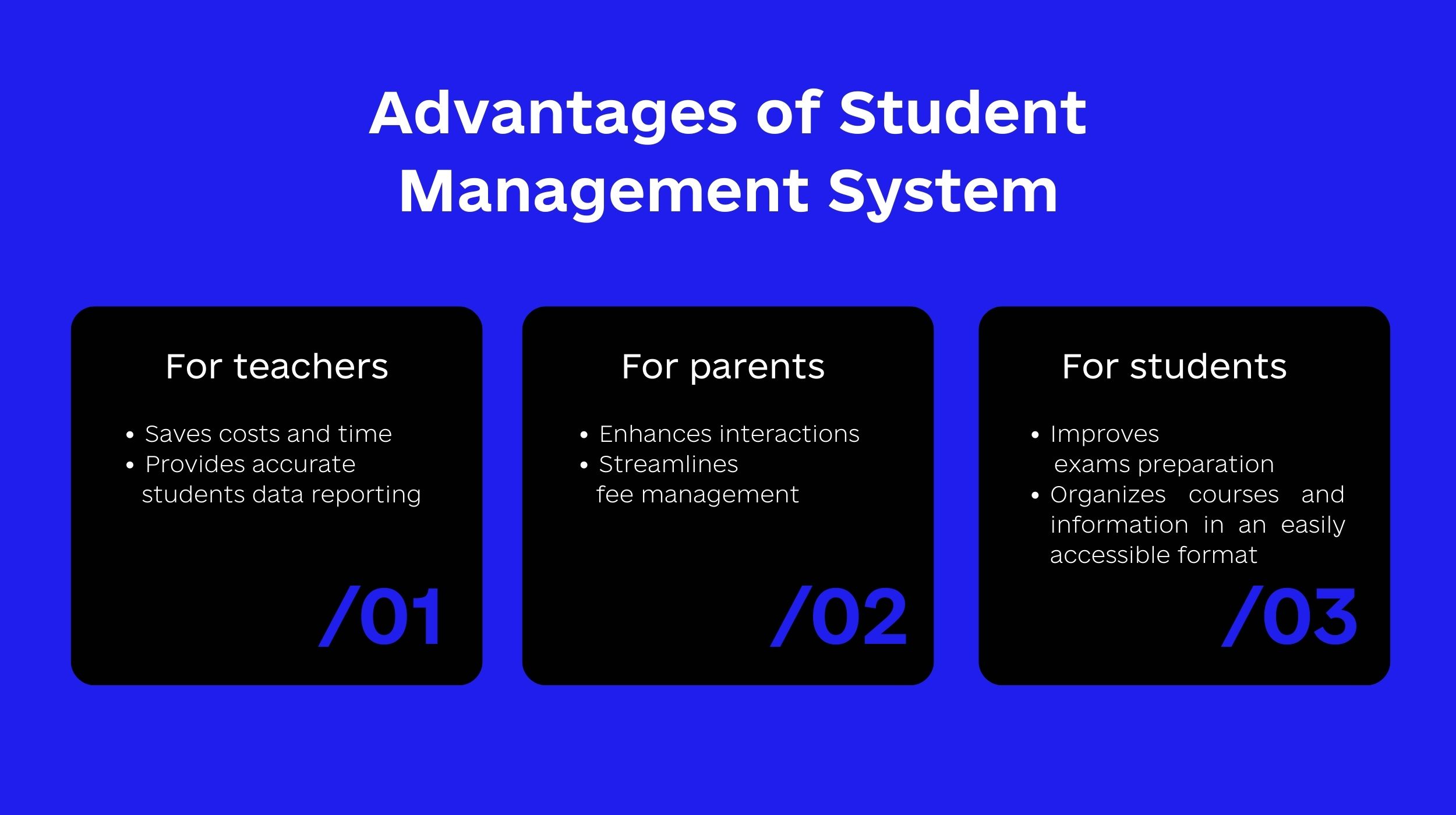 For teachers
It saves instructors valuable time that they would have spent on paperwork. This is done by automating daily tasks that take a lot of time, like making schedules, keeping track of attendance and talking to parents. Directors can also save time by using modules like payslip generation, online fee collection, transportation, and so on to their full potential. The software for running a school can also make different reports to help teachers and principals, which can save them money.
Provides accurate students data reporting
Another benefit of school management software for school administrators and directors is the variety of reports generated within the software. These include graphical reports, summary reports, chart reports, age group reports, list reports, and detailed reports, all of which are accessible with a single click.
For parents
Short Messaging Service (SMS) is a popular method for organizations to stay in touch with their customers' parents. For parents, a quick text message might be all they need to learn something important. Mobile apps that improve communication are typically included in school management software. The transmission is sent as a push notification, and it also allows parents to communicate with one another.
Streamlines fee management
It is nerve-wracking for parents to stand in long queues and wait several hours just to pay fees. Instead, the use of SMS amenities streamlines the process. Administrators are able to receive payments securely online in the same way that parents can make payments online.
For students
Improves exams preparation
The students will have an easy time taking and distributing examinations. Even if the tests are administered in a different location, it is still possible to upload the results to the platform or communicate with the students and parents about how they should interpret those results. The administration of tests for multiple grade levels and courses becomes a piece of cake.
Organizes courses and information in an easily accessible format
An SMS makes sure that all of the information on the courses is easily accessible and organized. Most students lose their textbooks and forget what they learned in class, so having a School Management System is a big plus.
Types of School Management Software
For sure, software for managing school operations provides remarkable benefits. But before building one, find out what model works best for you. The following section is dedicated to helping you decide.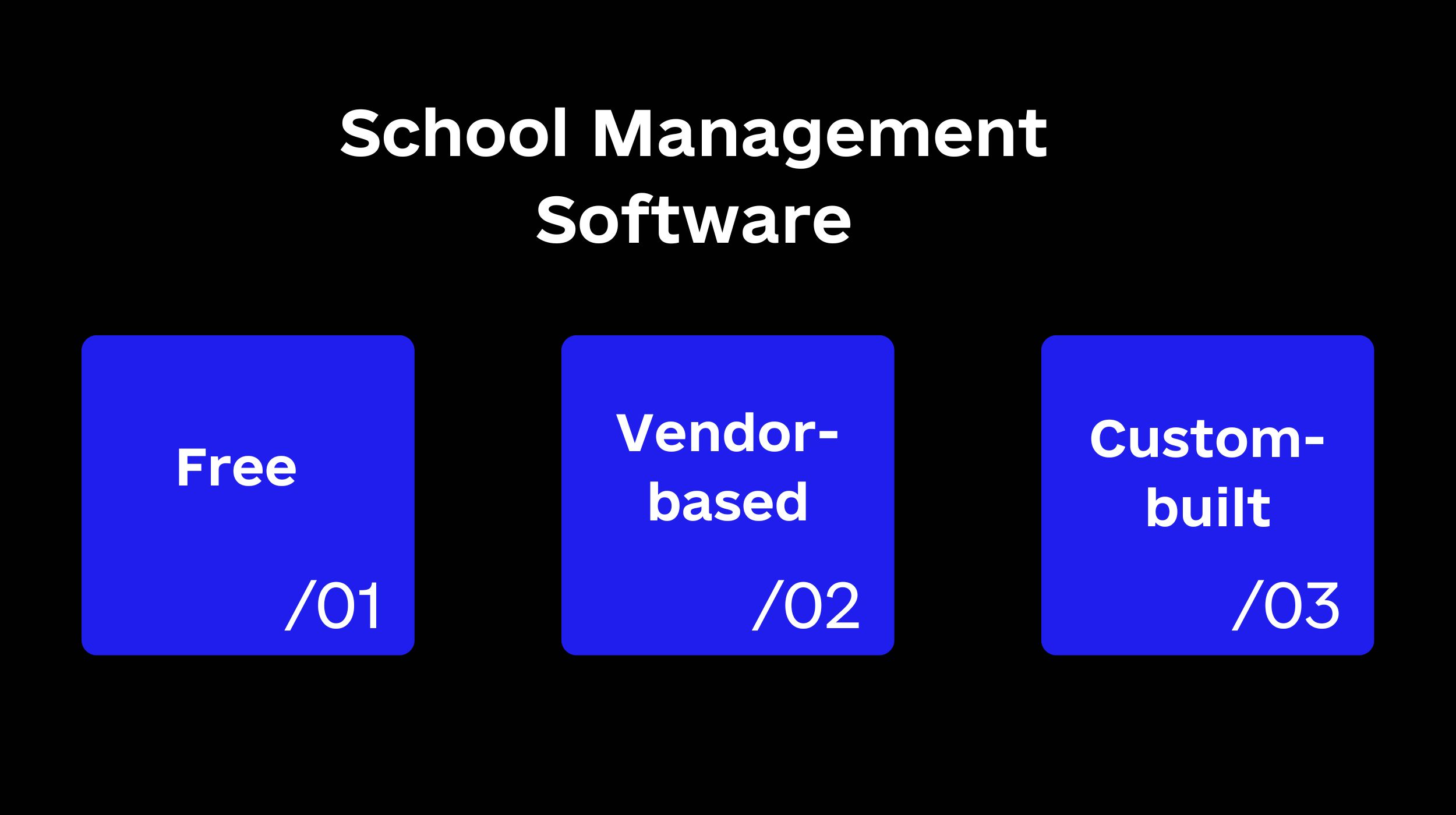 ✔ Free: In this case, the functionality of the SMS is extremely limited, and there is no way to add any more features or modify the functionality of the ones that are already there. Zoho, Classter, and feKara are good examples of a free school management system.
✔ Vendor-based: The software is available in both free and paid versions in this model. A vendor-based SMS is the best option if you don't want to wait for a customized system. Vendor systems are more adaptable than the free model. You can, for example, choose blocks that will repeat the system's body. Support is provided by the vendors to ensure things run smoothly. An example of the vendor-based School Management Software is PowerSchool SIS, Gradelink, and EDRP.
✔ Custom-built: Customizable models not only offer more features but they can also be easily modified in the future. For schools that use CRM or ERP technology, new features can always be added. Typically, these kinds of systems are built from the ground up for individual customers.
Why should you choose the custom System for School Management?
It is more cost-effective to use a customizable platform because tailored solutions allow you to select exactly the functionalities you require. You have control over who you want to work with on the project. You can change several aspects of the task to suit your preferences, timing, and financial constraints. As a result, creating a customized solution is the best choice. Customizable School Management Systems have the following additional advantages:
Optimization of working hours.
Boost efficiency.
Generate on-demand functionality at lower costs.
Improve cooperation among students, teachers, and parents.
Ready to build a custom solution that can manage students and simplify administrative processes from one place? Let's get started. Contact us now!
Key features of School Management Software
In this section of our guide on building a web-based management system, we'll look at the core features to include.
For students
Student's profile
Attendance
Information Dashboard
Video calling and chats feature
Access to training materials
Class and assignment schedule
Exam and test schedule
Communication portal
Upload and download files
For teachers
Communication portal
Data analysis and reports
Attendance and leave management
Class activity records
Manage lesson progress
Grade assignments, tests and exams
Upload and share assignments
Student performance tracking
Upload and share lecture notes
Remote teaching
Manage student records
Schedule classes and exams
Video calls and chats with teachers
For parents
Communication Portal
Track student attendance
Exam schedule
Performance records
Monitor student assignment
Access tests records
Access learning aids
Fees and payment records
For school management
Dashboard
Reporting and analytics
Inquiries and admission checking
Manage students records
Students' class performance monitoring
Staff progress tracking
Lesson progress monitoring
Financial monitoring and fee tracking
Developing a School Management System: How to go from idea to launching your own SMS
Still, wondering how to build a School Management System? Follow these nine critical steps to ensure a successful product launch.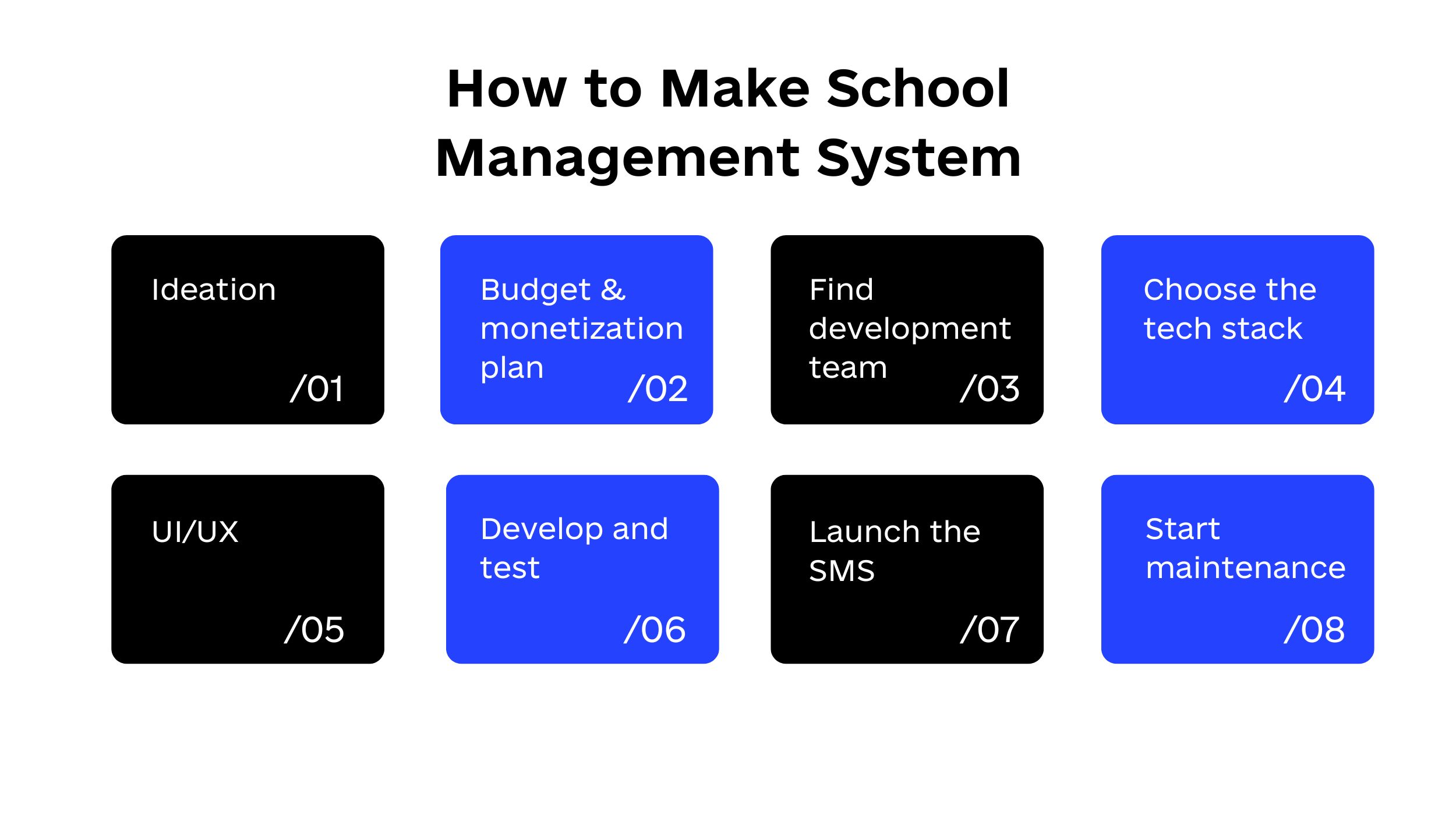 Step#1: Bring your ideas and research to life!
The first step toward owning your own SMS is to know what you want. Remember that the purpose of the software is determined by the problems it seeks to solve. So think about your goals and the types of solutions that can help you achieve them.
You will need a basic information storage architecture if you only want to create a digitized student information framework. How about building a portal where students and teachers can view schedules, submit homework, and make payments? In that case, you'll need a complex solution.
Consider your target audience and then conduct market research. Learn about the market's needs, what competitors are doing, and how to outperform them. Of course, a thorough market analysis will reveal much more. It is now up to you to make informed decisions based on the information you have received.
Step#2: Draw up a budget & monetization plan
You can get an idea of how much the program will cost with the help of an expert and the right tools. This way, you'll figure out the Total Cost of Ownership (TCO) without leaving out important details that pump expenses in the long run.
But that's not all.
You should also plan how to make money from your software in the same way that you plan how much you will spend on your ideas. The following is a list of potential models for monetizing your software.
Software licensing solutions.
Subscription business model.
Freemium model.
Open-source model.
In-app purchases.
In-app advertising.
Partnership or sponsorship model.
Pay-as-you-go model.
Step#3: Find a dedicated development team
Once you know what your program's goals are and how much it will cost, it's time to find software developers who can take care of the whole project. Having the right business partners can make a big difference in how successful you are.
Don't forget to research the company's portfolio and reviews from prior clients. Ensure they have hands-on skills. You can also check our guide on how to hire dedicated software developers to help you get started.
You will need the following team members to build a school administration software:
Developers
Testing and QA experts
UI/UX experts
A project manager
Step#4: Choose the tech stack and platform
It's now time to decide on a technology stack. To a large extent, the technology you use is determined by the chosen platform. Use technologies like JavaScript or Python if you're making it for the web, for example
In the same way, if you're making it for mobile devices, you'll need Android and other mobile app development technologies. In order to create software that works across multiple platforms, you will need to employ a variety of tools and techniques. Alternately, a cross-platform technology such as Flutter may be used instead.
Step#5: Implement UI/UX
Designing the app's user interface and user experience (UX and UI) can begin after the architectural and design structures have been set up. All of the app's screens, including buttons and transitions, must be created from scratch. It is possible to move forward with your design once you have completed the previous steps in a way that is both functional and in keeping with the school's unique brand image.
Step#6: Develop and test your School Management Software
It is highly recommended that during the software development, the requirements of each user group be taken into consideration. A three-step process of module development is followed when creating the modules themselves. At each stage of development, it is absolutely necessary to perform exhaustive testing of the program on all relevant devices. When a bug is found and fixed in the early stages of development, the team does not need to redo a lot of the steps. It is possible to save a significant amount of time, effort, and money by conducting exhaustive testing at the beginning of the process.
Step#7: Launch the SMS and get user feedback
The subsequent step is to put the finished product on the market. The application has to be adaptable to accommodate the requirements of diverse users. Everyone who uses the app should have a solid understanding of how it works. Training for the staff as well as presentations for both the parents and the students may be a part of this. Even a minor setback in performance can have a negative impact on the overall educational delivery process and administration of the school.
Step#8: Start maintenance
Building a student management system is an ongoing process even after the final product is made available to users. Maintaining and enhancing your solution on all fronts should be an ongoing effort if you want it to remain relevant in the face of continuously shifting user expectations and intensely competitive markets.
E-learning application development: Process, Features, and Cost
Cost of building a School Management System: What determines the price?
It is critical for entrepreneurs interested in school management software development services to understand the cost. Let's discuss the overall development cost of school management software and some of the factors that may influence its price.
Here are a few things to consider when estimating the price of school management software.
Software platform
Type
Complexity
Features
Functionality
Team structure
Tech stack
Location
Although precise pricing is not possible, we can provide a rough estimate of the cost to develop school management system software. This would range between $12,000 and $35,000. The estimated cost may vary depending on the various factors mentioned above. Some businesses also charge for development and maintenance based on the number of students enrolled in the institution. The cost of this model could range anywhere from $1.2 to $25 per student.
Things to consider before building software for school management
Apart from the above-stated list, there are some other factors as well that can affect the total cost of school management software.
Great UI/UX: In order to attract users, software must have an impressive and responsive UI/UX, but this requires a large team of designers. All in all, the software design should be less complicated and more visually appealing.
Location-based pricing: Hourly rates vary by country and can have a significant impact on the overall cost of your software. The e-learning app development company and developers you are hiring or outsourcing should first discuss their hourly rates before making a decision.
Features: The number of features added to the software can also cause cost variations. Furthermore, any third-party integration within the Software will incur additional costs.
Maintenance: Some companies charge an additional fee for software maintenance after the development of eLearning portals. As a result, it may be best if you looked after it.
Conclusion
The growing use of digital technology in education will necessitate significant changes in educational institutions' operations in the coming years. Rather than a passing fad, in the new reality, this will be a long-term strategy that will shape the course of history. To put your company on the map and into the competition, you must have a robust SMS solution. Hopefully, this post on how to build a school management system gets you started in the right direction.
Should you have questions or concerns about developing a student management system or hiring a development team for the project, 📩 contact us. We are more than happy to help!
Read more:
How to Build a Job Search Website: Extended Guide [5 Key Steps]
How To Build A B2B Marketplace: Steps, Features and Pitfalls
How to Make an App Like Udemy in 2022: Features, Costs, and Tech Stack
How to Build a SaaS Product from Scratch [A Practical Guide]