Since marijuana is legal for medical use in 36 states and fully legal for recreational use in 15 (and the District of Columbia), the cannabis market has developed fast and matured in a short time. It is now a multi-billion dollar industry with new markets emerging, new supply chains developed and new regulatory changes introduced.
To help cope with growing complexities and navigate a changing landscape, cannabis owners and operators are turning to integrated business process management technologies such as Cannabis Enterprise Resource Planning.
In the article, we'll walk you through the process of Cannabis ERP development, discuss what it is, how it works, what features are included. We've also listed some tips on how to choose the most suitable software for increasing the cannabis business.
What is Cannabis ERP?
Cannabis Enterprise Resource Planning (ERP) is software that combines all the essential scope of the cannabis business into a common database. It consists of several modules to meet particular business requirements, including accounting, sales, order management, inventory, manufacturing, project management, human resources, etc.
Cannabis ERP puts together critical features from seed to sale with much-needed back-office functions to accomplish all aspects of the cannabis business. So it provides all the tools the entrepreneur needs to manage the finances and clients, track sales, generate accurate reports, and manage inventory from landing to final sale.
How Does an ERP System for Cannabis Work?
The introduction of cloud-based seed tracking software developed by cultivators for cultivators is a step in the right direction. If you are in doubt about this, or just need more information, we thought it would be helpful to consider a few tips on how this can help your cannabis business.
This is the law in most states
One of the trade-offs for states that have legalized cannabis for medical purposes or adults is that the authorities need to properly regulate it. Most states require some sort of seed tracking software to eliminate or at least prevent the illicit cultivation and sale of cannabis.
Growing processes, materials, and costs
Tracking data from seed to sale gives you a deeper insight into yield and efficiency, as well as other growing benefits such as the effects of nutrients, water, temperature, and humidity on your plants. By collecting your growth data, you can analyze it to maintain consistency, efficiency, and real-time improvements based on what analysts tell you.
Forecasting and reporting
The software can help with all aspects of your cannabis business, including short and long-term forecasting, reporting requirements, and daily administrative tasks. While this may not be the most exciting part of growing your cannabis business, they are essential to your success. This is especially true when you are in business or looking for investors who will demand it.
Agriculture App Development: Tips, Features, Process, and Cost
Stats and numbers
It is undeniable that great strides have been made over the past few years in the legalization of cannabis and the growth of the new industry. Here are some of the numbers that characterize the market.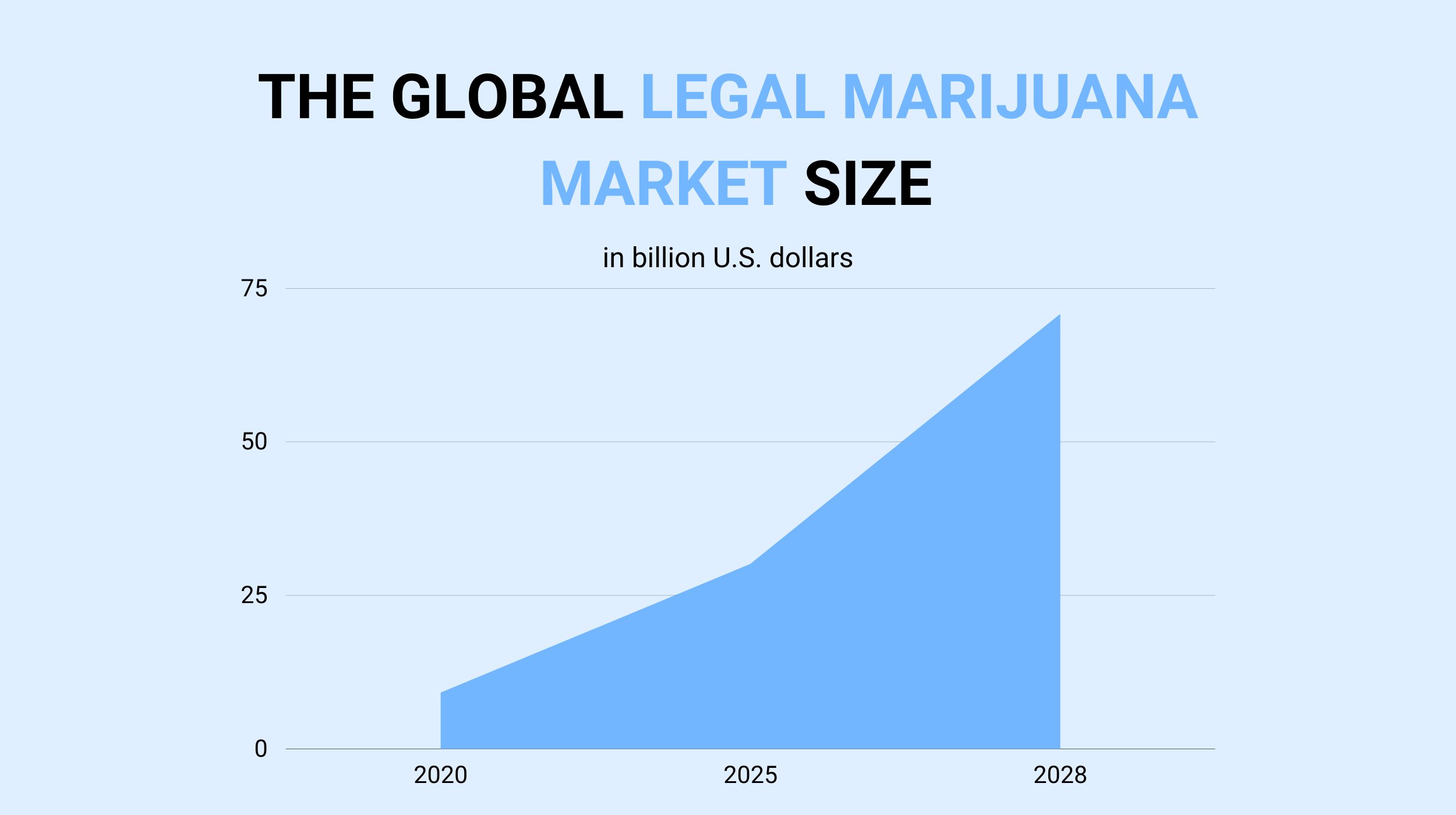 The industry is increasing rapidly and is expected to have an annual market value of $30 billion by 2025.
U.S. medical marijuana retail sales could reach $7.3 billion in 2022.
In mid-December 2019, Canada's Cannabis 2.0 policy expanded its product range beyond flowers and oils. While the impact on sales in 2019 was limited, sales are expected to increase in 2020 as a result of new product form factors.
International spending on legal medical cannabis, excluding the United States and Canada, rose 91% in 2019, from $ 297 million to $ 568 million, mainly driven by expansion of programs in the German, Australian and Mexican markets.
Healthcare programs in US states, including Maryland and Oklahoma, posted higher-than-expected sales in 2019 and contributed to overall US spending growth.
Benefits of ERP System for Your Cannabis Business

Cannabis ERP systems have several benefits every step of the way in managing your marijuana products. In the table below, we listed the main advantages for cultivators, manufacturers, and retailers.
| | | |
| --- | --- | --- |
| Benefits to cultivators | Benefits to manufacturers | Benefits to retailers |
| Implementation of automatic information to control crop data, plant genetics, and crossbreeding. | Convert products to one or more by-products, such as plants to oils or oils to food, with ease, while maintaining a careful supply chain that records cost per gram calculations, warnings, and recalls. | Easily initiate discount and loyalty campaigns for customers regarding dates, products, times, brands, and more. |
| Observe and study harvest data to identify bottlenecks and increase yields. | Create invoices and purchase orders to archive and protect related business transactions. | Setting purchase limits based on type and equivalence so that you follow the rules and never unnecessarily dismiss patients or clients. |
| Develop personalized workflows for collecting and sorting data across multiple growing locations. | Labeling your inventory with key product information such as ingredients, activity results, expiration dates, and even products that reach or exceed their expiration date. | Creation of customer profiles to support them as loyal customers by recording special and medical preferences, purchase history, bonus points, birthdays, etc. |
Most popular cannabis ERP software
To stay ahead of growing competition, optimize productivity and maintain regulatory compliance, it is important to implement a cannabis ERP. The easiest way to do it is by partnering with the cannabis business management software.
To make your search simple, we've listed the best cannabis ERP software providers below.
365 Cannabis
365 Cannabis is a modular-based cannabis ERP solution tailor-made for the industry. It integrates data and processes from multiple departments and locations, enabling cannabis businesses to produce, move and track cannabis and non-cannabis products faster than ever.
Viridian Sciences
Cannabis Management at Viridian Sciences eliminates the need for multiple dedicated programs as your entire business is managed from one place. This will save your business a lot of time and money at such a critical time in the cannabis industry. This cannabis ERP software is for those looking to gain a significant competitive advantage in the marketplace, need regulatory compliance and safety, run their business as effectively as possible, and want to use cutting-edge software technology.
NexTec
NexTec food and agriculture experts have partnered with leading cannabis industry experts to develop cannabis ERP software that will manage your cannabis business as it should. Their solution not only tracks seed sales transactions but covers all of your cannabis transactions. CannaBusiness ERP is a powerful set of add-ons that enable more enhancements to the Sage Business Cloud product, including growth and optimization operations management, production planning, product forecasting, and quality control.
SYSPRO
SYSPRO offers flexible cannabis ERP software based on high-performance technology that is easy to implement and integrate new features. Simply put, SYSPRO is designed to meet the needs of your growing business. SYSPRO cannabis software optimizes your traceability processes from seed to sale, providing visibility to everything that happens in both demand chains and supply chains.
Quantum leaf
Quantum Leaf provides versatile cannabis ERP software that eliminates the need for multiple platforms and spreadsheets. Manage your entire growing operation from one location at any time and save time and resources as your business scales and grows. The Quantum Leaf platform is ideal for cannabis businesses looking to unleash their true potential sooner rather than later and achieve it in the long-term, while maintaining strong regulatory compliance across the entire jurisdictional spectrum.
Seed to Sale Cannabis ERP Features
The global cannabis market is expected to reach $ 30 billion by 2025. It is an industry that is growing at a breakneck pace, thanks in part to automation technology that is changing the way the popular plant is grown and sold.
If you work in the cannabis industry and have not yet automated your processes, it is not too late to catch up with the competition by implementing an ERP system.
Recently, several specialized cannabis ERP companies have emerged, and many Tier I and II ERP providers also provide specialized functions for the cannabis industry.
Rather than listing all of these vendors, we're going to provide some general advice on what to look for in a cannabis ERP system. Let's take a look at the main features to look out for when you start your search.
What are the crucial features of the cannabis ERP?
⚙ Financial management
Precisely track the earnings and expenses, analyze financial performance, and use financial reports to always ensure you remain in compliance.
⚙ Sales and Customer Service
Record clients' details and sales, manage customer relationships, keep track of inventory, and boost sales revenue.
⚙ Inventory Management
Keep track of individual units of stock across multiple locations, including warehouses and retail locations while gaining full visibility into the supply chain, monitoring units as they move from packaging to warehouse to delivery to retail and finally into the hands of the customer.
⚙ Traceability
Track your plants and products every step in the supply chain, including where your products are planted, harvested, processed, and sold for performance measurement, inventory control, and compliance.
⚙ Cultivation, Processing, and Manufacturing
Critical seed-to-sale functionality should be included in any cannabis ERP system to monitor and automate crop performance, forecast crop yield, and ensure growing space is utilized as efficiently as possible.
⚙ eCommerce and Retail
Build a smooth online and in-store client experience while tracking and analyzing customer purchases with integrated point-of-sale and inventory management.
⚙ Resource Management
Across agricultural, manufacturing, warehousing, logistics, and retail operations, ensure you're optimizing every facet of your business with the proper resources at the proper time.
⚙ Reporting and Business Intelligence
With integrated data gathering and customizable reporting across business operations, get real answers on plant production, operational efficiency, quality outcomes, and financial performance.
How to create cannabis ERP?
Cannabis ERP development consists of several steps. Let's discuss the main of them!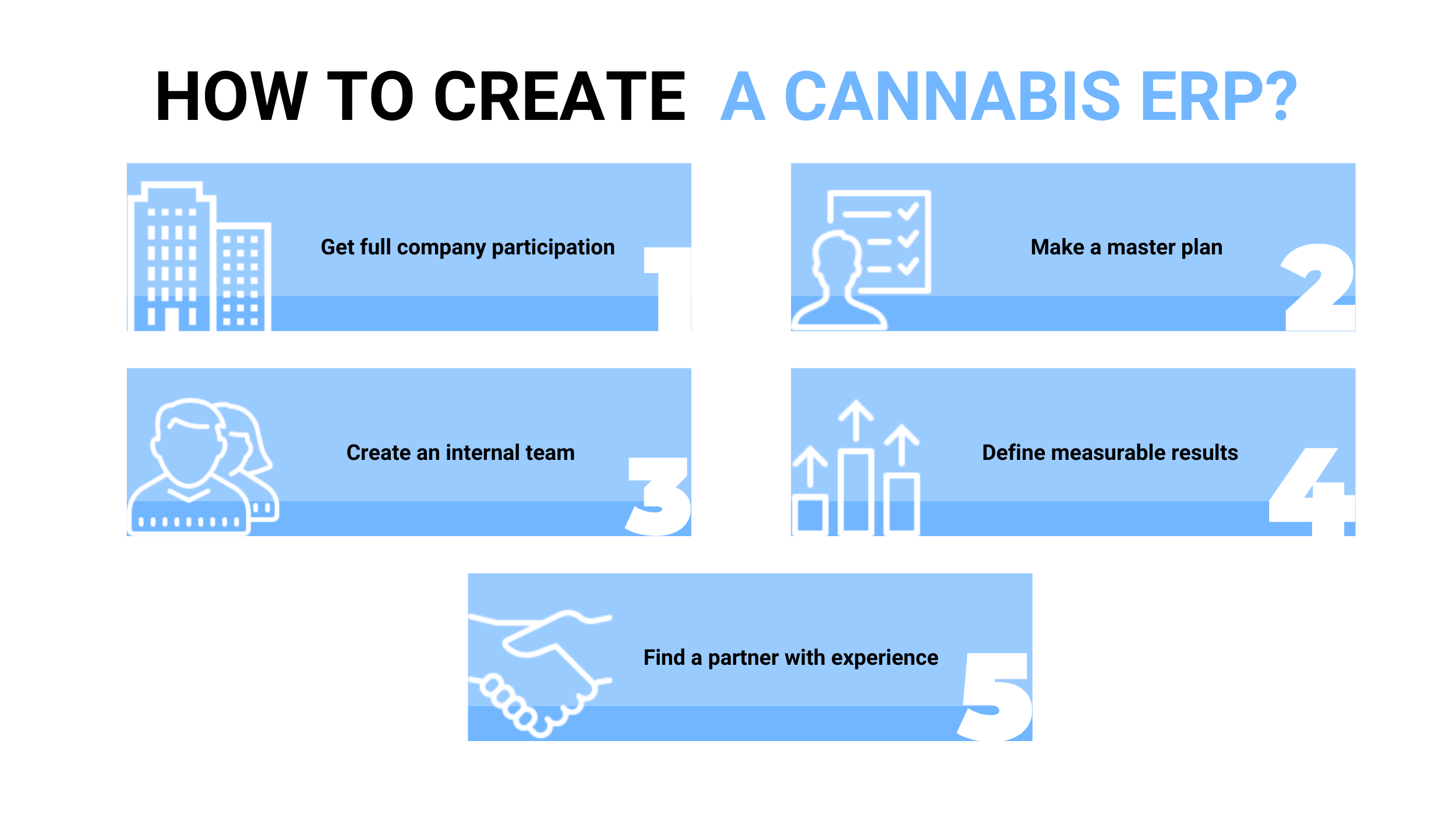 Step #1. Get full company participation
As with any decision by a large company, management support is vital. However, the implementation of the new ERP system with cannabis will affect and affect the entire company, so it would be a mistake to exclude key players from the divisions in the decision-making process. People from all departments must participate in the implementation, if not the initial selection. Helping the team understand that a robust cannabis business management solution must be at the core to grow the business and provide additional opportunities for everyone.
Step #2. Make a master plan
You will need to understand how your current business processes are working (or not working) or how they can be improved so that you can determine where you want to be after your cannabis ERP implementation.
Step #3. Create an internal team
Building an internal team of project champions helps ensure a smooth transition and widespread user acceptance. Once implemented, the team becomes an internal resource for ongoing success. You definitely will need a project lead, IT manager, and team leads.
Step #4. Define measurable results
Companies often neglect this step, but it is important to define the results you would like to see in the periods before, during, and after implementation. Determine the ideal key performance indicators (KPIs) that you want to measure and what the ideal values for those KPIs should be. Using these measures will help validate the ROI of your cannabis ERP system investment.
Step #5. Find a partner with experience
The cannabis industry is unique in many ways. A cannabis ERP implementation in a cannabis company will have some obvious and some subtle differences from an ERP implementation in a typical retailer, wholesaler, manufacturer, or distributor. The right partner will understand the industry, have experience with cannabis companies in many different market sectors, and know-how to customize and adapt the software to meet the unique challenges you face. Choosing an experienced and dedicated partner is perhaps just as important as choosing the software itself.
Technology stack

Now, when you're familiar with the main details connected to Cannabis ERP development, it's time to move to the tech stack.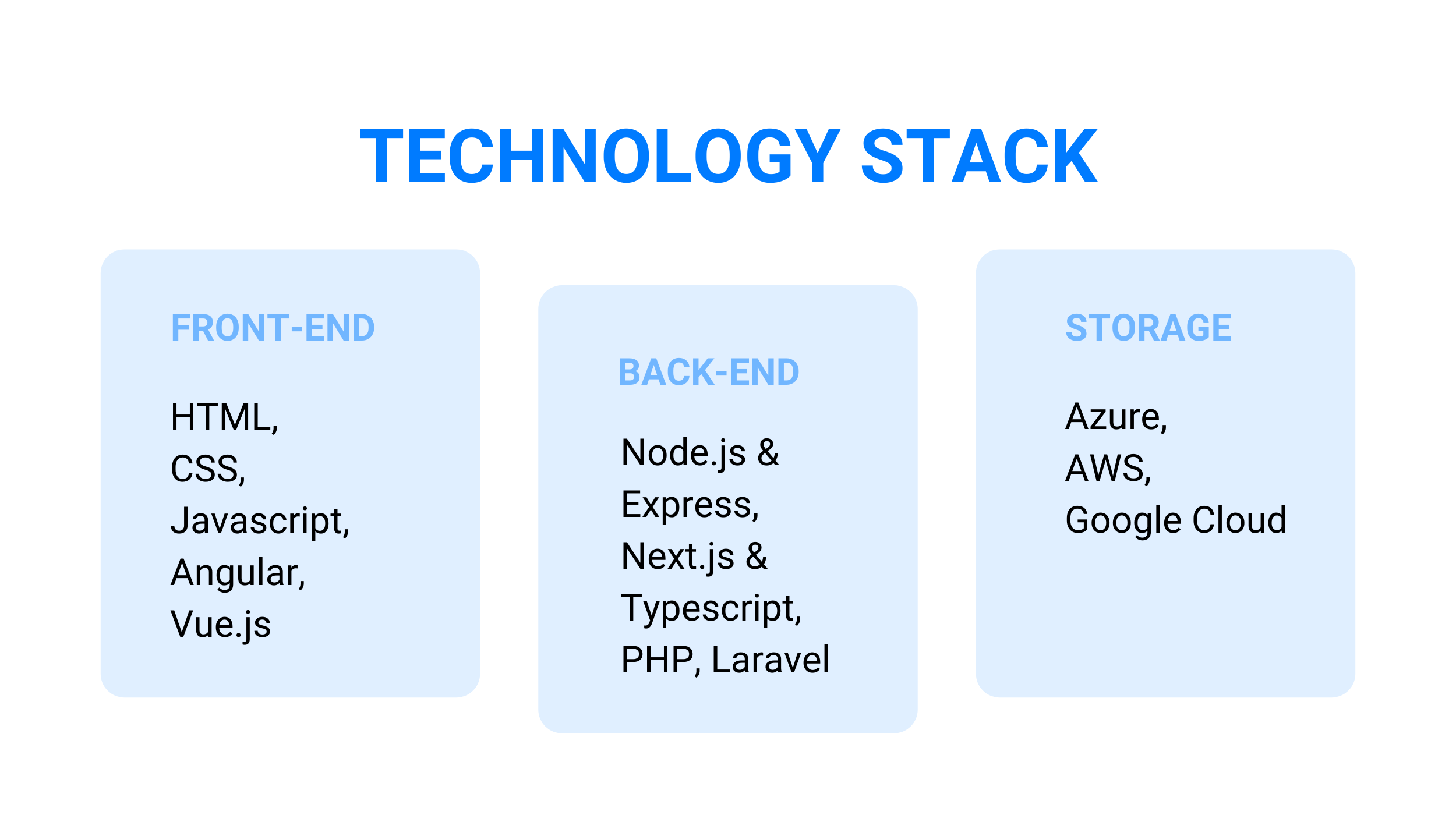 How much does it cost to build an ERP for cannabis?
ERP is a complicated software that involves the use of a single platform for the entire business with a common database, user-friendly interface, and wide functionality. The final price of developing such software ranges from several thousand to hundreds of millions of dollars. The price in each case depends on the number of man-hours spent on planning, development, testing, and implementation.
How to save your time and money with the ERP system for cannabis
After you have estimated and defined your upfront costs, let's take a look at how ERP can reduce operating costs and contribute to the long-term growth of the company. Here is the list of the main ways ERP can save you time and money.
🔹 Improved communication and data sharing
After implementing ERP, companies are faced with an easier exchange of data, facilitated by the easier flow of knowledge, data between departments. It means that business operations across the company are visible to key stakeholders in almost real-time.
🔹 Centralized business features
ERPs are created as easy-to-use systems that unify, standardize, and automate business processes – everything from client service to accounting, inventory and supply chain management, billing and payment, and everything in between.
🔹 Improved customer relationship management
ERP not only moves multiple business processes onto a single platform, but it can consolidate your CRM database into one system, giving you an exhaustive view of your clients' needs, no matter where they are among the customers.
Things you should keep in mind
As the cannabis industry begins to gain traction and companies in the cannabis industry mature, some operators are concluding that what didn't matter yesterday now does matter. Accurate and timely data and information matter. When many companies started, their main focus was to comply with regulations and simply maintain the necessary data to keep the doors open.
However, as operations improved and business grew, there was a need for more control, transparency, and timeliness, and the software solutions that many companies initially subscribed to carry out the basics at a low cost were no longer reliable enough to scale with them. height. As a result, many companies began buying additional software to fill these growing gaps or had to explore options for integrating with their seed supplier for sale.
The problems with these paths are, and always will be, how to ensure that data is correct and up-to-date between two or more systems, and the amount of effort required to either create an integration or manually maintain all of the various software solutions.
These gaps in multiple systems and additional processes mean that businesses do not have a "single source of truth" for everything. Instead, there is a system that is true for financial metrics: one for inventory, one for compliance, and so on. As a result, many hours of work are wasted sorting through the fog to search for data and gather critical information while working to maintain multiple software solutions at the same time. These challenges, combined with the learning curves associated with learning and remembering the functions of each system, and the added associated costs of using or implementing multiple systems, quickly reduce ROI.
Summing it up
In an industry marked by tremendous growth, increased competition, and declining profitability, it is worth investing in a cannabis ERP system that can automate and simplify core business functions. Requires tools, platforms, and experienced programmers. However, the most critical factor for success is integrated project management. The Code&Care team will help you to bring the project to life!
✔Related articles:
All-in-One Guide to Telemedicine App Development
E-learning application development: Process, Features, and Cost
How to Make Your Own Grocery Delivery App and Become The Leader of The Market
How to Create Your Own Music Streaming App That Brings Clients