Mobile technology affects all areas of life. And agriculture is no exception. Laptops, tablets, and smartphones have become the main tools for application developers and farmers. Farmers spend most of their time working on laptops or tablets and programming their actions, instead of working in the field as their fathers and grandfathers did.
Mobile technology makes farming easier. It has been nearly impossible to track and manage work in the fields in the past few decades. It was difficult and time-consuming to cultivate such large areas. Automation of routine agricultural activities contributes to better management and increased efficiency.
There are many reasons why mobile solutions are becoming more widespread today, not only among agricultural giants but also among small family farms. In this article, we are going to discuss how mobile technologies are changing agriculture and rural development.
Farming software market overview
The main purpose of developing an application for agriculture is farming processes optimization. Since most of the smart farming features are already available on desktops and laptops, expanding them to mobile gadgets is the next step to let farmers use these technologies on the go.
While there are already plenty of digital products on the market for smart farming, they barely meet the demand is still growing worldwide. If you want to create a farming app, now is the perfect moment.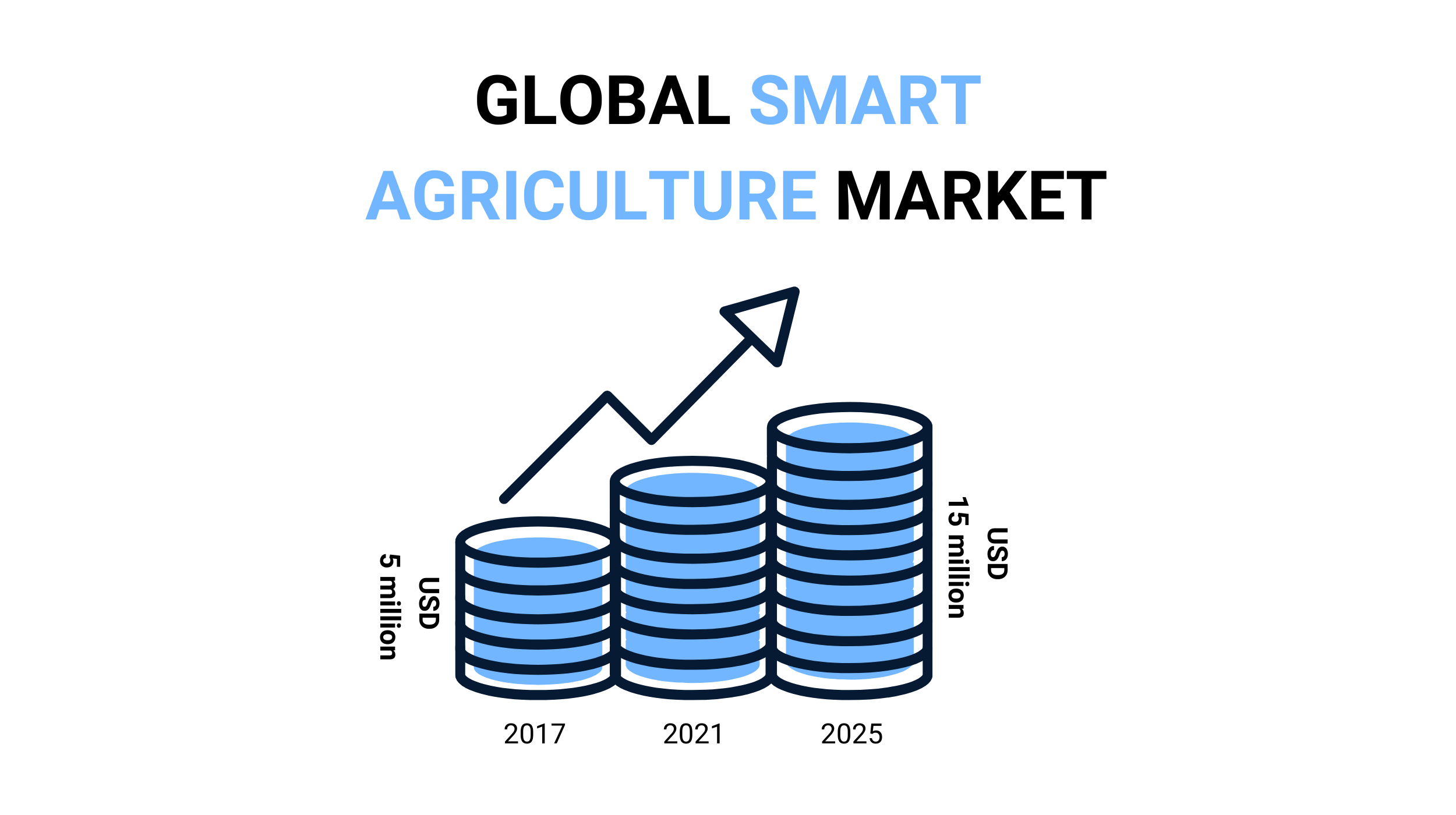 As Zion states, the global smart farming market will grow from about $5 million in 2017 to over $15 million in 2025.
Besides, data shows that in the United States, large farms with incomes over $1 million accounts for 50% of US agricultural production, up from 30% in the 1990s.
Field mapping constituted the fastest growing market for intelligent control systems in value terms in the digital agriculture market in 2021, as it is currently the most preferred and accepted method of digital agriculture.
The prominent trend of the industry is accurate farming. It includes technologies such as the Internet of Things (IoT) and big data.
Collecting data, launching drones, checking crops for disease, building agriculture maps for accurate farming, and connecting with consultants are all available in the applications for farmers wherever they are.
Well-known farming apps
To share inspiration with you for future app development, we have listed the industry-leading agriculture apps that set the standard for future farming digital products.
🚜 Conservis
It is an agriculture management system that optimizes workflow and uses powerful analytics to collect, store and analyze all of the data in one place. It is a supply chain management system that shows the entire workflow and alerts you in case of bottlenecks.
🚜 SmartFarm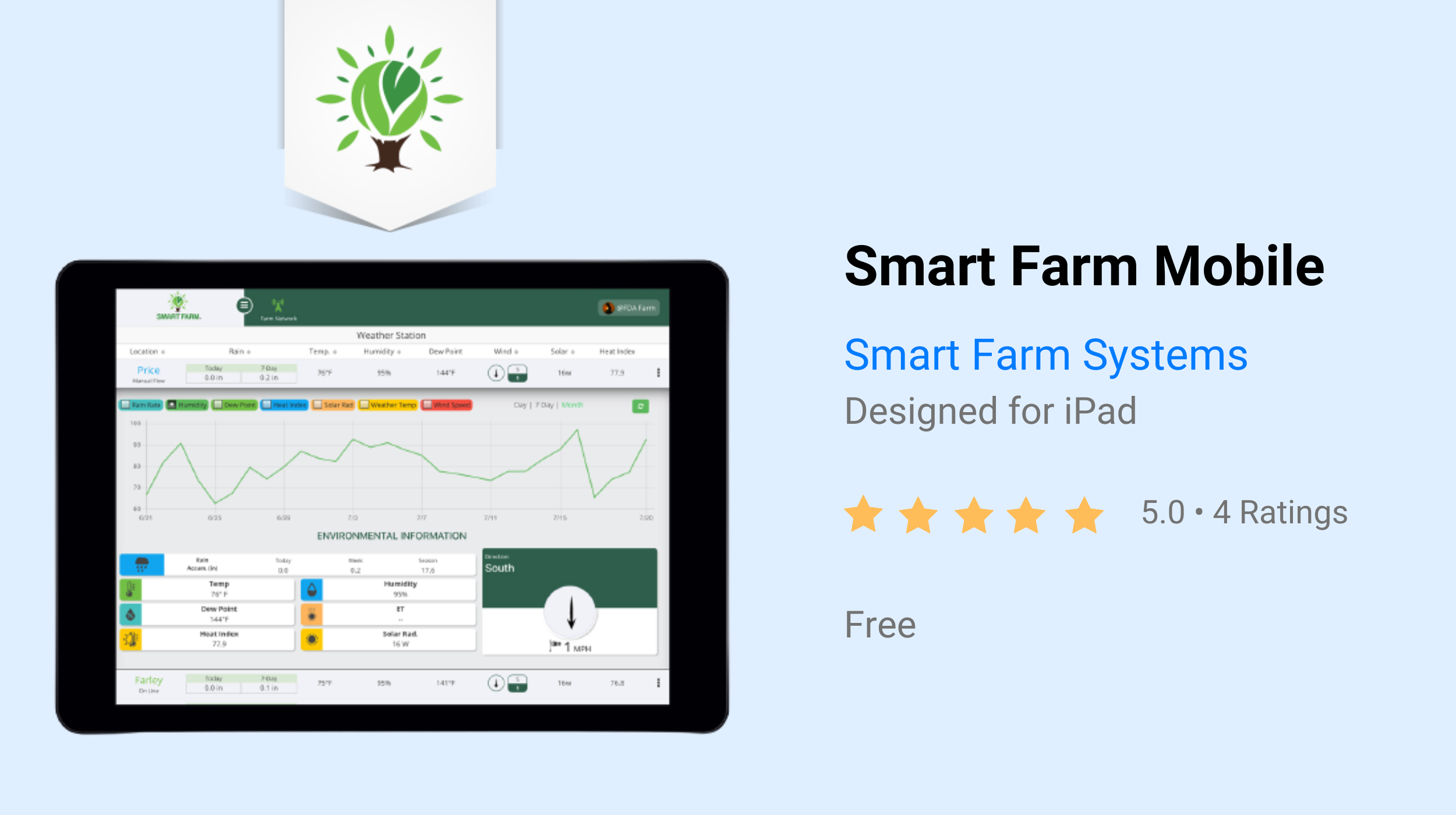 SmartFarm is the weather app that uses AI, ML, and big data to predict environmental changes and your possible responses to them. SmartFarm also keeps all data in one place and analyzes it.
🚜 Granular
Provides financial information based on data analysis and brings farmers, consultants, and operators together on one platform for better team management. Granular's concentrating on profitableness and making precise financial decisions.
🚜 Agrivi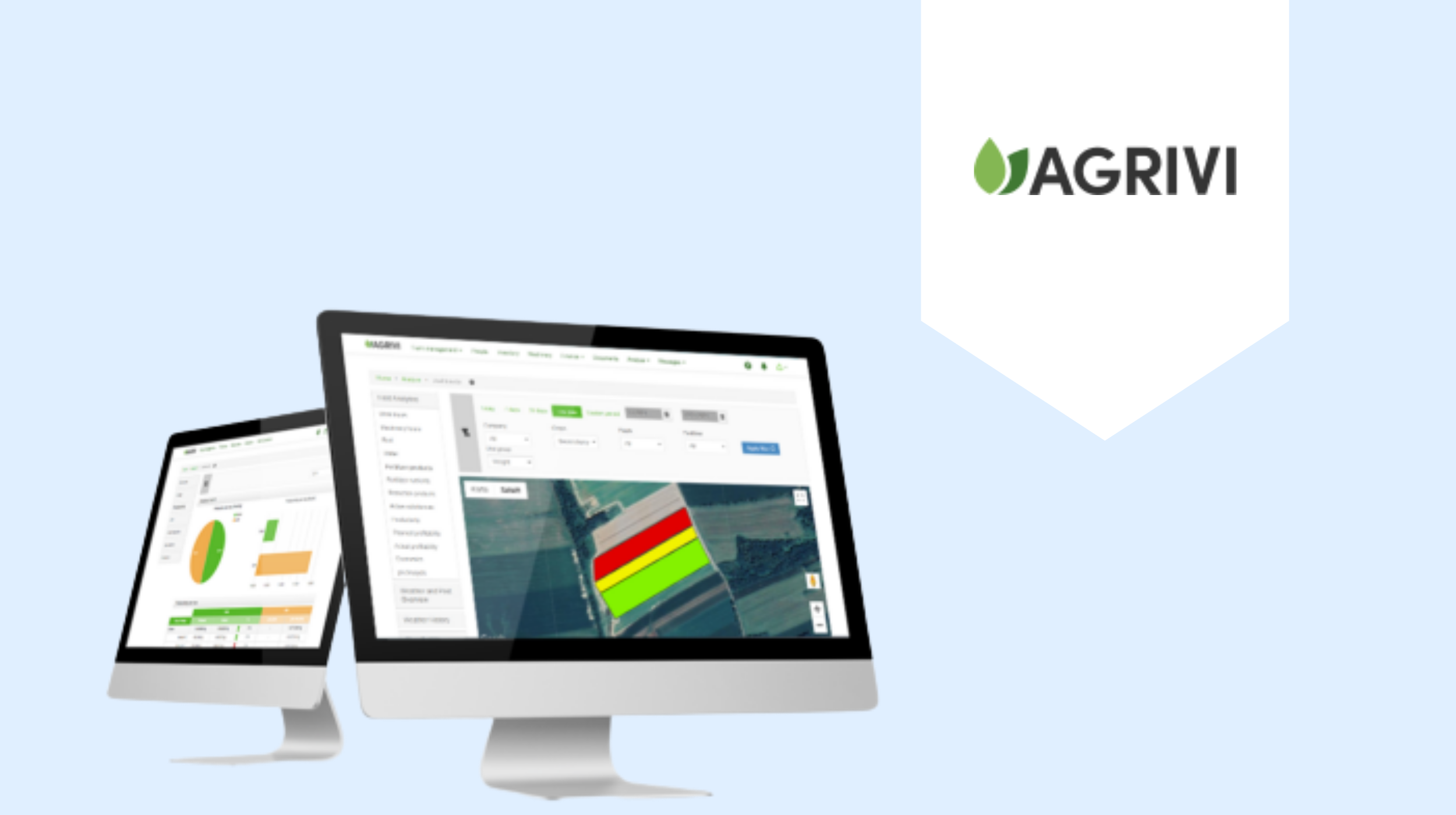 It provides efficient personnel and resource management and allows you to create clear and customizable reports. Agrivi has a huge database of various crops, pests, and diseases, which allows you to prevent damage to harvest and predict the future harvest.
🚜 Agworld
It is a cloud-based, mobile, collaborative farm management app that allows you to quickly plan and budget. Agworld has a suite of precision farming features that helps everyone in the farming process work as a team for better results.
Various agriculture management apps and agricultural companies are rapidly adopting technology and using it in non-trivial ways to optimize the workflow for growers. Let's take a deeper look at them.
Let's list the types of agriculture apps
Although agriculture is more practical, it has tremendous potential for innovation and change. While manual labour still makes up a large part of agricultural work, agricultural applications can simplify all of these processes and make the work more efficient. Here are four ways mobile apps can make your farm smarter.
For animal husbandry
Livestock management takes time and effort, especially when thousands of animals need to be tracked. To keep animals healthy, sickness and suffering must be minimized. Moreover, farmers need to group animals and keep track of daily search activities. With all these things, it is difficult to remember everything or fix it on paper. Apps can simplify all of these processes by giving farmers access to modern tools. For example, livestock management applications can track the number of cattle and provide actual information about a herd, including health data.
For inspection management
Several mandatory checks should be done on farms for safety reasons in the United States. Typically, the agency can conduct all of these checks. But there are many other tests that you should run yourself. The policy is constantly changing and farmers should be aware of the changes in advance. With all these moving elements, it is hardly possible to maintain manual checklists. Apps are here to save the day. With mobile apps, farmers can automate their checks and create digital checklists to make preparation easier.
For field farmers
Time counters help farmers more accurately determine production, use field equipment efficiently and optimize fieldwork. Besides, there are mobile applications that help track and predict weather and diseases and their impact on fields and various crops. Field mapping has also become popular with farmers. With it, they can draw and project maximum impact.
For growers
Much of the work of any farmer is done by hand, and applications simply cannot replace it. However, mobile apps can help farmers become freer. Farmers can check and monitor soil conditions with a few clicks. They can monitor pesticides and herbicides to increase their yield. What's more, the apps can even remind farmers when it's time to fertilize the soil or apply pesticides.
Why does your agriculture business need an app?
Farmers are very open to new and innovative ways to grow their businesses. And as such, agriculture applications are welcome and have a huge influence on the whole industry. They bring a ton of benefits, and here are some of them.
🔹 Information
For the farmer, data is the key to survival. Misunderstanding the weather forecast or which piece of land is best suited for which crops, they will be done away with. This is where mobile apps come to the rescue. They offer farmers any information they need at the touch of a button. In addition, the apps can be used to survey the ground using drones. It saves people time and decreases risks, which is why it is one of the reasons why it has such a positive influence on growers.
🔹 Market access
The market is something that every business owner should know well, and farmers are no exception. This is especially important for people living in more remote areas.
They need to get as much information about the market as possible to have market power. And with your smartphone, you have all the market information you need.
🔹 Improving efficiency
As with any business, advances in technology enable companies to improve efficiency, just as farmers do here. High-tech equipment combined with mobile applications significantly increases efficiency. The integration of smart irrigation equipment, improved communications, GPS trackers and smart monitoring systems saves growers a lot of time, thereby increasing their efficiency.
🔹 Payments
When it comes to payment, mobile apps can save a ton of hassle for both the farmer and the customer. The payment gateway just gets the job done in a fast and simple way.
🔹 The best treatment for crop diseases
The disease often spreads around crops, and sometimes, it may be devastating if not taken care of. Due to the application, farmers no longer need to contact a specialist for this. They can simply look directly into the phone to receive the appropriate solution.
Determine your future agriculture app features
Let's see what features you can include in your mobile farming mobile app to become a useful tool for farmers.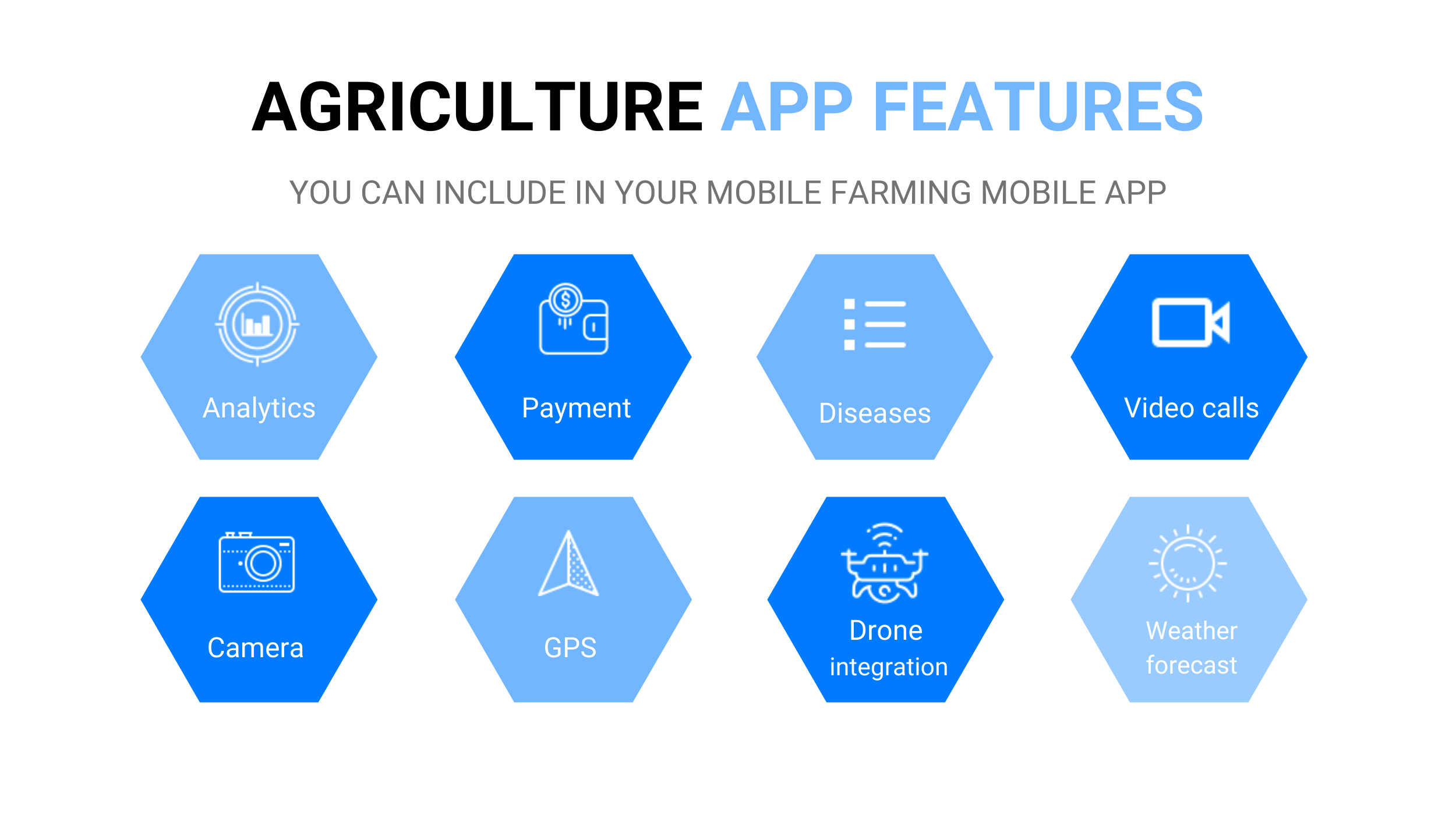 ✅ Analytics
Analytics integration helps manage workflows. Analytics should be informative and provide valuable information about resources, crop status, changes in weather, etc. When you create a farming app, you should keep marketing in mind just like any other app maker. Analytics can show you how many users your app has, how much time they spend in it, and which features they use the most. It helps you scale your app and change it to meet the needs of the market.
✅ Payment gateway
If your app is a farmer marketplace, it should have mobile banking functionality. Integrate a payment gateway for fast and easy payments.
✅ List of diseases and treatments
If you want your app to be a useful reference for farmers, include a list of crops, possible diseases, and how to treat them. This useful content can be a supplement to a mobile application focused on machine vision or selling agricultural products.
✅ Broadcast and video calls
Streaming video and broadcasting are also great features for a consultant app. They allow consultants to answer general questions and allow farmers to join live video sessions. The broadcast also helps farmers share their experiences and helpful tips by building a community within your application.
How to Make a Video Calling App Like Zoom and Google Hangouts?
✅ Camera and machine vision
Several agricultural applications focus on visual information and machine learning, allowing farmers to efficiently recognize plant diseases early, check nitrogen levels, and assess leaf damage. It is possible due to machine vision based on machine learning. The critical challenge in machine learning is getting enough data to train the system. However, there are ready-made databases of plants, their diseases, and so on. You can use these databases and a cloud-based approach to build an agricultural application and help farmers.
✅ GPS and geolocation services
It's difficult to imagine an agricultural application for farmers without a map. Mapping allows farmers to use a variety of location-based features, including tracking drone surveys and viewing local weather forecasts. A location-based service can also help you divide a field into polygons so you can examine each one individually and identify areas that need special attention
✅ Drone integration
Drones are becoming one of the most critical and widespread agricultural technologies. Due to them, the farmer can see where the crop is healthy and where the crop is weak, and make adjustments exactly where it is needed.
✅ Weather forecast
Although technology has made farmers less dependent on the environment, the weather is still important in growing crops. The integration of weather forecasts is a handy feature for an agricultural application. The main thing here is accurate data, which is constantly updating.
How to build a farm app
Now, when you're familiar with the main farm app features, let's go further and take a look at the main stages you have to go through during agriculture app development.
Stage #1. Ideation
Before you start developing your application, you need to formalize the answers to some questions. I.e.:
What is your target audience?
What is your target region or country?
On which platform do you want to develop your application: Android or iOS?
How will your application solve problems?
Who are your competitors? How is he better than your competitors?
How do you monetize your app?
The answers will help you to choose the type of app, define the needed features and create a marketing strategy.
Stage #2. Business Analysis and Technical Specification
The business analyst will provide a document containing all the development process details, including features, timelines, pricing, team involvement in the development, and more. In addition, they prepare technical specifications, which contain instructions for developers and serve as a guarantee for the client to provide exactly what they need.
Stage #3. Preliminary Development Stage
At this stage, the developer will start preparing everything for the project, from the backend API to cloud storage, third-party services, and application architecture. This phase is very important for developers as they need to think ahead and build the foundation for future scalability.
Stage #4. Development and Testing
Once the development of the farm application has begun, the QA team will test the application from feature to feature. Make sure your team is experienced in real-world testing of the agricultural application development product.
Stage #5. Deploy
As soon as the developer confirms that the app meets all the app store requirements, the agriculture app is ready to be deployed. To get your app directly to target users, you need to do digital marketing.
Stage #6. Maintenance and Support
With the deployment of farm application development, it just isn't over; for your application to survive in the application market, you need to go through ongoing maintenance. When new technologies and OS come out, you need to update them with this app. At this point, you can even improve the functions and make new changes to the development of the agricultural application. This will ensure that your application stays relevant and brings the maximum benefit to your users.
Technology Stack for Agriculture App Development
If you want to get a top-rated agriculture application, you should take care of suitable technologies. In the table below, the Code&Care team listed the most common ones.
| | |
| --- | --- |
| ✔ Front-end | HTML, CSS, Angular JS, React JS |
| ✔ Back-end | Node, Angular, Python |
| ✔ Push notifications | Twilio or Push.io |
| ✔ Database | MongoDB, Cassandra, Postgress |
| ✔ Real-time analytics | BigData, Apache, Flink, IBM, Cisco, Loggly, Spark |
| ✔ Cloud platform solution | Google, Azure, or AWS |
Progressive Web Application Development: Cost, Tech Stack, Advantages
How much does it cost to create an agriculture app?
Agricultural application development offers different solutions, so each solution is unique and requires a different amount of time and resources. These metrics mainly depend on the complexity of the desired software and the number of features required, so we always evaluate each application separately. However, we can share our opinion on agricultural projects and give you an idea of the approximate costs.
The final thought
Various agricultural applications solve different problems and help farmers work more efficiently and get great results with less effort. Although mobile software is used in various ways in agriculture, the development of agricultural applications is proving to be especially beneficial in some areas.
Online and offline software for drones, marketplaces, disease-control machine vision systems, and location applications are some of the current trends in the world of agricultural applications.
✔Related articles:
How to Make a Social Media App: Features, Requirements and Tricks
All-in-One Guide to Mobile Banking App Development
How to Build a Virtual Event App: Comprehensive 2022 Guide
How to Build a Rideshare App: Types, Features, Cost and Challenges