Mobile apps have revolutionized the way we manage our money: in 2020, 90% of mobile customers prefer to make mobile payments from their smartphones. Moreover, the number of transactions made using mobile gadgets is projected to grow by 121% by 2022 and will account for 88% of all banking transactions. As dedicated developers are still improving fintech and banking apps, it is crucial to stay updated and understand who the competitors are.
In the article, we are going to overview mobile banking apps, their functions, development stages, tech stack, and final cost. So, let's dive into the details!
What Is a Banking App?
A banking app is a mobile app that gives access to your bank account details and ensures an opportunity to make transactions directly from any mobile device. Depending on the chosen bank, you will be able to perform various actions through your banking app.
Most banking apps allow viewing the current balance and transaction history; deposit checks up to a certain dollar value. Another thing you can do is initiate transfers to other bank accounts, schedule payments or pay the bills, send personal payments, and find ATMs that you can use for free.
There are other types of apps that can also be called banking. These apps offer users the tools to manage their finances and big data to help them make more informed budget decisions. Expense tracking apps provide consumers with financial knowledge and data about their spending habits and cash flows. They sync with bank accounts for accurate data, but they do not store money or process money for users in any way.
Differences Between Online Banking & Mobile Banking Applications
The critical distinctions between online and mobile banking are shown below in the table:
| | | |
| --- | --- | --- |
| Criterion | Online banking | Mobile banking |
| ✅ Definition | Online banking is a service allowing to make transactions over the Internet. | Mobile banking is a tool provided by a bank to clients to carry out banking transactions using gadgets. |
| ✅ Transaction facilities | Extra banking services are provided through the bank's online portal, making online banking simple. | Users are offered limited mobile banking options. |
| ✅ Functionality | Online banking is carried out via a PC (or laptop) with an obligatory Internet connection. | Mobile banking can be carried out both via the Internet and without it. |
| ✅ Funds transfer | It is carried out using NEFT, RTGS, and IMPS. | It is carried out through NEFT or RTGS. |
| ✅ Accessing | The online banking portal can be accessed from any browser without downloading any software. | Access to mobile banking can be obtained only by downloading the corresponding banking app. |
| ✅ Opening of account | The bank details are required to open an online bank account. | In this case, you have to apply for it separately. |
Mobile Banking Industry Overview
To get the best results from creating mobile banking applications, let's take a look at market trends, what clients are demanding from banking software, and the best banking apps.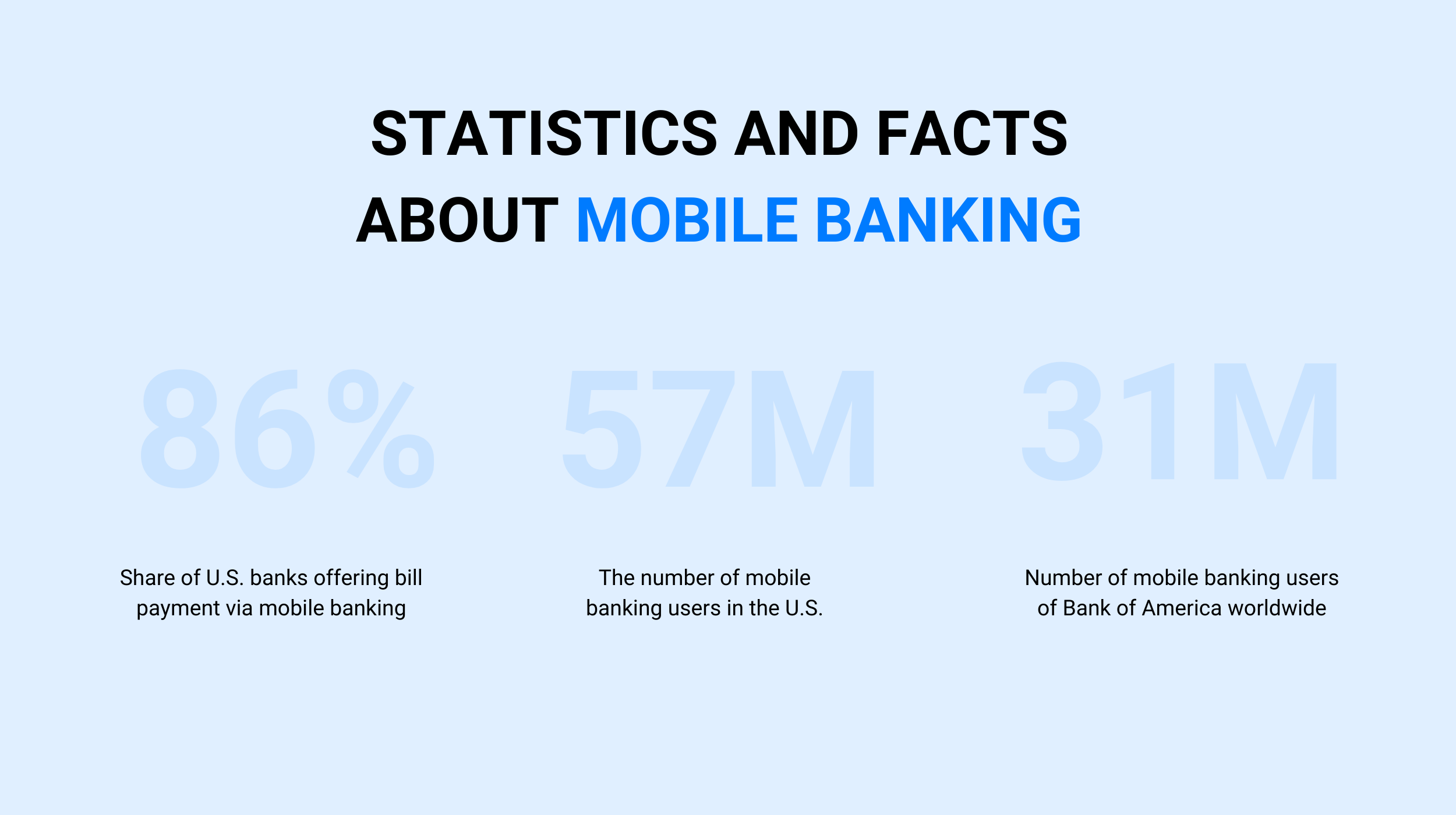 Trends and Statistics
The market for banking apps is huge and there is still plenty of room for startups and new players. Assess your prospects:
Statista predicts that mobile financial transactions and other contactless technologies will surpass US $220 billion in 2023.
The number of customers using mobile banking products in 2019 was 1.75 billion and is growing more than 30% annually.
Most often, banking applications are used by people aged 25 to 34 years. The usage rate is 21.6%, followed by people aged 35-44, and so on. The lowest level of use of banking applications is among people over 65 (8.5%).
As Statista states, 36% of respondents actively use mobile banking — funds are regularly transferred from every third smartphone (and the number of smartphones in the world has already reached 3 billion).
36% of respondents consider mobile banking as their favorite pastime, which means that one in three people with a smartphone in their hands checks a deposit or transfers funds.
33% of respondents acknowledge that mobile experience is the main reason they have chosen their bank.
Now, when we overviewed the current mobile banking industry, it's to move on to the list of popular applications.
How to Create Your Own Cryptocurrency App: Everything You Need to Know
The List of Popular Banking Apps of 2020
If you are looking for inspiration and comparing the most popular solutions to make yours even better, keep reading this paragraph. We studied the online banking market and found the most popular and frequently used solutions. And we would like to share some information about them with you.
🔹 Ally Bank
Ally Bank is a mobile banking app that provides better terms such as lower fees and commissions. Today, this online bank is considered the best on the market with 43,000 ATMs and conveniently linked checking and investment accounts. Ally Bank provides a savings feature and other general features like bill payment, available transaction history, deposits, ATM locations just like any other bank. In addition, the app shares the latest stock market news with its users. This solution is available for both Android and iOS devices.
🔹 Bank of America
Bank of America is a large national bank that provides its customers with 16,000 ATMs across the country. Since it is national, it enjoys a high level of customer confidence. It provides both conventional banking and excellent modern savings instruments. We love this app because it is completely safe, detects suspicious activity on your account, and sends an instant notification to block or block it. Bank of America also provides a cashback option for some types of activities. This app has a paid service and costs $ 14 per month.
🔹 Capital One
Capital One has many features to enable users to get loans, track their credit score, and more. Capital One is a more traditional banking app, but it takes full advantage of mobile features: for example, you can block your card directly from the mobile app if you lose it. You can also report fraud there. The Capital One app also supports Apple Watch and allows you to sign in with your fingerprint.
🔹 Revolut
Revolut is an alternative to traditional banking that offers built-in money management tools, cryptocurrency trading, expense notifications, international money transfers, and budget trackers. If you want to know, how to develop mobile banking app like Revolut, read on. We'll discuss it later in the article.
🔹 Wells Fargo
Wells Fargo is another financial giant with a massive 13,000 ATM network. It offers low checking account fees that are easy to ditch if you have a minimum daily balance of $1,500, direct deposits of $500 or more per month. With the Wells Fargo app, you can easily pay any bills, set up Touch-ID or Face-ID to simplify your sign-in process. Besides, the app provides quick commands to check balances, view transaction history, view credit card information, and more.
🔹 Robinhood
Robinhood is the financial app that everyone has been talking about for the past few years. He revolutionized and democratized investing with zero commission trading that the rest of the industry had to match. Although it has garnered more and more negative media attention lately due to their latest game stop scandal and questionable payment for order flow practices that were at the height of the Robinhood scandal that was all over the news.
Banking and Finance App Development Features to Have in 2022
Before you start building a mobile banking app, ask your target audience about their needs and work priorities. We've listed the core features of the mobile banking app. But you may decide to add extra ones.
⚙ Authentication and authorization flows
Security is everything, especially when it comes to personal finances. By adding support for fingerprint login and FaceID, you will make your customers feel comfortable and secure at the same time. And everyone loves to touch or look at the phone to log in.
⚙ Account management
This feature helps users manage their bank accounts efficiently. The application should play a key role in checking, translating, and daily counting for users.
⚙ Customer support
This is one of the main functions of mobile banking, as the client should be able to contact a bank representative and ask questions around the clock, seven days a week. Alternatively, you can promote and personalize the user experience using artificial intelligence in the form of a chatbot.
⚙ ATM/Bank branch locator
Consider adding a card to your app to help users find the nearest ATM or bank branch. This is very useful when your customers need cash or want to visit your bank.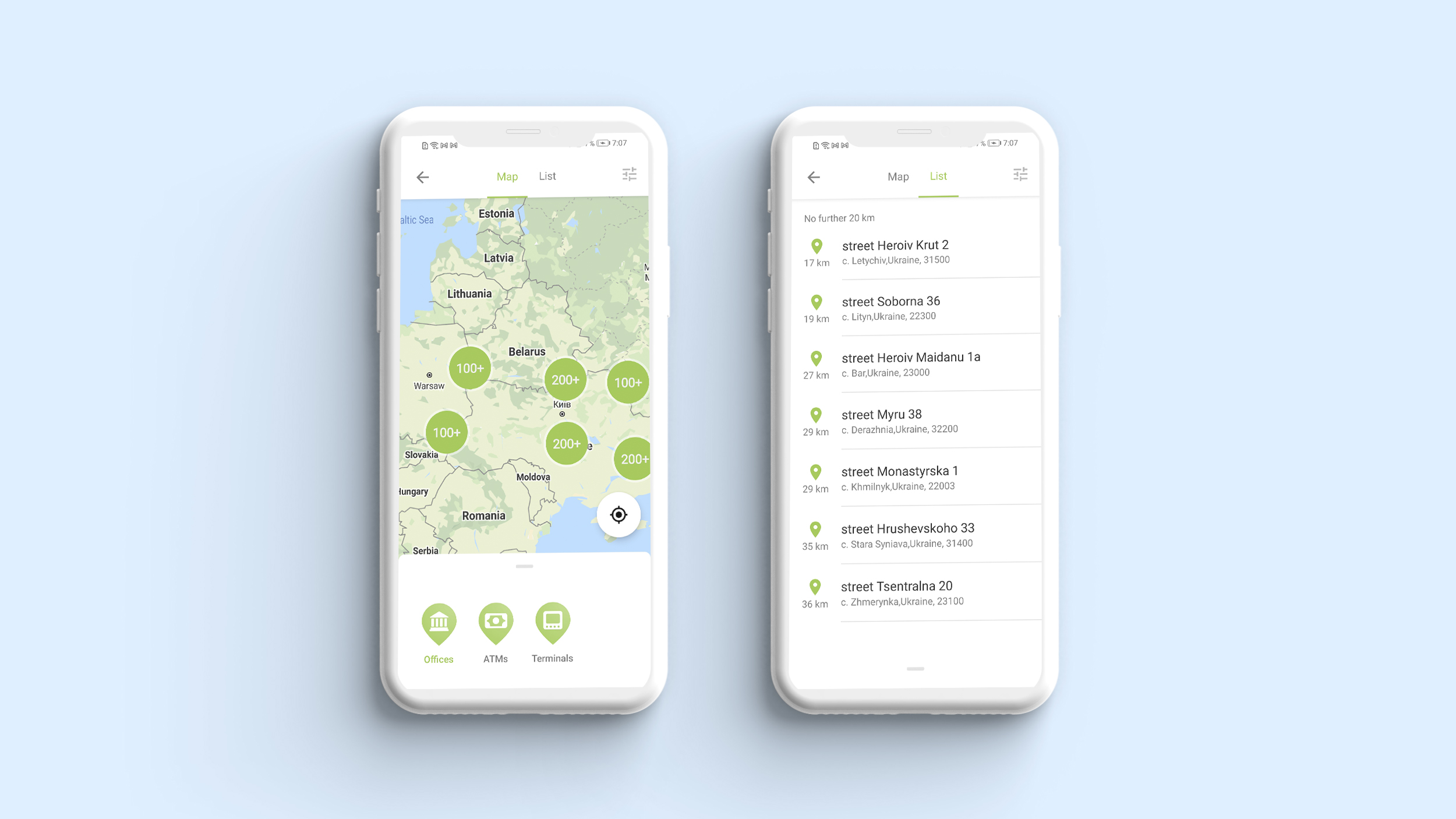 ⚙ Secure payment and transaction processing
When it comes to money, safety is an important aspect at every stage. Users will only trust your financial application if your application provides a high level of security for their sensitive data.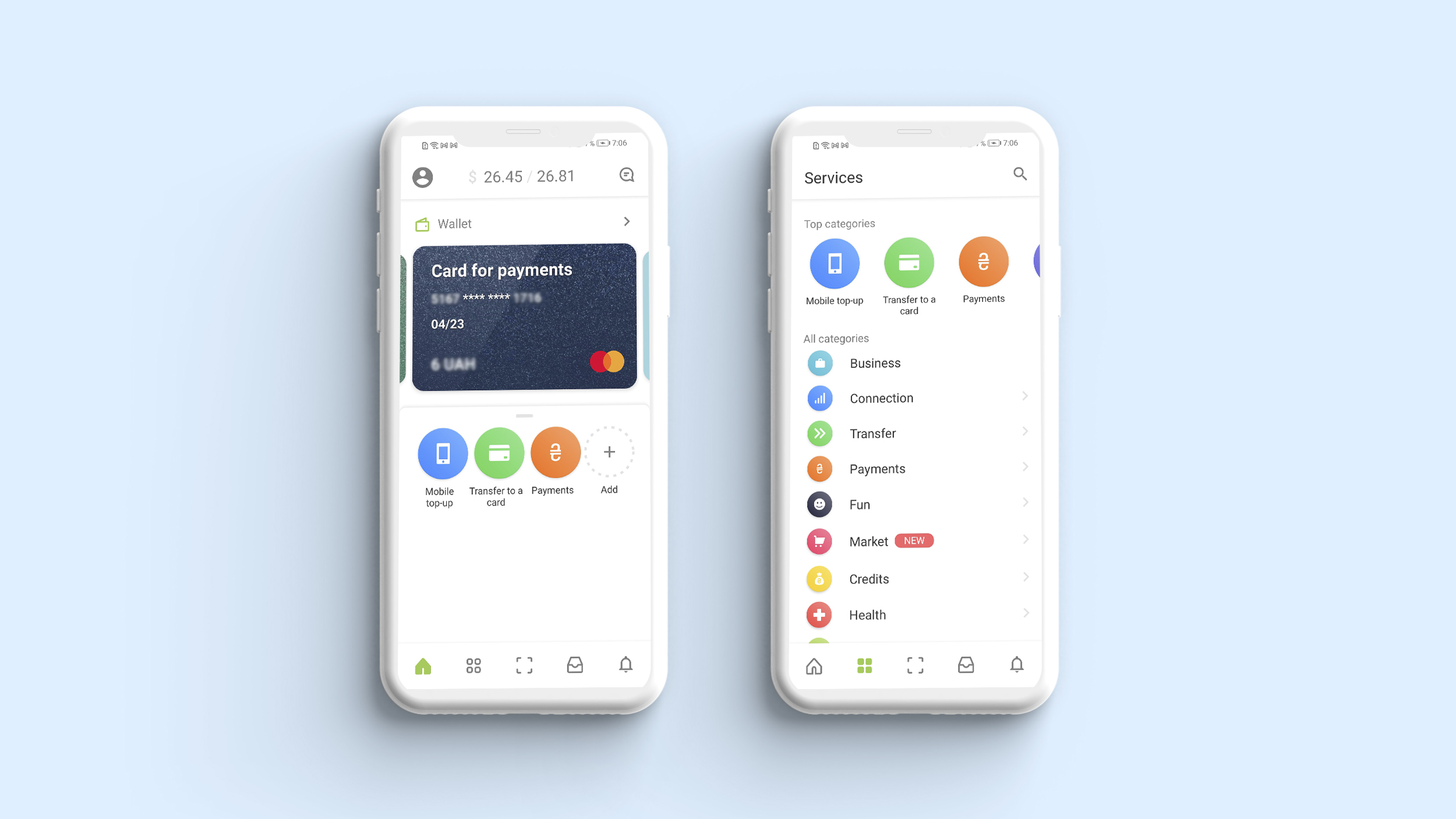 ⚙ Cashback services
As for 2022, mobile e-commerce is projected to reach $3.5 trillion and account for 72.9% of e-commerce sales. Seize the day with the cashback function. Such a bonus will encourage bank users to make payments in the application. Plus, cashback comes in handy as a solid backdrop for your loyalty program.
⚙ Push notifications
Transaction alerts help users verify their transactions. In addition, the apps also remind the user of overspending and investments. Banking apps must also submit articles and data before users can invest in promotions. Users can also check credit ratings, rewards, and account payments, and keep track of their accounts.
⚙ AI-powered chatbot
The cherry on top is what a reliable chatbot or voice assistant can be for your application. Bank of America reported that only 1% of their mobile customers (out of over 27 million) turn off Erica, their chat and AI-enabled voice assistant.
⚙ Voice & image recognition
Due to this option, bank customers will be able to carry out various banking transactions using voice assistants such as Siri or Google Assistant. Voice & image recognition technologies are very popular because they allow you to do so many things hands-free.
How to Develop a Secure Mobile Banking App
Given multiple industry regulations and the security of digital banking, developing a mobile banking app is not easy. Mobile banking apps need to be both convenient and secure. Therefore, the mobile banking app development company you hire must have a solid understanding of the digital banking environment. Here is a typical process of mobile banking app development.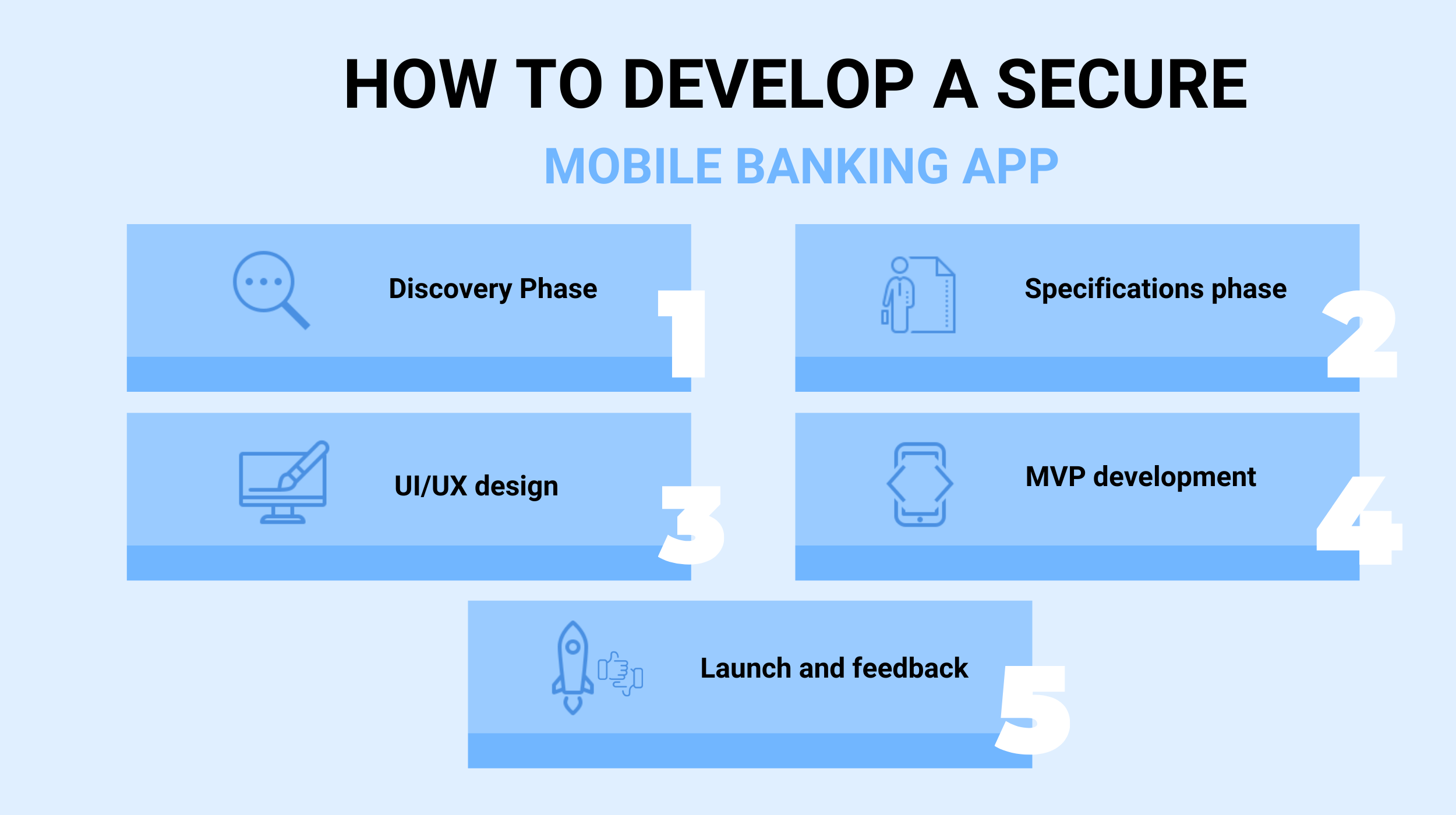 Stage #1. Discovery phase 
Start with market research. Here are some questions to be answered:
Who are your potential clients?
Who are your competitors?
What banking apps are popular in your area? Why? How would you improve them?
Are there any great UI/UX design solutions you can turn to?
If you work with a software development company like Code&Care, they will ensure you business analytics that helps you with market research and SWOT analysis. At the same time, the solution architect will align the business aspects with the technical implementation – application architecture, tools, programming languages.
Stage #2. Specifications phase
At this stage, all the requirements should be structured, clearly articulated, and written down in a document for future reference.
Stage #3. UI/UX design
People prefer plain applications with intuitive navigation and simple design. However, the critical problem with banking applications is that it is difficult for users to understand legacy designs. I.e., users may get angry when they enter payment information every time they need to transfer funds between accounts. They can also get upset when they see huge forms to fill out paying bills.
Stage #4. MVP development
Developing an MVP means building a very simple solution. This will help you test the market and not spend a lot of money on what may not be the best. Nothing fancy, like gamification, AR/VR technologies, AI-powered chatbots, since they take time and money to develop. You can only add basic functionality like payments, transactions, account management, notifications, and a few unique functions.
Stage #5. Launch and feedback
App stores have specific requirements for all apps that are published there. For Apple, it's the App Store Review Guidelines, and for Android, it's the Developer Program Guidelines and Launch Checklist. But even after your app is published, the work is just beginning. The first thing to do is start collecting reviews. After receiving feedback, make a list of the strengths and weaknesses of your app, and work with your technology provider to find a way of its improvement.
Most Popular Technology Stack for a Mobile Banking Application
Safety and performance play a critical role in the development of fintech applications. Therefore, technologies for banking and payment solutions must address these two main problems. To put together the best technical stack for a digital banking application, you must start with a basic back-end, user interface, and database tools.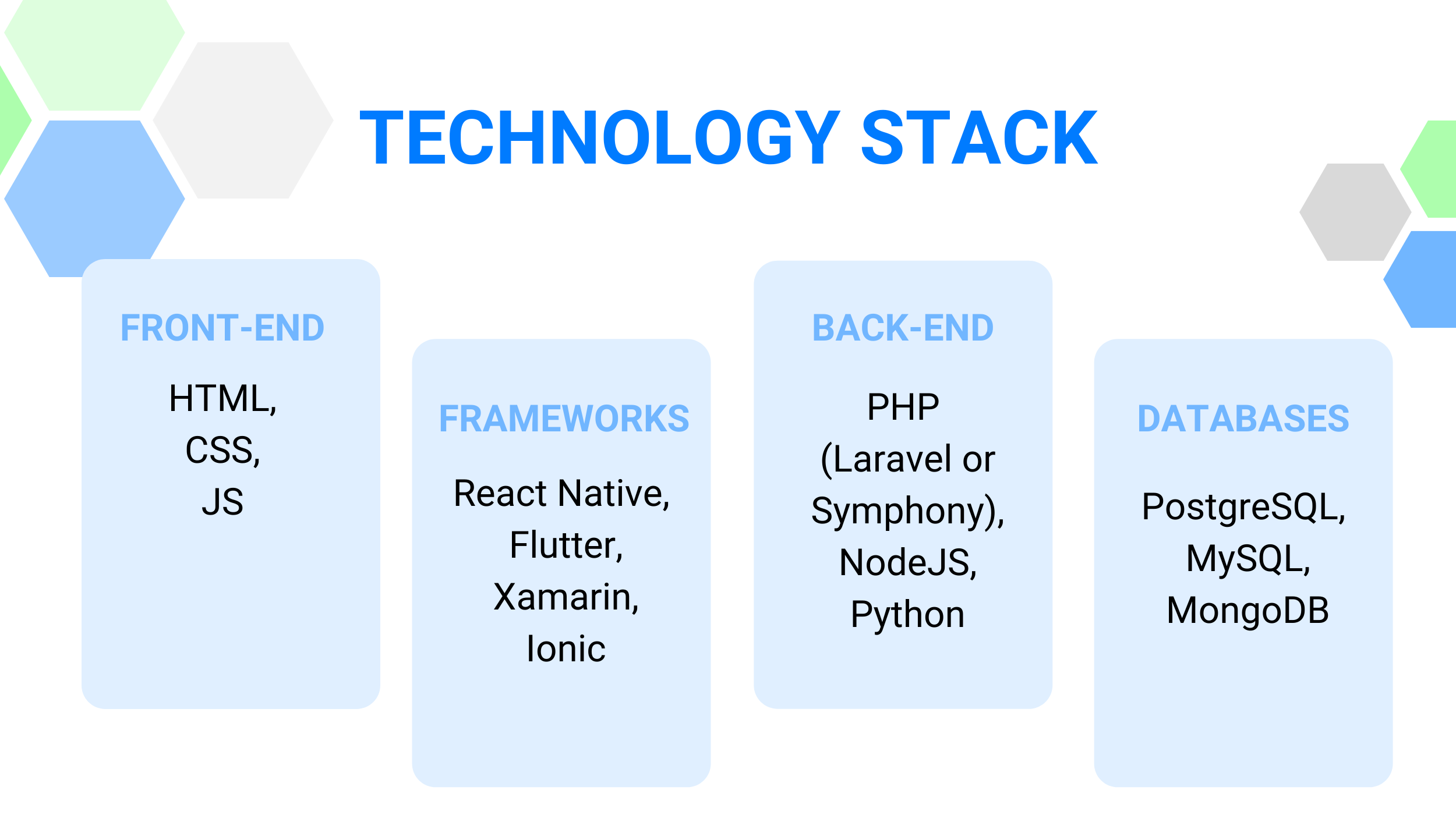 How to Choose Technology for Web Development: 6 Critical Steps
Cost of Developing a Banking App
According to Clutch's research, the building of complex projects, like mobile banking apps, costs between $200,000 and $500,000.
On the other hand, it is hard to name one clear amount for the provision of services for each client. The cost depends on the amount of time spent, the level of complexity, the concept of the future app, the development of the extra features, and the use of specific security codes.
Programmers, engineers, designers, business analysts, QA specialists, project managers, and other experts are involved in the development. Each of them contributes to the building process, and their work has to be paid for.
How We Can Help
There is a chance you already have a mobile banking app. So you might be wondering if you need to do anything about it and if you should somehow expand your digital presence. And we recommend that you do it.
If you still only offer online banking (the web version of the banking solution), then it's time to invest in advanced mobile app development. First, mobile apps are more secure than web apps. And secondly, they are more convenient for the client of your bank, since he always has a mobile device at hand. It's all about customer service, 24/7 availability, and personalization, so don't miss the chance to improve them and meet your customers' needs.
The Code&Care team can help you improve your current online banking solution and create a mobile solution to complement it. We will help you choose the optimal feature set for your banking application and choose the right technology stack to implement all the options. Besides, Code&Care has been admitted as a Top Fintech Software Development Company. Thus, you can trust us for the development of a mobile app for your needs.
Final Thoughts
The time has passed when people chose a bank only for its reliability. Today, customers are more demanding and prefer banks that make their life easier. Mobile apps were created just for this. With the mobile app, your bank can make payments easier and faster than ever. Blockchain development and big data are two technologies that will disrupt next-generation banking systems, but mobile banking remains a priority for now.
If you are currently compiling a list of fintech app development companies to expand your online presence, we would love to hear from you if you add Code&Care to your list.
📌Read next: