Society divides into two types: people that are sure that cryptocurrencies are a short-term trend, and others who actively use digital money in their lives and even build their fortune on it. There are over 2,000 cryptocurrencies nowadays, and new ones are still appearing. Blockchain has opened up new business horizons for everybody.
The Code&Care team knows well how to build a cryptocurrency exchange website. So, we decided to discuss all nuances and create for you a detailed guide that helps you to create the advanced software product.
What does Decentralized Exchange mean?
A Decentralized Exchange (DEX) is a digital currency exchange. It allows buying cryptocurrency through direct peer-to-peer cryptocurrency transactions due to a secure internet platform without intermediaries. It is a departure from common centralized exchanges where, in a typical transaction, a third party takes over the people's funds and controls the anonymity and transfer of assets through the two sides.
DEX gives the blockchain or distributed ledger the opportunity to take the place of a third party. By bringing critical operations to the blockchain, the underlying cryptocurrency technology excludes single points of failure, allows customers to retain control of their assets, and enables safer and more transparent trading. DEX uses smart contracts to execute market transactions by distributing transactions to autonomous code, but there are several options for order fulfillment with varying degrees of decentralization.
Decentralized Exchange (DEX) vs. Centralized Exchanges (CEX)
Cryptocurrency exchanges are the critical source of liquidity in the worldwide market. As it provides billions of dollars in daily trading volume. The market expands, so prominent exchange platforms are still scaling in response to the demand for digital assets, offering asset storage, new trading features, and access to a constantly growing number of digital assets.
Disintermediation is the critical idea of the blockchain community. Thus, DEXs have become widespread alongside traditional CEXs. DEXs take the other approach to trade digital assets: they work without intermediaries to clear transactions, relying instead on self-executing smart contracts to promote trading. The dynamic allows for immediate trades, usually cheaper than CEXs.
| | | |
| --- | --- | --- |
| Criterion | Centralized | Decentralized |
| Liquidity | High | Low |
| Security | Low | High |
| Coin holder | Exchange | User |
| Fiat availability | Yes | No |
| Examples | Binance, Bitfinex, Kraken | Etherdelta, IDEX, Tokenlon |
Main benefits of Decentralized Exchange
The benefits of a decentralized exchange are attracting many cryptocurrency enthusiasts who do not want to trust their cryptocurrency to a centralized platform in the first place. DEX is rapidly gaining popularity, which cannot be overlooked. The main advantages of DEX: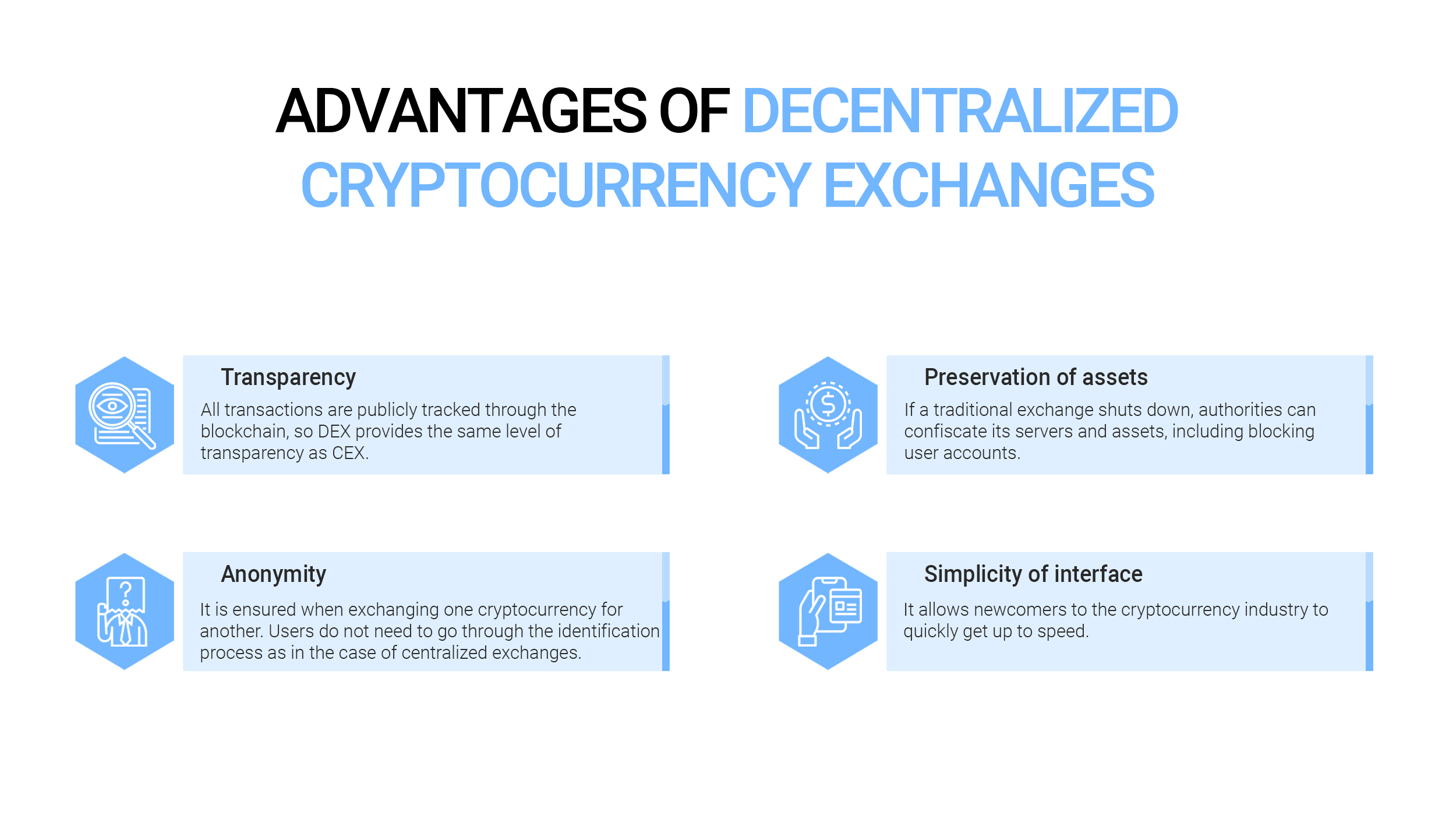 All transactions are publicly tracked through the blockchain, so DEX provides the same level of transparency as CEX.
It is ensured when exchanging one cryptocurrency for another. Users do not need to go through the identification process as in the case of centralized exchanges. This attracts a lot of people who do not want to identify themselves.
If a traditional exchange shuts down, authorities can confiscate its servers and assets, including blocking user accounts. But this does not apply to a decentralized exchange, because its server is a network of computers scattered all over the world, and it is very difficult to restrict its operation.
It allows newcomers to the cryptocurrency industry to quickly get up to speed.
How to Create Your Own Cryptocurrency App: Everything You Need to Know
Crypto exchange features
Crypto exchange is a complicated platform, and you need to think over its functionality well in order to build a good software product. Regardless of whether you want to provide trading with one or more cryptocurrencies, you need to start with the basic features that your platform should have. The crypto exchange usually includes the following:
☑️User authorization and verification
The user's path to your exchange starts with authorization, so you need to ensure a simple connection process. Verification is critical to ensure transparency of transactions and to cut down the possibility of fraud.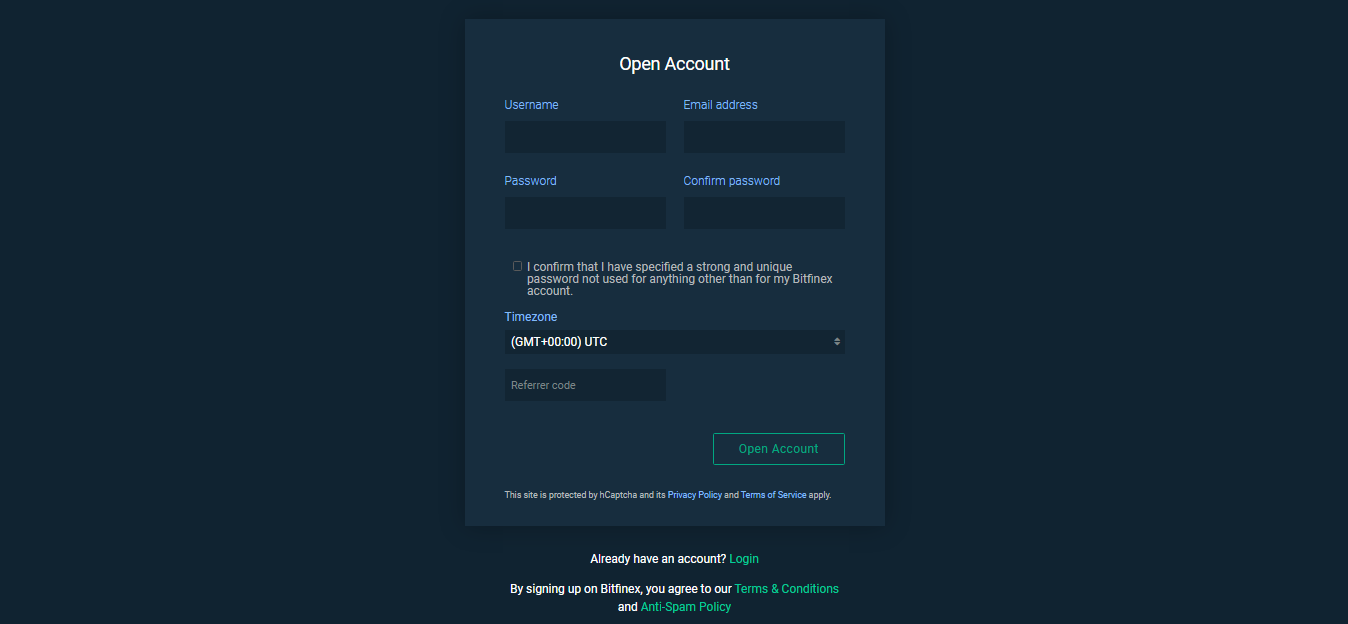 ☑️Trading engine
To manage investments in an efficient way, people need to see real-time trading data. Thus, it's important to ensure good processing speed.
☑️User interface
All components of the platform are directly related to the user. You need to focus on a user-friendly interface that is easy for the user to understand. Without this, you can limit the understanding and usability of your platform to only technicians.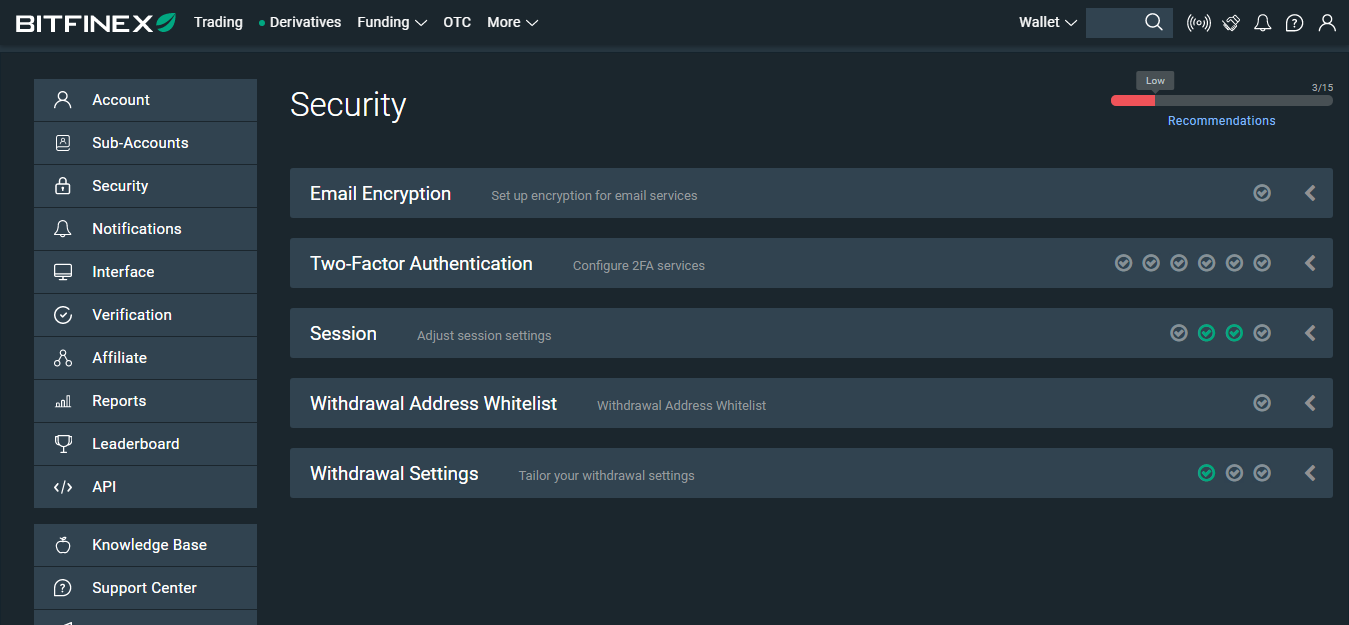 ☑️Order book
The exchanges group the actual buy and sell orders separately, and the generated list of open orders is called the order book. When an order finds an offer that matches its conditions, the exchange automatically closes a deal between users, and the completed orders disappear from the list. The order book allows users to navigate through the current rates.
☑️Transaction history
The list of completed trades includes the main data about the transactions. I.e., the trade rate, its amount, and the exact time of the operation. It allows people to track their performance.
☑️Push notifications
Push notifications are comfortable for both you and traders because they will not miss important events.
☑️Analytics
Analytical tools allow getting more information about market trends and develop their strategies. There are many technical indicators that traders use. Thus, you have to decide which indicators you want to implement.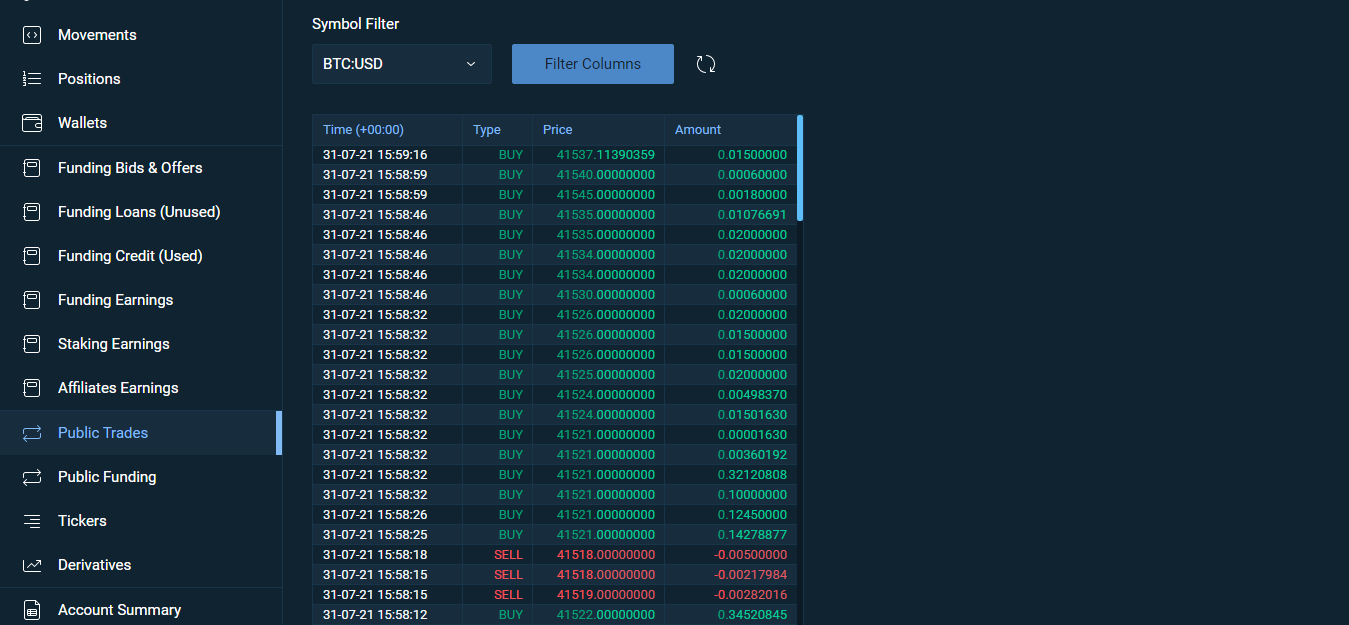 How to build a cryptocurrency exchange step-by-step
After working out the business part, technical requirements, and choosing the type of exchange, you can start developing your crypto exchange. Make sure you are working with a team of experienced developers who can provide you with successful case studies. Choosing an experienced provider can help you keep your development costs down. The process of developing a cryptocurrency exchange platform usually consists of the following stages.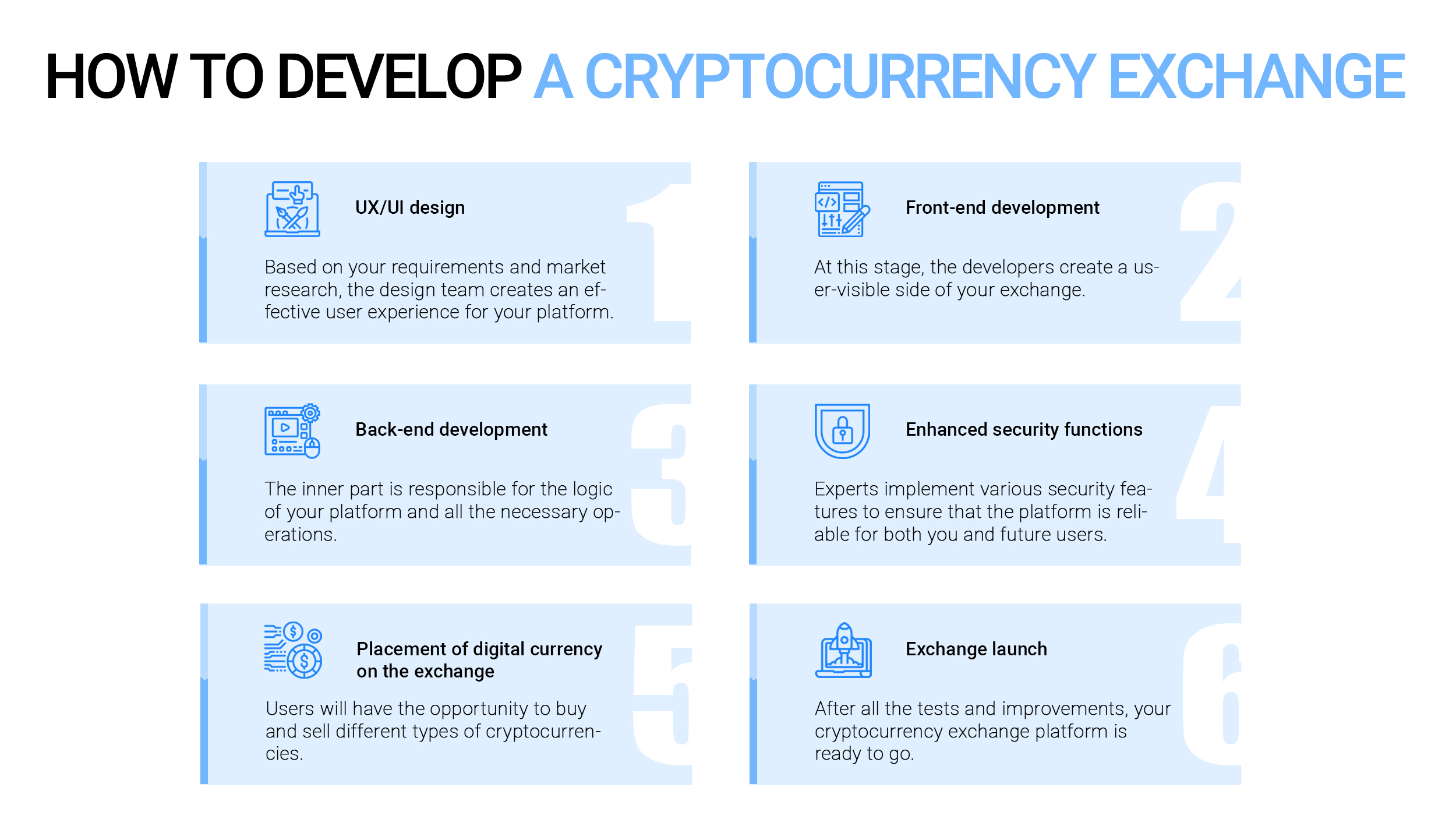 Step #1: UX/UI design
Based on your requirements and market research, the design team creates an effective user experience for your platform. Detailed visualization will prevent possible UX-related problems and will allow you to see the logic of user interaction with the exchange.
Step #2: Front-end development
Front-end is an implementation of user interface design. At this stage, the developers create a user-visible side of your exchange. The front end is responsible for the look and feel of your platform, which is very important for engaging and engaging users.
Step #3: Back-end development
The inner part is responsible for the logic of your platform and all the necessary operations. The development team can use the product of a traditional trading exchange, optimized depending on the geography of the exchange registration. Then this structure is modified according to your requirements and an individual trading engine is created. The company can also use various APIs for additional integration with third-party resources.
Step #4: Development of enhanced security functions
At this stage of development, experts implement various security features to ensure that the platform is reliable for both you and future users. One of the critical security measures is an encrypted database and password-protected user access.
Step #5: Placement of digital currency on the exchange
Having an idea of ​​what cryptocurrencies you want to list on your exchange, the development team adds the necessary coins to the platform. After that, users will have the opportunity to buy and sell different types of cryptocurrencies.
Step #6: Exchange launch
After all the tests and improvements, your cryptocurrency exchange platform is ready to go. There is a lot of promotion and support work ahead, but with a quality software product, these processes will be much easier.
The nature of blockchain technology and cryptocurrency trading makes them highly dependent on the quality of software development, so we advise you to take enough time to find the right blockchain development partner.
Technology stack and Requirements
In the case of creating a cryptocurrency exchange, the technology stack may look like this:
| | |
| --- | --- |
| Languages | PHP, Java, MEAN stack, Laravel |
| Databases | MySQL, MongoDB |
| MEAN | MongoDB, Express JS, Angular JS, Node JS |
| Cloud | AWS, Google Cloud Platform |
| Push notifications | Twilio, Amazon SNS |
Cryptocurrency exchange architecture
There are three main types of cryptocurrency exchange architecture: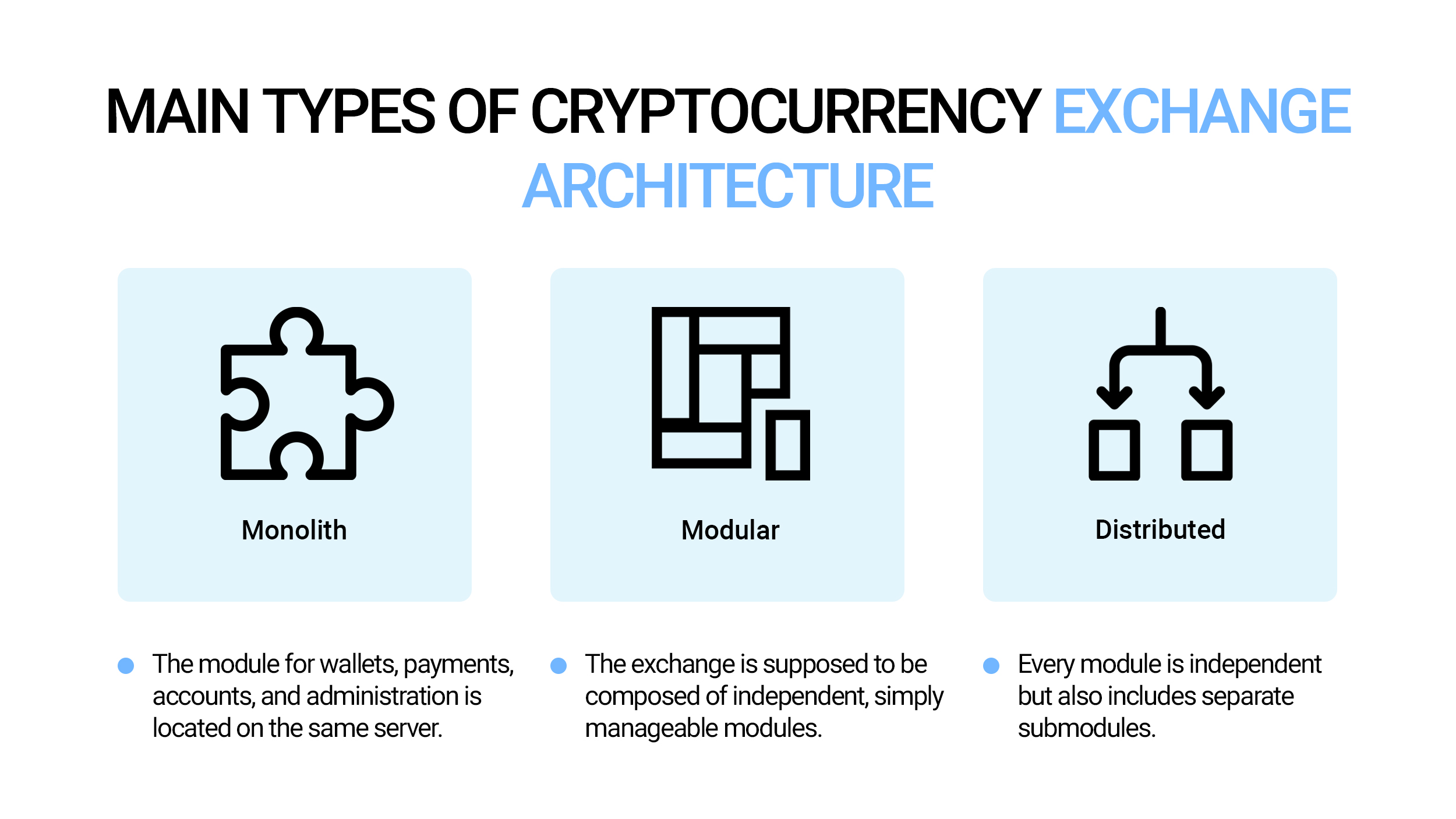 Monolith
It is a cryptocurrency exchange with a multipurpose architecture. The module for wallets, payments, accounts, and administration is located on the same server. It takes the least time to deploy such a platform. But there are problems with high loads. In fact, all the implemented features can be on one server, but this server will not be able to serve thousands, let alone millions of customers.
Modular
The exchange is supposed to be composed of independent, simply manageable modules. I.e., a wallet module, a user module, a trading engine, etc. Each module is independent. It immediately allows it to withstand high loads. Especially if you are using the right hosting provider. It should be noted that support and modification of this architecture are most comfortable.
Distributed
It is an improved version of the modular architecture. Every module is independent but also includes separate submodules. I.e., a database can be located on multiple servers. The first is a trade transaction, and the second is everything else. The productivity of such a system is the highest, but the cost of maintenance is higher.
Each of the above architectures is well suited to the respective platform type. Monolith is suitable for small platforms, modular architecture fits medium-sized exchanges and distributed architecture is the best option for large exchanges.
Crypto exchange API list
The crypto exchange API is a service for interacting with cryptocurrency exchanges. It allows interacting with cryptocurrency exchanges, execute trades, extract data, and receive data in real-time. We listed the Top-10 Best Crypto Exchange APIs:
It allows people to get access to their accounts. Also, it gives the opportunity to create trading bots for clients with which the user can make high-frequency trades.
Hitbtc API helps to trade various crypto and fiat trading pairs using third-party apps or custom software.
It allows users to create orders, cancel orders, get available balances, and create new deposit addresses through third-party applications.
The Binance API allows exchange users to transact on the platform using third-party apps. Traders can also allow these third-party apps to trade, create and cancel orders.
The Bitstamp API allows third-party applications and special software (bots) to access user accounts and transact.
Bittrex API helps people access their accounts, allowing them to transact, withdraw funds, and make deposits.
The BitFinex API provides programmers with access to all the features of the BitFinex exchange platform.
The Coinbase API allows coders and entrepreneurs to integrate Bitcoin, Bitcoin Cash, Litecoin, and Ethereum payments into their business or app.
It allows placing trades through these third-party apps.
With the Kraken API, traders can allow third-party apps to start and cancel traders from their accounts.
How to Hire a Blockchain Developer: Required Skills & Pitfalls
Cost to build a cryptocurrency exchange
As for the various challenges that you need to overcome when creating your own cryptocurrency exchange facilities, it cannot but be an expensive process. However, with a smart attitude and a lot of entrepreneurial spirits, you can launch your startup with very reasonable pricing.
Regardless of your choice of software, your ideal team should include a project manager (if you don't want to fill this position yourself), a platform developer, a quality assurance engineer, an experienced web designer, and a user interface developer. The cost of their services will vary significantly depending on several factors. The most important here is probably the country where your team is located.
Pitfalls to avoid during the cryptocurrency exchange development
If you have followed our guidelines carefully so far, you could have prevented most of the problems that can arise during the creation of your cryptocurrency exchange platform or the development process. Let's take a look at some of the problems that may arise:
☑️Safety
To overcome this problem, we recommend:
Using user biometric data for authentication
Using artificial intelligence to detect unusual activity during transactions
Using blockchain for your exchange platform
☑️Speed
Bitcoin has a speed of 7 transactions per second, while ether has a speed of 20 transactions per second. The queue is formed when the number of transactions increases and the transaction fee increases. You can prevent this in the following ways:
Adjusting the block size depending on the exchange load (scalability)
Use PoS protocol
Use a centralized blockchain instead of a decentralized one.
☑️Local laws
Many people are concerned about which countries their exchange platforms might operate in. You can see the section on regional restrictions above.
Our Expertise
The Code&Care team has huge experience in cryptocurrency exchange development. Unfortunately, our most interesting project is under NDA. So, we'll discuss it just in a few words. It is a feature-filled spot trading platform for main digital assets & cryptocurrencies. I.e., Bitcoin, Ethereum, EOS, Litecoin, Ripple, NEO, Monero, etc. The company suggests leveraged margin trading through a peer-to-peer funding market, allowing people to trade with up to 3.3x leverage safely.
We completed a front-end part of the website and mobile app.
Conclusion
In the current situation in the cryptocurrency market, when Big Brother is watching us, a decentralized anonymous cryptocurrency exchange helps to avoid this. Launching and building your decentralized exchange from scratch and with no experience can seem like endless torture, especially if you have no previous experience with decentralized applications. Would you like to learn more about building a decentralized exchange or learn about the price and development timeframe? Contact our managers and we will provide you with a demo and an offer.
✔Read next:
How to Build an NFT Marketplace: A Comprehensive and Step-by Step-Guide
How to Make an App like Clubhouse: Features, Tech Stack, Cost
Benefits of Blockchain in Insurance: Use Cases and Main Features
All-in-One Guide to Mobile Banking App Development